Naim Audio Uniti Qute
More than a pretty face
By Jeff Dorgay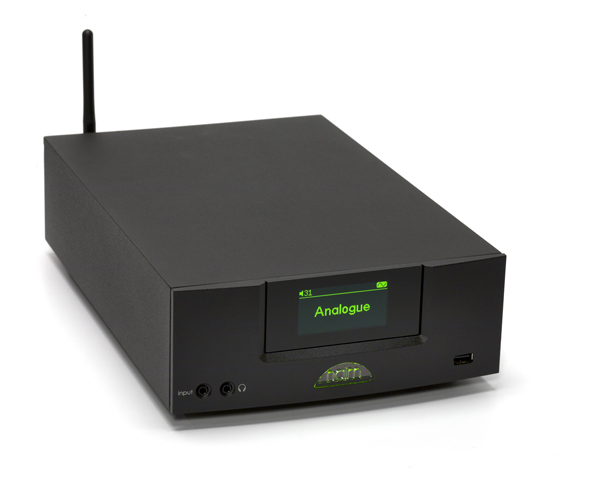 It couldn't have been scripted better:  while I was unpacking the Uniti Qute, my daughter remarked, "It's so cute!"  But this compact marvel is much more than cute. It's a high-performance music system in a package the size of a Steven King novel.
We awarded the Naim Uniti our Product of the Year-Overall award in 2009 because it packed so much versatility into a compact package, squeezing a CD player, integrated amplifier, DAC, FM tuner and internet radio tuner all into a standard Naim enclosure.
The Uniti has been flying off dealer's shelves worldwide, but there are a lot of new-generation music lovers who just aren't that into physical media anymore.  If you fit that description and can get by with 30 watts per channel instead of the Uniti's 50 watts per channel, the Qute is the one you want.  And here's another reason to buy the Qute: though it has less power than its big brother, the sound is even more refined.
At only $1,995, the Qute offers all of the functionality of the standard Unity, minus the CD player, and it comes in a box half the size.  A sleek little black box, the Qute has no front panel controls (though you can mute the sound by touching the front screen), just a large alphanumeric display, mini-sized AUX input, a mini headphone input and a USB port.  All the rest of the connections are around back, featuring four digital inputs (2 RCA and 2 optical), an analog input (also via RCA), a BNC digital output and a preamplifier output.  A wireless internet antenna is also included as well as a standard RJ-45 port, should you want to hardwire your ethernet network to the Qute.
Small enough to fit anywhere
The Qute is eight inches wide, three inches tall and 11 inches deep (207mm x 87mm x 314mm), so you should be able to find a shelf that will accommodate it.  As my test sample arrived with plenty of hours on the clock, I had no way of gauging a proper break in, though the full-size  Uniti took about 100 hours to sound its best.
Though most of my test listening was done with the Naim HDX music server, I did take the time to spin some vinyl with my Technics SL-1200/SME 309/Clearaudio Maestro wood combination through the Naim Stageline phono stage.
A wide range of speakers was used, but the majority of the listening was done with the new Finn speakers from Verity Audio.  These little three-way floorstanders have a 91dB sensitivity and though probably more expensive ($6,500/pr.) than what the average Qute owner would choose, this amplifier was more than up to the task.  If you were looking for a high-performance system with a minimal footprint, the Finn's would be my first choice.  On a tight budget?  Grab a pair of Vandersteen 1C's ($1,095/pr. and 90dB sensitivity)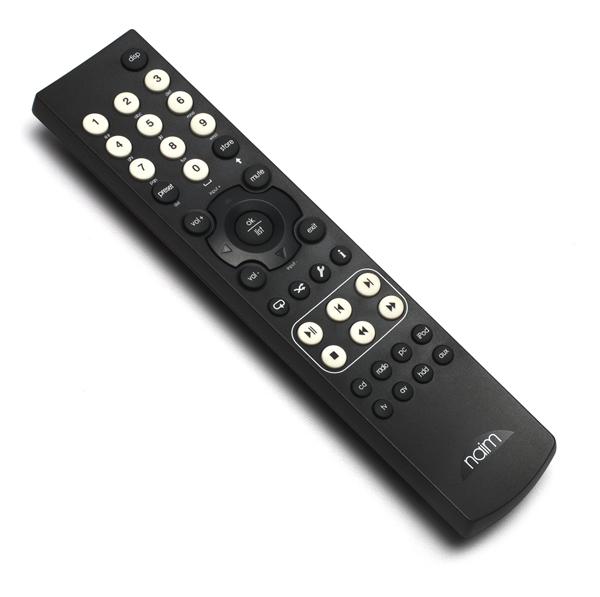 Setup
The Qute is easy to set up.  On power up, it immediately looks for the wireless network from which you are streaming UPnP data, and if you have a Mac or Windows PC in place, it will find it immediately and let you stream music from your iTunes library, making the Qute a mini music server.  I tried this briefly, with great results, but having the HDX made this feature unnecessary for me.  However, those using their HDX in another room on the main system will enjoy having remote access to their library via the Qute in another room. There will be an iPhone/iPad app available shortly from Naim that will make this even easier.  Since there are no controls on the front panel, everything is controlled by the remote, though you can raise and lower the Qute's volume by tapping the Naim logo.  A quick tap mutes the volume instantly, which can come in handy when the phone rings and the remote is out of reach.
The Qute has a wide range of analog and digital inputs, but it has only one pair of speaker outputs. They require that you use speaker cables that have banana plugs, at least on the end connecting with the amplifier.  Unlike the early Naim amplifiers, using Naim-specific speaker wire is no longer a must.  I used Audioquest Meteor speaker cable with excellent results.
Extreme versatility
Other than the CD drive in the full-size Uniti, the Qute can still control four digital sources: an analog source, the built-in FM tuner (DAB for our friends in Europe), internet radio and an iPod.  There is a digital output and line-level output for those wanting to make the Qute part of a larger system, adding a DAC and larger power amplifier, but I think this defeats the compact nature of the whole affair.  To Naim's credit, it can be done, and easily.
Bypassing the internal DAC of the HDX to use the Qute proved to be a slight step down in overall performance. But using the Qute with an inexpensive transport was a huge step up.  Should you not be quite finished with silver discs, your favorite reasonably priced CD player will make a great transport for the Qute.  I tried my older Denon 3910 and Pioneer 563; both sounded much better through the Qute than through their onboard DAC/analog stages.
The tuner performed admirably with my $20 Terk antenna, but since I live in a city lacking in FM diversity, the real bonus was the ability to access internet radio.  Considering how many great stations are now available, I can't see why anyone would not want to spring for satellite radio.
At present, the review sample of the Qute was not ready to accept my iPod through the front-panel USB port, but playback from a USB jump drive was no problem.  The album's table of contents was easily read on the front panel display, and playback then proceeded as normal.  Naim Inc's Dave Dever assured me that on the upcoming software update, iPod playback would work the same way.  Exactly like the Uniti and Wadia's 170i, the Qute will allow you to access the digital output of your iPod so you can use it as a high-quality (but extremely compact) music server.  I couldn't help thinking how cool the Qute would be if it had the color touch screen of the HDX so that album art could be viewed on its front panel…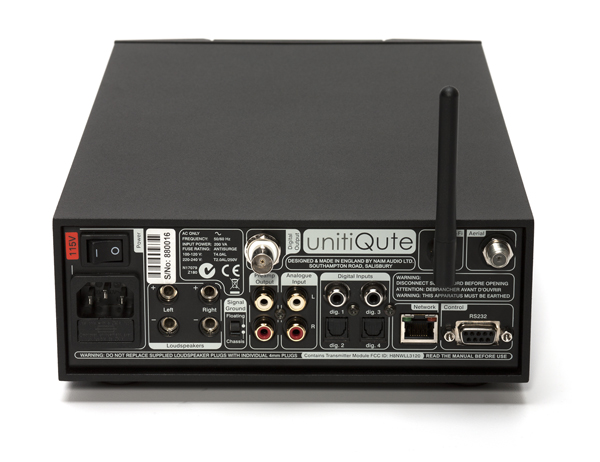 Saving the best for last, the sound
The Qute is attractive, compact, versatile and easy to use, but best of all, it sounds fantastic.  Naim has always had a reputation for producing low-powered, high-quality solid-state amplifiers.  The early Naim Nait and Nait 2 integrated amplifiers are still held in extremely high regard, and it's not uncommon for them to fetch considerably more than their original price on the used market.
Paying homage to the form factor of the Nait 2, the Qute outshines its full-size sibling with a presentation that sounds closer to the top-shelf Naim gear than the Nait 5i amplifier that powers the standard-size Uniti.  Thanks to its big power transformer, the Qute delivers the goods.  When used with the 90dB Vandersteen's or the 91dB Verity's, I could rock out to my heart's content in my 11 x 17 foot living room.  The Qute even did a more-than acceptable job of powering the Harbeth Monitor 40.1's that have a sensitivity of only 86dB.
Refinement is the name of the game with the Qute. Paired with any number of $1,000 speakers and a modest source, Qute proves itself to be one pleasant little amplifier. The Qute is a great performer as the core of a $3,000 – $4,000 system, and I'm guessing that's how most people will use it.  But I was not prepared for the complete lack of grain when I supersized the system and added the Naim HDX as a source (with all uncompressed music stored on its hard drive) and the $6,500 Verity Finn's.
I felt like I was hearing the quality of the Qute for the first time, with a lack of grain that I would normally associate with much-more expensive solid-state power amplifiers.  Much as the Nait 2 sounded much better than it should have for its small size, the Qute lives up to its heritage and then some.
Vocals took on an uncanny realism (for an amplifier at this price point) and my favorite current tracks from Peter Gabriel's latest album, Scratch My Back, had the necessary amount of grit and texture to remain interesting.  Cheapo integrateds usually lack this finesse, and Gabriel ends up sounding like Seal.  Moving to the other side of the fence, Gwyneth Herbert's subtle vocal shadings were fantastic on "My Narrow Man" from her current release on the Naim label, All The Ghosts.
The level of bass extension and control was impressive as well and again, the concept of texture kept coming up.  It was amazing to hear an acoustic bass really sound like an acoustic bass.  Unless I exceeded the comfort level of the Qute, I was pleased enough with the presentation that I nearly freaked out whenever my eyes perceived the small size of that box.
Last but not least, Qute had a splendid airiness about its overall sound, with plenty of space between the notes.  I've listened to more than my share of inexpensive solid-state integrateds, and most of them are rubbish.  Not only was a healthy amount of three-dimensional space reproduced, the tonality was very natural in a way that I previously felt could be accomplished only with much-more expensive gear.
Conclusion
Naim's Uniti Qute will spoil you.  If this is the core of a high-quality second system, you might find yourself spending less time with your main system. If it's your first venture into high-end audio, you're going to have to spend a lot of money, should the upgrade bug hit you some day; the Qute is that good.
Naim has hit the mark perfectly for a high-quality yet reasonably priced, all-encompassing HiFI component.  Add your favorite pair of budget speakers and you are ready to rock for a reasonable outlay, yet it's good enough to up the ante considerably with higher-priced peripherals before you will get tired of it. A word to the wise: anyone who gets rid of their Nait 2 rues the day.  Should you buy a Qute, I suggest hanging on to it forever.
Just like the legendary Nait and Nait 2 amplifiers, I'm positive the Qute will still hold a special place in many music lovers hearts years from now. This is what the music world needs more of.
The Naim Uniti Qute
MSRP:  $1,995