Audio Research PH 6 Phono Preamplifier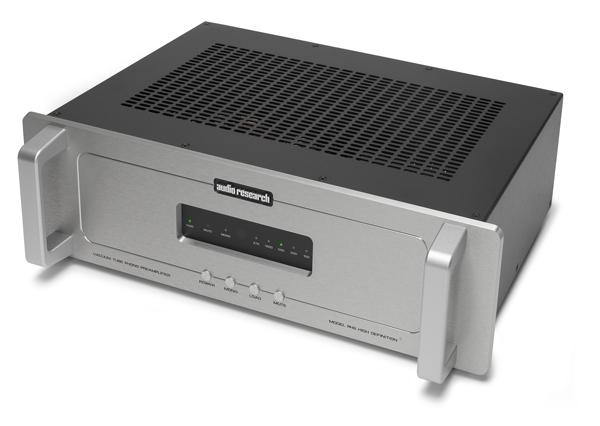 As you might guess, a company like Audio Research doesn't stay at the top of the heap by making willy-nilly model changes just for the sake of cranking out a new box. Upgrades have to be demonstrable.  I've had my hands on almost every phono preamplifier in the Audio Research lineup for the past 25 years, including the phonostage in the legendary SP 10 preamplifier. It's always exciting when something new is under the hood.
The $3,495 PH 6, along with the PH 8, which will be reviewed later this year, is the latest addition to ARC's award-winning phono preamplifier line. Its price represents a $1,000 increase from the previous PH 5, but considering the improvements in power supply and different topology, offers a completely new design.
While the LP was in serious decline during the late 80s, ARC still included a top- quality phonostage in its preamplifiers. Until then, included phonostages consisted solely of vacuum tubes. In the early 90s, when the LS (linestage) series began production, ARC's outboard phonostages, beginning with the PH 1 and PH 2, were solid state, but the PH 3 (and later PH 3SE) started down the current path of hybrid design by utilizing low-noise FET transistors for the input stage, coupled to a tube output stage. The benefits of such a design make for a quieter phonostage than one that is all tubes; it also cuts down the tube compliment, boosting long-term reliability.
Tech Basics
Having replaced the PH 5, the PH 6 has a number of significant changes, the most visible being the switch from a tube compliment of four 6922 tubes to a pair of 6H30 tubes–also used in ARC's REF Phono 2, my current reference phono preamplifier. Though ARC is not making any claims, my experience with the 6H30 in other preamplifiers is that this tube tends to be very robust, so tube life should be fairly long. And since there aren't a lot of variations on the 6H30 theme, I suggest sticking with the factory-approved tubes.  When replacement time does come (probably around 5,000 hours), a new pair from ARC will only set you back around $100. Consequently, no tube rolling was done during the course of this review.
The rear panel is straightforward, with RCA jacks for input and output; this is a single-ended design, and unlike ARC's higher-end products that feature fully balanced design.  The PH 6 has only one input and output, and a fixed gain of 58 db, but loading is configurable in steps of 100, 200, 500, 1000, and 47k ohms from either the front panel or handy remote control.  A mono switch is also included for those that boast mono record collections yet lack a mono switch on their linestage. Cosmetics are classic ARC, with the option of a natural or black anodized front panel flanked with massive rack handles and a series of lime green LEDs that indicate function and loading.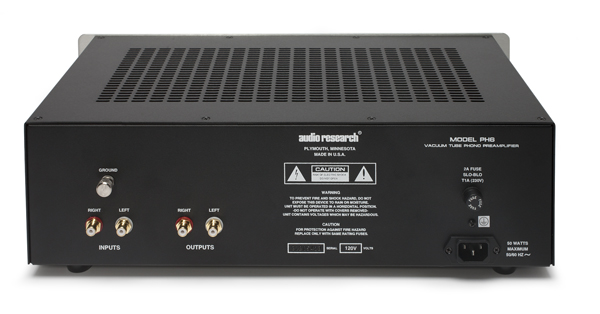 Past and Present
ARC's Dave Gordon recently told me that "while our customers are very loyal, many of them wait two models to upgrade." After rustling up my PH 3SE from staff member Jerold O'Brien and a PH 5 from a friend, a long weekend listening session revealed the steady upgrades that led to this current model. So, in case you are wondering if it's time to trade up, here's the scoop.
The PH 3/PH 3 SE models definitely have more of a vintage sound quality, with a warmer overall tonality, not necessarily a bad thing. One of my favorite MC cartridges happens to be the high output (2.5mv) Blackbird from Sumiko. At $1,099 it offers great dynamic range and high resolution for the price point, but when paired with most solid-state phono preamplifiers, it is too forward for my tastes. I've never had better phono preamp/cartridge synergy than mating the Blackbird with the PH 3 SE, and the preamplifier's overall musicality still makes it a great used value.
The PH 5 has a more "modern" sound, with more transparency and dynamic slam, but constitutes a better overall match with cartridges possessing a more neutral to even slightly warm tonal balance. The ARC was amazing with the Grado Master 1 and Shelter 501 II cartridges, and thanks to the loading controls on the front panel, made it easier to experiment with a wider ranges of cartridges than the PH 3 SE, which requires you to solder different loading resistors in place. Remember, 20 years ago we did not have the plethora of cartridges we do today. Who knew?
If you are familiar with either or both of these great phonostages, you might consider the PH 6 the "Goldilocks" of the bunch–it's just right. Well, it was for me anyway. I really enjoyed the balance it served up, as it possesses even more resolution than the PH 5. Yet it claims a dose of tonal richness that the PH 5 doesn't have. On many levels, it reminds me of the excellent PH 7 that we reviewed about a year ago, but for a lower price.
Of course, every vacuum tube has somewhat of a "signature sound," with the 12AX7-based preamplifiers perhaps the most lush, the 6922 somewhat less but still unmistakably "tubey" sounding, and the 6H30 more dynamic and forceful. However, ARC has done a fantastic job at creating a circuit that is tonally gratifying and yet, never sacrifices musicality.
Sound vs. Value
With so many excellent phono preamplifiers in the $1,000-$1,500 range, stepping up to this price range, and the PH 6 in particular, offers significant advantages, the main being resolution and clarity. When listening to live acoustic music in a decent environment, it allows nothing to stand between you and the music. Think of the layers of electronics, wire, and listening room anomalies–all adding their own cloudiness and distortions to the presentation you hear in your listening chair–as if they were thin sheets of semi-transparent fabric. A significant upgrade to your system will sound as if you've removed a few sheets of fabric between you and the musical presentation at hand. When comparing the PH 6 to some of my favorite phonostage examples in the $1,500 range, this experience clearly became the case: the music was that much more believable when played through the PH 6.
This effect wasn't limited to acoustic music. While the PH 6 did a tremendous job with the nuances of Keith Jarrett's acoustic piano work, listening to Herbie Hancock's Head Hunters felt livelier as well. And although many dedicated audiophiles raise an eyebrow at heavier rock music, it represents another torture test that separates mediocre components from the excellent. A wall of Marshall amplifiers is just as tough to capture as the scale of as a symphony orchestra. Both require a level of dynamics and weight, allowing the listener to forget about the system and delve into the music. I found the PH 6 to be as adept at capturing the nuance in the layered guitars of the recent High on Fire album as I did during the loudest bits of Mahler's F.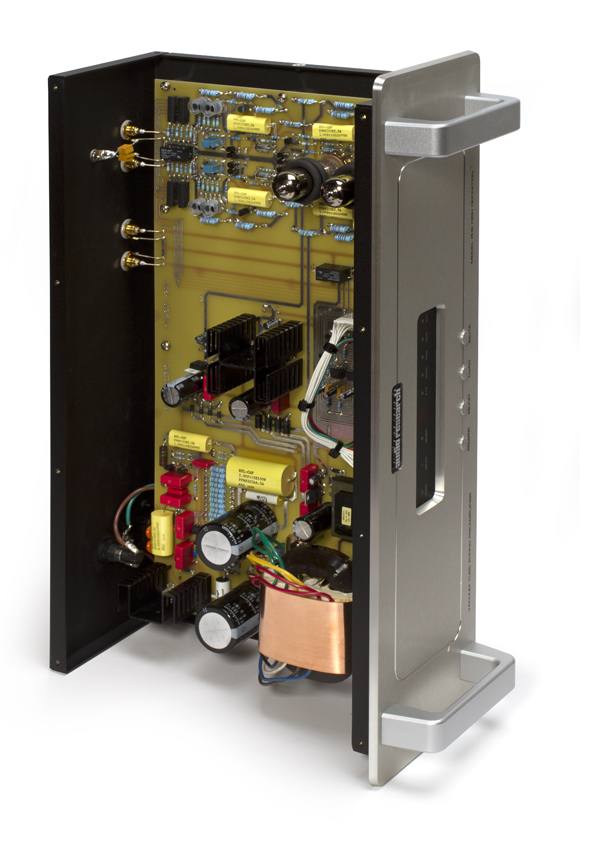 Further Listening
After a couple hundred hours of run-in time and experimenting with various cartridges, most of the final listening was done with the Rega P9/RB1000 and the Lyra Dorian, Sumiko Blackbird, and Shelter 501 II. The latter are all about the same price and in line with what I expect someone to pair with a phonostage of this quality. However, the PH 6 has such a high enough level of performance that cartridges costing twice as much will deliver sheer excellence, so you have room to expand your analog capabilities with this preamp should you require it.
Much like the REF Phono 2, I found the hybrid FET/vacuum tube combination without fault, producing a very quiet backdrop for my favorite analog recordings. You'll have to put your ear right up to the tweeter and crank up the volume way past normal listening levels to hear the most faint sound coming from the PH 6. I guarantee that it's quieter than the background of any LP you own. Combined with the punchy, dynamic sound of the 6H30 tubes, the music reproduced by the PH 6 features a good level of dynamic contrast and weight. On pristine recordings, you might mistake the PH 6's sound to be CD quiet. Yet it still has enough analog magic to let you know that you aren't listening to digital.
A Worthy Successor
The PH 6 is an excellent phono preamplifier, offering excellent sonic performance, build quality, and value. In comparison to other phono preamplifiers, both models costing considerably more and less, its price is spot on. The PH 6 also stood up well when compared to ARC's top-of-the-line REF Phono 2; the lineage is immediately evident. The only potential limitation of the PH 6 may be related to the 58 db gain figure when combined with a handful of very low-output cartridges below .4mv. However, considering the range of excellent cartridges above that figure, finding something you like should not prove difficult.
When going from regular, to large, to super size (PH 6, PH7, REF Phono 2), the listener will find the tonal qualities to be very similar, each increasing model offering more dynamic range, and more low level detail and increased resolution, along with increased functionality. Taking these points into consideration, it's easy to see why ARC continues to enjoy such a loyal customer base. So whether you are a new customer or legacy customer waiting to trade up, you will enjoy the PH 6.
– Jeff Dorgay
Audio Research PH 6 Phono Preamplifier
MSRP:  $3,495
Manufacturer contact:  www.audioresearch.com
Peripherals
| | |
| --- | --- |
| Analog sources | AVID Volvere SP w/Triplanar arm and Zu Denon 103 cartridge    Rega P9 w/RB1000 arm    Lyra Dorian    Sumiko Blackbird   Shelter 501 II cartridges |
| Preamplifiers | Conrad Johnson ACT 2/series 2    Burmester 011 |
| Power Amplifiers | Burmester 011    Octave MRE 130 monoblocks |
| Speakers | GamuT S9    B&W 805D    Magnepan 1.6 |
| Cable | Shunyata Aurora I/C    Stratos SP |
| Power | Running Springs Dmitri and Maxim line conditioners |
| Accessories | Furutech DeMag    Loricraft PRC 2 record cleaner    MoFi fluids |