RMAF-Day Two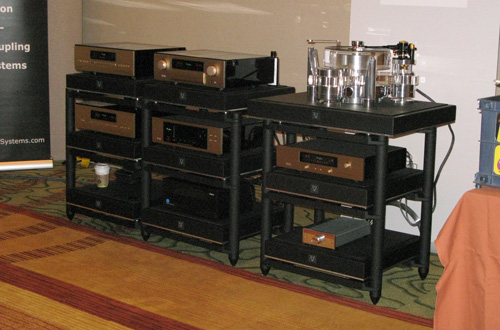 Another great day at the Rocky Mountain Audio Fest. Fest owner/presenter Marjorie Baumert announced that the Fest is go for next year and possibly as far as 2012. So, next year, show your support to convince Marjorie to stay on board!
This show has grown a lot since its inception and has become a great destination point for industry members and audiophiles to mingle in a very relaxed atmosphere. Even the legendary Harry Pearson of The Absolute Sound made an appearance.
We've never posted any kind of "Best of Show" sound awards, because quite frankly, these are very challenging rooms, most nowhere near what you might listen to at home, so coming here to really judge the manufacturers wares is just not fair. Personally, I'm always amazed that they manage to do whatever it takes to actually GET the gear here in one piece and over to the show so that you can oogle it. The first room in the picture here was up on the mezzanine, where Axiss Audio was showing the Transrotor Turntable, with a full compliment of Accuphase electronics, Hansen speakers and Running Springs power conditioning.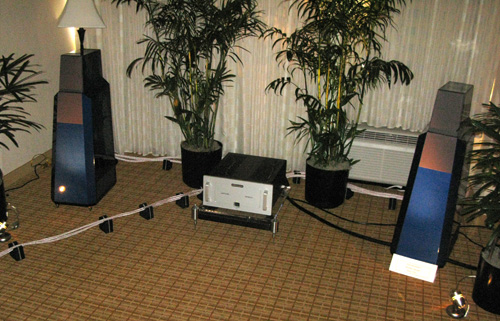 The folks at Shunyata, Vandersteen and Audio Research also did a very good job at defying the room acoustics, getting good sound out of a small room, bringing in some heavy duty room treatments and careful attention to setup. Just slightly off camera, they had a full bank of diffusors that did a great job at taming the room, along with a heavy dose of Shunyata's latest Aurora cable, which we will have a full review in the next issue of TONEAudio.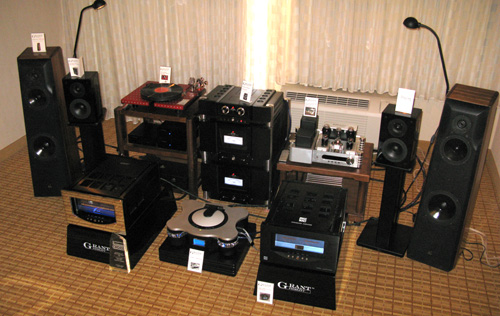 But it wasn't all mega systems that were offering good sound. The folks at Grant Fidelity were showing off the Rita integrated amplifiers along with their newest small speakers that were under $2000 a pair. Look for a review soon.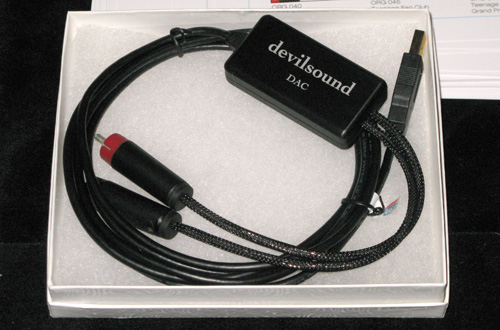 For me, the coolest products at the show were the "Devil Dac" shown in the Luxman room by Philip O'Hanlon, and a new battery powered DAC that will pull the digital bitstream from your iPod (just like the Wadia 170i) from the folks at ALO Audio and GR9 Technologies.
This is the future of audio folks, and not only does it sound great, it's very easy to use, which I'm hoping will bring more people into our world.
And that's what this show is really all about, the people and the interaction that takes place at the Rocky Mountain Audio fest is unmatched anywhere. So we end our coverage with a shot of the folks at Skiing Ninja. Sean is headed up to Portland in a couple of weeks to work his magic on my Magnepan 1.6's, so watch for a full review soon. It should be fun. How could you not want to buy an upgrade from these guys?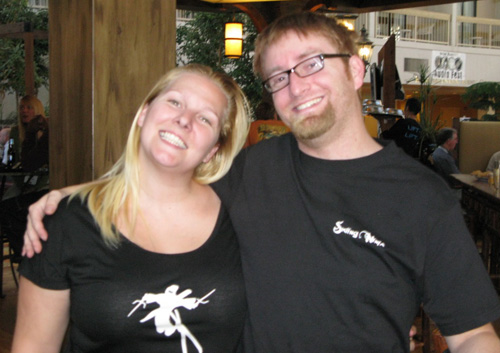 This show continues to get better every year, but the one thing I'd like to see after five years is some better music being played in the rooms. I heard a few people getting slightly out of the box playing a little bit of electronic music and I thought I heard Van Halen coming out of one room, but it was way TOO MUCH female vocals again.
Nothing but the standard, Eva Cassidy, Allison Krauss and Patricia Barber. And if I ever hear "Keith Don't Go" by Nils Lofgren again, I'm gonna hurt somebody. This is why we can't get anyone under 50 interested in hifi. So your homework assignment for next year is to bring some interesting music!