The Spires Are Here, Woo Hoo!
May 1, 2008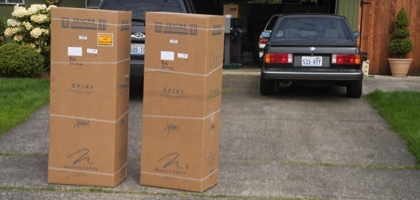 The friendly neighborhood freight guy had a surprise for me a day early;
"I've got two big cartons for you that aren't very heavy…"
"Are they from Martin Logan?"
"Yup"
"How soon can you get over here?"
"10 minutes!"
And they arrived.  The new MartinLogan Spire is here.  Placed in their lineup between the Vantage at $5000 a pair and the Summit at $11,000 a pair, the Spire is priced at $8495.  Comprised of the electrostatic panel of the Summit and the front firing 10″ woofer from the Summit (but not the additional amplifier and downward facing woofer from the Summit), the Spire incorporates some crossover updates from the new flagship CLX speaker that was just introduced at the Munich Hifi Show last week.
How do they sound?  Too early to make a serious judgement, but after 10 hours of playing, it's pretty obvious there IS something special going on here.
Watch for a full review on the new TONEAudio website in about six weeks, once these babies have had some time to break in and we've had ample opportunity to try them with a number of different amplifiers.
But I feel pretty confident in saying that this one is another winner from MartinLogan.
Want more info?  Here is the link to the factory site:
http://www.us.martinlogan.com/speaker_details/spire.html