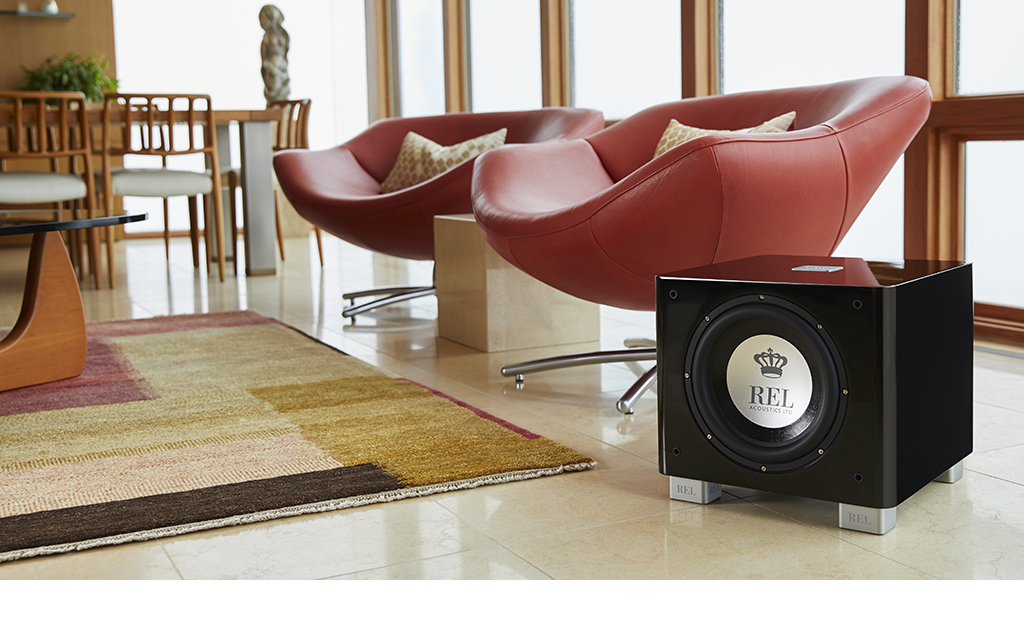 Listening to the speed, detail, and delicacy of the bass line in Sly and The Family Stone's "It's a Family Affair" proved the impetus for where this review is heading.
A distinct trend in product design, both in and out of the high-end audio world, lets the junior designers cut their teeth on entry-level products in the lineup. This isn't a terrible idea for many reasons, but the main ones are probably risk management and damage control. If the new person screws up on a small scale, all is not lost. Not to mention the new people can often pull a bit of genius maneuvering, so it can actually be a big win.
Like one of those personality assessments, there's no real wrong answer here. However, this approach can often detract from the cohesiveness of a product lineup. A recent discussion with REL's head designer, John Hunter, reveals that he had just as much of a hand in creating the new lineup as with the no.25 – and this is obvious the minute you fire up these new subs. REL sent us a pair of each model, and thanks to their small size, they are easy to work into any décor.
Please click here to go straight to the REL site for those wanting the exact size, weight, and electrical specifications. If you don't have a REL dealer nearby to assist you, there is an excellent "subwoofer finder" section that will pair the right REL sub to the speakers and room that you have now.
https://rel.net/product-category/serie-tx/
To make a long story short, the T5/x utilizes a 125-watt Class AB amplifier connected to an 8-inch downward-firing woofer. The T/7x has an 8-inch front-firing active driver, a 10-inch, downward-firing passive radiator, and a 200-watt Class AB amplifier. The top of the range T/9x offers a 10-inch front-firing active driver and a 10-inch passive facing down, coupled to a 300 watt Class AB amplifier.
If you aren't familiar with REL subwoofers, the original T series made its debut in 2006, replaced by the T/I series in 2015. The jump in performance from the T to T/I was dramatic, and REL's own copy describes it best, "these were softer, slower, and not as potent in output, as their flagship designs." The T/I series was faster, with more detail and nuance – now REL had a modest priced subwoofer that could keep up with a pair of panel speakers or a small pair of mini-monitors.
Many manufacturers prefer to connect via line-level connections, and some take it even further by having a built-in crossover that will pass sound from about 80hz or so on to your main amplifier and speakers (letting the sub do the rest, in the hope of taking some of the load off your main amplifier). REL has always chosen to use a high impedance connection at the speaker terminals. This makes for better integration between the main speakers. It also passes through the complete character of your amplification chain to the subwoofer.
Fear not, if you have to connect your REL (or pair of RELs) by line-level output, they will accommodate that, as well as connecting via a .1 LFE input. It might be confusing to some that REL does not pass upper frequencies through the REL, they just affect the point at which the sub begins to play, variable from about 30hz to 120hz. So, in essence, you are using the crossover level control to dial upper bass out of what the REL is producing. Having used RELs for over a decade in various systems, the lower you can go on your main speakers, the better integration you will have with them. That being said, I have achieved incredible results using RELs with the KEF LS50 and various iterations of the LS3/5a. But it will take more setup time. And, should cables be inconvenient, you can take advantage of RELs wireless "arrow" system to do away with the cables entirely.

REL has some excellent setup tutorials on their website and in the instructions that come with their subs, so I won't go into great detail here. However, REL prefers you to work with the room corner if possible, and that was no problem in our setups.
Chicken or egg?
Several things affect how much sheer output a subwoofer can produce, along with the quality of the low-frequency signal produced. If you've ever modified anything with wheels, you know that if you add more go, you need more stop, and if you add more stop and go, chances are you need some suspension upgrades to keep that newfound performance sticking to the ground. It's the same with subwoofers. When redesigning the /x series, a slight increase in cabinet volume led to the ability to achieve more extension, which meant the overall subwoofer could be driven harder (louder) without suspension/cone distortion. So, as a result of many changes to every aspect of these subwoofers, practically a new series is born. They outperform the units they replaced by a considerable margin. I borrowed a T/9i from a friend to get some valid side-by-side comparisons with at least one of the range.
Most listening was done in a 13 x 18-foot room (usually populated by a six-pack of REL S/510s) with Eggleston Nico Evolution speakers or the new Harbeth C7s. We feel a $5000 pair of high-quality main speakers is a logical candidate for a pair of subwoofers in this range. Not wanting to overly dwell on this, but it is important to note when comparing the quantity, quality, and overall character of the /x series to the six-pack of S/510s and even the flagship no.25s, there's no question these products came from the same mind.
Even in their least expensive models, REL does not dilute any of their core attributes. From the quality of the connectors used to the attention to detail in final assembly, and ultimately to the quality of the finish applied, the gloss and complete lack of surface imperfections (remember, I'm a crazy car guy – I pay close attention to this stuff) is just as subtle on the $679 T/5x as it is on the $7,500 no.25. That's devotion to excellence.

Comparison one: Visual
The first thing you might notice when comparing the new /x series to the outgoing /I series is the rounded corners of the /x, giving the new models a little bit more elegant feel – dare we say a little more room and user friendly. The /x subwoofers are available in gloss black and gloss white – of course, you'll have a preference. Though black has always been the rage for subwoofers (especially if you have gloss black main speakers), white really disappears in the room nicely. Let's face it, if that's the most challenging decision you have to make today, life is indeed good.
Comparison two: sonics between old and new
As mentioned earlier, only having the T/9i for comparison, it doesn't take more than about 30 seconds to hear improvement in every way. After dragging out the standard REL test tracks from the Sneakers soundtrack, and Jennifer Warnes' "Ballad of the Runaway Horse" to finesse integration between speaker and sub with both woofers, it was easy to compare and contrast.
Moving on to our own LF warhorses, "Pulp Culture" from Thomas Dolby, "Bug Powder Dust" from Kruder & Dorfmeister, and Jaco Pastorius' self-titled album, it's easy to see that all of the marketing departments claims have been met, and exceeded. That REL is only charging $200 more for the T/9x (and incrementally less for the other models) underscores their commitment to providing an excellent product at an approachable price.
The improvement from old to new is a definite increase in speed and sheer output capability. Where the /i could be bottomed out when playing the Thomas Dolby track really loud or playing a long playlist of electronic music at a similar volume, the new /x model is cleaner, more dynamic, and does not have the woofer cone flattening out. If this makes sense, there's more air in the bass, which increases the upper bass/midrange presence provided by the REL in the first place, an even bigger delta when switching it on and off. And this is with a single woofer. There's a greater sense of ease with a pair.
Final comparison: between small, medium, and large
All three models share a similar overall character, but bigger main speakers and more room volume will demand a bigger woofer. In the 11 x 10 back bedroom system, with the KEF LS50s, paired with the Luxman 550 integrated that was recently reviewed, the T/5x was more than enough to achieve a perfect balance. 20 watts of high current, class A power made for an incredibly musical system.
In our 13 x 18 room, the T/7x was able to fill the room better, especially at higher levels. Depending on the system, speaker, and volume level, deciding whether the 7 or the 9 is the better model will depend on your wallet. If you have a relatively budget system, the 9s might be overkill, but the better your system and discerning your ear, stretching for the top ones is the way to roll. Especially if we are talking pairs. The T/9x turns in a very respectable performance with our Dynaudio Confidence 20 speakers mated to the Boulder 866 integrated, our new reference in that room.
What the new REL /x subwoofers bring to your system, in addition to more bass output, is a higher level of definition in the lower frequencies, as well as more presence in the entire frequency spectrum. Don't believe me? Listen to them for an hour and have a friend shut them off while remaining at your listening position. Better yet, have your friend do it while you're listening to music with barely any low-frequency content. It will grab you instantly. The best way to really experience what any REL subwoofer can do is to shut it off. The 30 seconds you hear your system with it disabled will convince you. That's truly all it takes.
We are happy to award the REL/x series one of our Exceptional Value Awards for 2021. These are fantastic subwoofers. You owe it to yourself to experience them if you are in the market.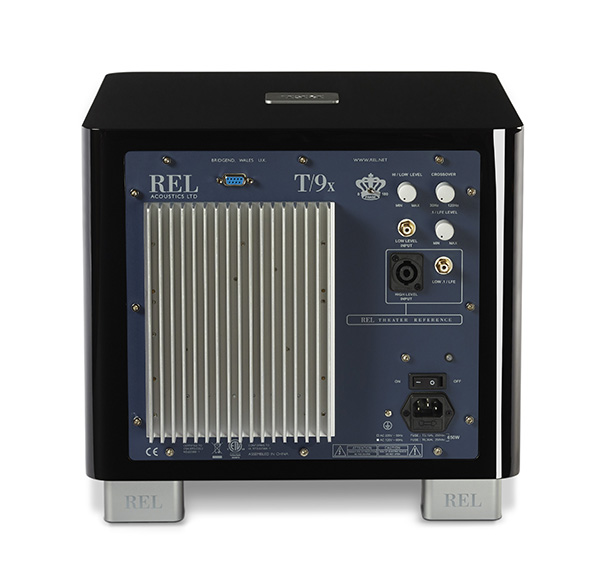 T/9x $1,449
T/7x $1,099
T/5x $679

Peripherals
Digital source Boulder 866 internal DAC
Cable Tellurium Q Ultra Black
Speakers EgglestonWorks Nico Evolution, Harbeth C7ES-XD, Dynaudio Confidence 20