Trends Audio introduces the Combo 10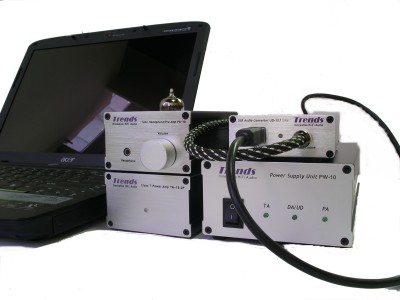 The masters of high performance miniature HiFI, Trends Audio, just released their new Combo 10 system, consisting of their UD-10.1 USB Audio Converter, PA-10 Tube Headphone Amplifier, TA10.2 Class-T Amplifier and PW-10 Power Supply as well as the required cables to assemble the system.
We have reviewed the amplifier and the headphone amplifier previously, with excellent results, so we look forward to bringing you a full review soon. Regardless of whether you need a great desktop system, or would like to power a pair of high-sensitivity floorstanders (they work great with our Zu Essence reference speakers!), Trends Audio is one of the best bargains in HiFi.
You can learn more at: http://www.TrendsAudio.com