Revel Finalizes Performa3 Speaker Range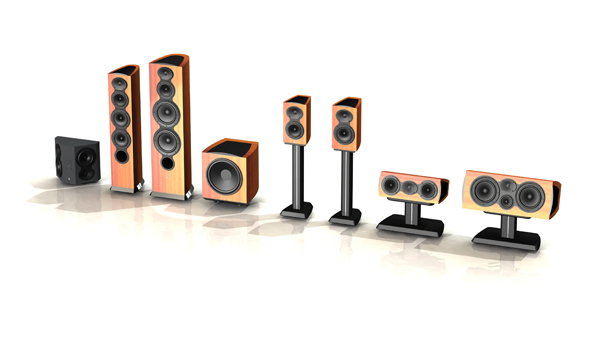 HARMAN's Revel announced that it has finalized the models, specs and availability of its upcoming Performa3 loudspeakers. The Revel Performa3 Series is a complete range of home theater and music loudspeakers that incorporates significant engineering and aesthetic enhancements to the original Performa Series to deliver extraordinary music and movie soundtrack reproduction.
The nine models in the Performa3 line include the following:
·       F208 3-way floorstanding tower (1-inch tweeter, 5.25-inch midrange, dual 8-inch woofers; SRP: $5,000/pr)
·       F206 3-way floorstanding tower (1-inch tweeter, 5.25-inch midrange, dual 6.5-inch woofers; SRP: $3,500/pr)
·       M106 2-way bookshelf monitor (1-inch tweeter, 6.5-inch woofer; SRP: $2,000/pr)
·       M105 2-way bookshelf monitor (1-inch tweeter, 5.25-inch woofer; SRP: $1,500/pr)
·       C208 3-way center channel (1-inch tweeter, 4-inch midrange, dual 8-inch woofers; SRP: $2,000/ea)
·       C205 2-way center channel (1-inch tweeter, dual 5.25-inch woofers; SRP: $1,000/ea)
·       S206 2-way surround speaker (dual 1-inch tweeters, dual 6.5-inch woofers; SRP: 1,800/pr)
·       B112 powered subwoofer (12-inch woofer, built-in 1000-watt amplifier; SRP: $3,000/ea)
·       B110 powered subwoofer (10-inch woofer, built-in 400-watt amplifier; SRP: $2,000/ea)
Complementing their industry-leading value and performance, Revel Performa3 loudspeakers are stunning in appearance, with a choice of high-gloss walnut or piano black finishes that are overseen by master Italian craftsmen for unparalleled quality. Models F206, M105 and C205 are also available in high-gloss piano white. Model S206 is only available in matte black. All Performa3 passive loudspeakers will be available in December 2012, with both subwoofers available in early 2013.
"Our Revel Performa loudspeakers have earned rave reviews from audiophiles since their initial introduction," said Jim Garrett, Director, Marketing and Product Management for HARMAN Luxury Audio and Loudspeakers. "We have made a number of advancements in loudspeaker materials and manufacturing technologies that we are now able to incorporate into the upgraded Performa3 models. We are confident that listeners will be thrilled with the improvements in sonic performance and musical accuracy."
To achieve their superior sound quality, Revel Performa3 loudspeakers deploy proprietary drivers throughout. The 1-inch aluminum-dome tweeters deliver airy, extended high-frequency response to beyond 20 kHz, with superlative detail and clarity. The tweeters operate into an exclusive patent-pending Acoustic Lens Waveguide that is precisely shaped using an entirely-new mathematical approach. These new waveguides result in an utterly seamless transition from the midrange to tweeter; greatly enhancing the sense of reality and musicality.
The midrange and low-frequency drivers employ aluminum cones and sophisticated motor systems for extraordinary resolution with low distortion. The cones have integral ribs that add strength and rigidity without added mass, resulting in very low distortion for more natural vocal and instrumental reproduction. The drivers incorporate additional refinements including cast-aluminum frames and efficiently vented, high-power motor structures, to deliver the same superb sonic character over an extraordinarily wide dynamic range.
The F208 and C208 also feature a tweeter level control that allows the speakers' high-frequency balance to be fine-tuned, and a boundary control, which enables the speakers to be tailored to individual room acoustics and placement positions.
The enclosures are built to the highest standards, with bracing at critical locations and curved side panels that minimize cabinet-induced coloration. The three-way models feature individual sub-enclosures for the midrange drivers for maximum midrange clarity and definition.
HARMAN (www.harman.com) designs, manufactures and markets a wide range of audio and infotainment solutions for the automotive, consumer and professional markets