New Floorstanders From PMC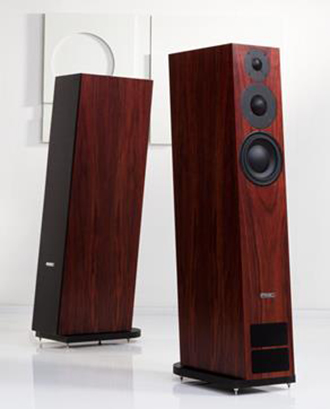 The Sound Organisation, North American importer and distributor of European Audio products, is pleased to announce a new addition to the well-established PMC twenty series of loudspeakers, the twenty.26.
The twenty.26 is the first three-way speaker in the series featuring a refined version of PMC's Advanced Transmission Line (ATL™) bass loadingtechnology. As the pinnacle of the series, the twenty.26 features the same traits as its siblings – finesse, delicacy and musicality – but with an added ability to convey huge dynamic impact and the sheer scale of a musical performance.
Setting the twenty.26 apart is PMC's newly developed 2" soft dome midrange drive unit, nestled between the existing tweeter and a bespoke bass driver. This driver is designed to produce an extremely natural and wide dispersion characteristic while integrating seamlessly with its other drivers.
The new 7" bass driver, designed specifically for the twenty.26, is a low mass, natural fiber cone designed by PMC to produce very low coloration and excellent transient response. Mounted within a cast alloy chassis, the new drive unit is excursion controlled by the suspension design, limiting only at maximum excursion.
As with all PMC's passive speaker designs, the crossover is military grade circuit board with ultra-thick copper tracks and gold though plating ensures non-inhibited current flow and greater reliability. Careful component selection, precision matching and optimized positioning provide low component interaction and low coloration from the sophisticated 24dB per octave crossover.
86dB efficiency and a true 8 ohm design enable the twenty.26 to be partnered with a vast array of amplifiers from the recommended 50W to 300W with tri-amp and tri-wire terminals. Frequency response is a smooth 28Hz to 27kHz.
The cabinet features 18-25mm thick Medite™ walls and extensive bracing, particularly at the high-pressure areas on the top panel, to dramatically reduce cabinet induced coloration. The now familiar decoupled plinth, for better bass definition and HF focus, is carried over to the twenty.26, but with 30% increase in mass for improved stability.
The twenty.26 will ship in 6-8 weeks (mid-late April) in a selection of finishes including Oak, Walnut, Amarone and high gloss Diamond Black. All available exclusively through The Sound Organizations' US network of specialty audio retailers at an MSRP USD $10,250.00 Pr.  Watch for a full review to follow shortly after introduction…