McIntosh returns to mobile audio with Jeep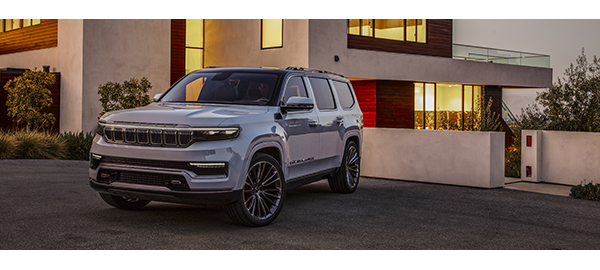 It's hitting the web today, that McIntosh is providing the audio system for the concept car, that will eventually become the new Jeep Grand Wagoneer next year.
Ralph Gilles, Jeep's head of design made it clear in their launch this morning that McIntosh is a big part of the Grand Wagoneer concept's package. His smile when discussing the McIntosh system says it all, when he talks about the extent that they went to making this part of the new vehicle. Showing off the lighted speaker grilles with McIntosh, he says "yeah we went a little overboard on this, but you'll be able to show off that you went the extra mile to get the McIntosh system."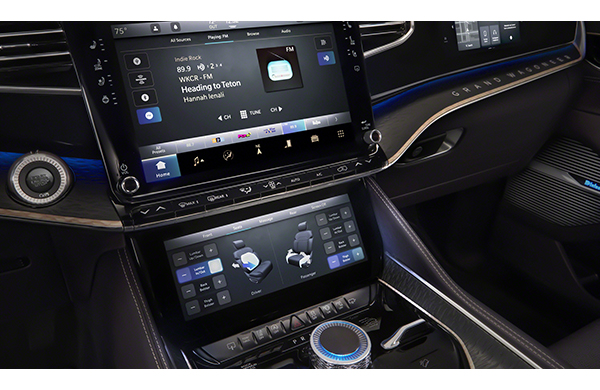 Most importantly, to dispel all the rumors that have been flying around, this was not an off the shelf solution, adapted to Jeep. The McIntosh group is no stranger to mobile audio, having done the stunning system for Ford's GT40, and a killer line of aftermarket components that are still revered by mobile sound enthusiasts today. However, Poggi's experience with mobile audio at Harman and Bose really came into play on this project, and he makes it clear this has always been a priority for him at McIntosh. "When I joined the McIntosh group, this was something I wanted to accomplish. We felt Jeep was a perfect overlap for the two companies."
Poggi mentions that while they approached Jeep, the meeting of the minds went extremely well, and it didn't take long for both teams to be on board with this project. Many of the technologies that exist in home Mac components, like Power Guard™, will be in the mobile system for maximum benefit.
This nearly three-year project had engineers from McIntosh as well as Jeep cross pollinating each others' laboratories and design studios, with every aspect of the system fine-tuned to match the Grand Wagoneer's environment. Poggi says this part of the process to him is "being given control of the room."
Viewing the rest of the Jeep video, the team has clearly gone all out to offer an incredibly immersive experience for everyone in the cabin, and the integration of the McIntosh system is beautiful to behold.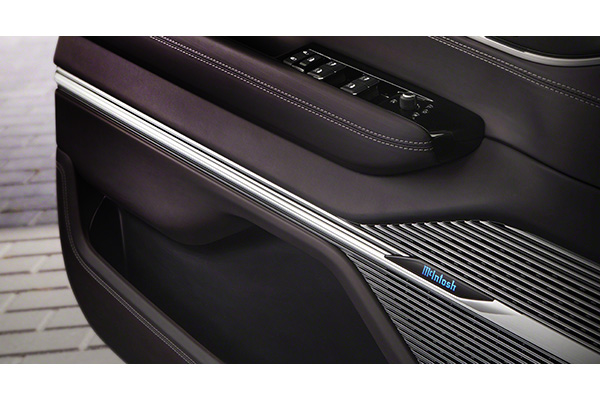 Automotive car companies often launch concept cars as far as a few years from production, and the final result does not often mirror the concept car. You need look no further than Porsche's Boxster to see the deviation. However, with Jeep saying that this vehicle will be available next year, it seems unlikely that there will be a major design change between now and then, so fingers crossed.
At this point, the cost of adding the McIntosh system is not available, but the system in the concept car features 23 custom-designed speakers connected to a 24-channel amplifier providing an immersive audio experience. The audio elements are housed in aluminum and gloss black, true to the design aesthetic of McIntosh's high-end home audio systems. Again, to extrapolate based on what other SUV companies offer, there will most likely be two or three trim levels offered on the Grand Wagoneer, perhaps with the top line featuring it as standard equipment (As Range Rover does with the Meridian systems) and it being an add on for the other models.
Jeep is claiming the Grand Wagoneer will start at $45,000. We wouldn't be surprised if a fully optioned version approaches double this price, but time will tell.
ED NOTE: A release from Car & Driver reveals the new Grand Wagoneer is going to start at $60k, with a fully loaded version "topping $100k," so I guess our guess was on the money...
So, if you're going to be shopping for a new SUV next year and you want to rock in style, what could be a more American experience than cranking up your mobile McIntosh system in a Grand Wagoneer. We look forward to taking one of these for a test drive. Here's to seeing the finished product, and here's a look at the past for a reminder where it all began.
www.mcintoshlabs.com

www.jeep.com