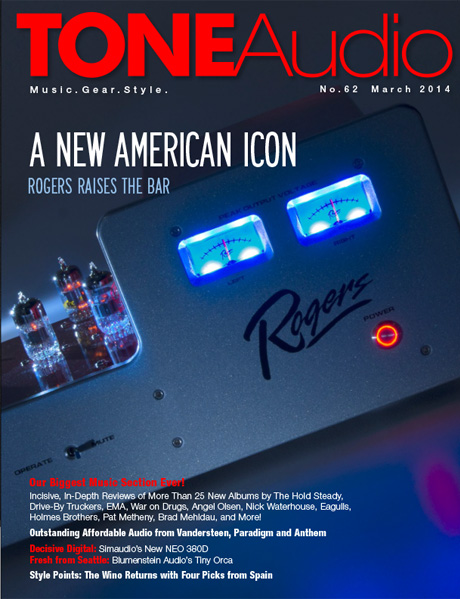 Issue 62
Cover Story
The Rogers Phonostage is Stunning!
Download TONEAudio Issue 62
239 page PDF Standard Resolution 31MB
---
Features
Old School:
Threshold CAS-2 Amplifier
By Jerold O'Brien
Journeyman Audiophile
Ortofon Cadenza Bronze Cartridge
By Jeff Dorgay
Personal Fidelity:
The Blumenstein Audio Orcas
By Jeff Dorgay
TONE Style
The Wino
Four From Spain!!
By Monique Meadows
The New Shape of Macintosh
By Chris Petrauskas
Keyport Slide 2.0
By Rob Johnson
Brian Eno Visual Music
By Chris Petrauskas
The BMW i3
Music
Current Releases:
Fresh Releases in the Pop/Rock World
By the TONE Staff
Audiophile Pressings
Jazz & Blues
By Jim Macnie & Aaron Cohen
Snapshot: Pinetop Perkins
By Jerome Brunet
Previews
Franco Serblin Accordo Speakers
Conrad-Johnson MF2550 Power Amplifier
Musical Fidelity V-90 LPS Phonostage
From the Web
Rega Aria Phonostage
Coffman Labs Equipment Footers
Reviews
Auralic Merak Mono Amplifiers
By Rob Johnson
Simaudio NEO 380D DAC
By Andre Marc
Vandersteen 1Ci Speakers
By Jeff Dorgay
Rogers PA-1A Phonostage
By Jeff Dorgay
Plinius Tike Network Audio Player
By Andre Marc
Anthem MRX 510 AV Receiver and Paradigm
Monitor 7 Speakers
By Rob Johnson