The New Pornographers
July 15, 2010
The Vogue Theater
Vancouver, BC
photos by

Shawn Beckman
text by

Carling Hind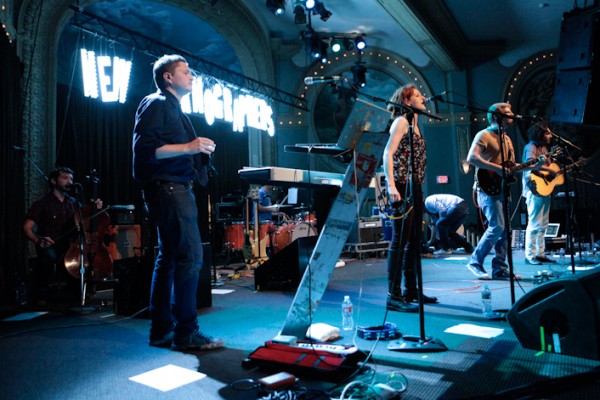 The recent performance of the New Pornographers on their Together tour was more like a musical than just a concert performance. The nine band members treated the Canadian crowd to a healty mixture of new and old tracks with their set lasting just over two hours. Considering the high level of band/audience banter, it was more like a screening of The Rocky Horror Picture Show!
When the two opening acts (Imaad Wasif, The Dodos) were through, singer/guitarist Dan Bejar opened up the NP set with "Myriad Harbor", well supported by Neko Case taking the female lead. The audience mobbed the stage and added enthusiastic background vocals to "Up In The Dark", "Sing Me Spanish", "Techno" and "Crash Years." Fortunately for this evenings audience Case was able to make the show, as she was held up by her flight and unable to make Wedneday's show.
The Vogue's intimate setting, combined with the crowd's reaction to Case's presence made for a highly interactive evening. At one point when a half naked man on the balcony got carried away, Case nonchalantly commented, "…How is it that this man can bear his chest in public, but I cannot? …That ought to be for the beach only…" And then the band launched right back into song, unfazed.
Though the breaks during their set involved many topics of conversation, the New Pornographers performed the way they do best – with humor, theatrics and a safe choice of music – their fans favorite picks. And it didn't hurt that they concluded with two lengthly encores of "Challengers" and "Testament to Youth in Verse."