Marco Benevento Trio
June 25
Doug Fir Lounge
Portland, Oregon
photos by

Jean Dorgay
text by

Richard Colburn
Artist web site: http://www.marcobenevento.com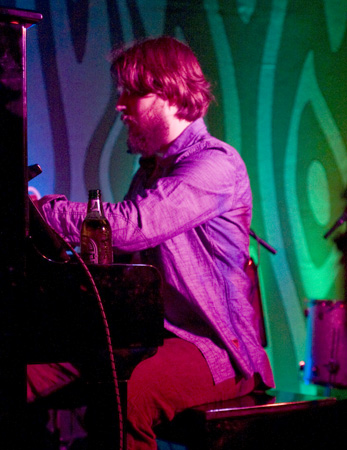 After reviewing his latest album Between The Needles And Nightfall a few issues back, I was certainly up for seeing Benevento's trio live at the best sounding venue in the Northwest; like the record, I came away impressed with the performance and the sound. Benevento's recent albums showcase his ability to create magic, sonic landscapes, but the live show is a different story.  This jazz trio is really a jam band in disguise.  Benevento uses a series of effects pedals at the feet of his baby grand piano, and just like a guitarist, uses them to great effect.  At times, his sound went straight to the PA system, and others, he routed them through an ancient vacuum tube practice guitar amp with a great result.
This performance kept the strong melodic backbone of the recordings, but the way the drummer and bassist kept their lockstep rhythmic foundation was reminiscent of  a precision fusion band more than a traditional jazz trio.  Whether they were performing some of the original  material off the latest album or covering Amy Winehouse's "You Know I'm No Good", the band held the audiences rapt attention.  They stretched out quite a bit but never let go of the tension created between the melody and the attack. The crescendos  "The Two Of You" and a few others felt like a sonic wave crashing off the walls of the club.  As a relief from that tension, Benevento played a few tunes on his toy piano, replete with comical stage antics while still being pummeled by the rhythm section.
Marco Benevento is a joy to see live.  He has an amazing ability to compose songs that have memorable melodies that translate well to a forceful, if slightly unorthodox fashion on stage.