The Scientists, Mudhoney, Iggy Pop and the Stooges, Sleep
September 3, 2010
Kutshers Country Club
Monticello, NY
photos by

Jeff Dorgay
text by

Bob Gendron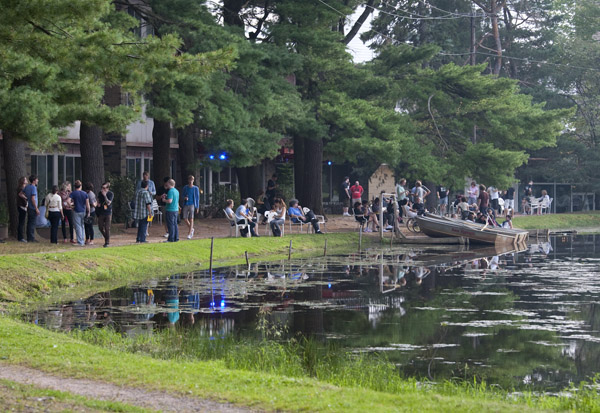 The Scientists fizzled, Mudhoney wailed, Iggy Pop and the Stooges sheared heads, and Sleep deadened eardrums. Attracting a mix of youthful hipsters and older rock fans to New York's rural Catskill Mountains region, the first day of 2010's All Tomorrows Parties Festival is in the books.
Having started Friday with four bands each respectively performing one classic album onstage, the three-day gathering in upstate New York is inarguably the most intimate of the major music fests. No corporate signage exists, security consists of stagehands, attendance is capped at fewer than 3,000 people, and a majority of concertgoers remain onsite at Kutshers dilapidated hotel, a surreal setting that conjures unmistakable visions of "The Shining" and "Friday the 13th." More on the fest's atmosphere, vibe, music, and logistics will appear in the print version of this report in Tone 32. For now, here's an hour-by-hour wrap-up.

6:06 p.m.: Fans ring a swampy pond situated on the hotel's grounds. Sitting, smoking, and drinking, the sight is akin to a camping trip that doesn't involve any outdoor activities other than playing cards and comparing notes on favorite bands. Judging from the relaxed vibe, one would never be able to guess that a rock festival was taking place. Yet there's also something very creepy about the scene, no doubt produced by Kutshers backdrop of peeling paint, filthy windows, moldy smells, mildewed carpet, and the sense that, save for ATP, this place remains closed for the majority of the year. There's no better location for filming a slasher film.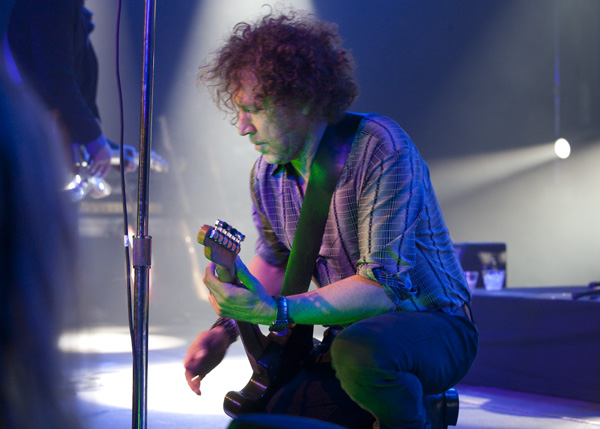 7:17 p.m.: Tony Thewlis picks up a whiskey bottle and uses it as an impromptu slide for his guitar—as well as a blunt object that he smacks against the body of his instrument. The Scientists are performing their first-ever U.S. show, and as an acknowledged influence on many of Sub Pop's early bands as well as New York's downtown scene, expectations and curiosity levels create a buzz throughout the audience. Yet the Australian post-punk quartet fails to deliver. Devoid of personality and primarily flat, the band ignores the crowd and clings to a volley of monotonous beats. Frontman Kim Salmon occasionally shakes the microphone stand and chokes up on his vocals, coming across like a back-alley predator sniping at innocent passersby. Steeped in rustling reverb, tough swamp-country tones, and barbed-wire rolls of slash-and-burn guitar notes, the Scientists generate a downward spiral of cacophony that yields a rumbling grind but feels entirely one-dimensional. Without a word, the group allows Blood Red River to take its course, and while its impact on musicians such as Jon Spencer is clear, the lack of elasticity and purpose convey that the States could've waited another 30 years for the Scientists' debut.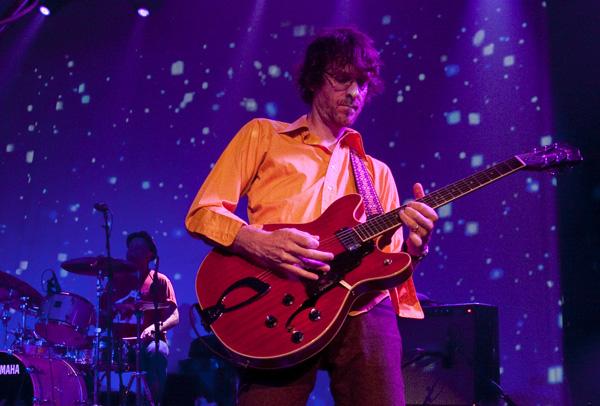 7:58 p.m.: Steve Turner isn't even a minute into "Chain That Door" and he's already busted a guitar string. No matter. Perfection doesn't belong anywhere near Mudhoney's joyous spree of ramshackle garage rock, swiveling rhythms, or gutbucket blues in reverse. Turner and fellow guitarist Mark Arm give everyone ample opportunity to dance, and it would've been nice if somebody would have thought ahead and brought a few lampshades to the party. Every song from the band's landmark 1990 Superfuzz Bigmuff Plus Early Singles sounds as vibrant as it did two decades ago. "Sweet Young Thing Ain't Sweet No More" moans, groans, and growls as Arm spouts off about a girl in transition from being a wide-eyed child to a realistic teen, with the consequences of liquor, drugs, and late-night soirees greeting her as she leans over a toilet bowl. "Touch Me I'm Sick" rages with insistence and festers like an itchy scab that doesn't quit bleeding once it's picked. Turner's slide playing and flanged notes contribute to the zany shimmy on uptempo fare and spray beer-soaked grime onto slower material such as "Mudride," which finishes in a heap of feverish noise thanks to wah-wah pedal effects that function as the blasts from a sci-fi ray gun.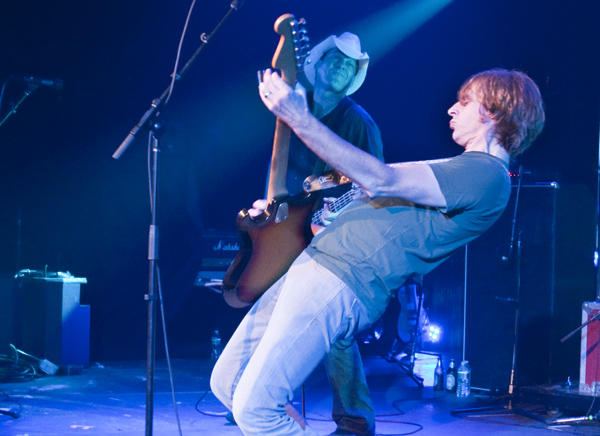 The provocative "Halloween" injects filthy sludge by way of syringe before Arm, preparing for his close-up, deftly moves out of the way of an out-of-control crowd surfer that nearly kicks him in the face. The band plays on as if it's an everyday occurrence. "In and Out of Grace" captures Mudhoney's knack for driving melodies, the song wrestling with itself until it gives way to a brief Dan Peters drum break that's straight out of a classic surf song. Arm no longer yelps as loudly as he once did, but there's nothing wrong with his attitude or wail—or their ability to convey frustration, desperation, and dissatisfaction with a knowing wink. Witty humor underlines nearly every tune, with "You Got It (Keep It Out of My Face)" emphatic albeit slackjawed and "If I Think" jeering at the leftover residue from an emotional breakup. Nothing that another drink won't solve. Point taken.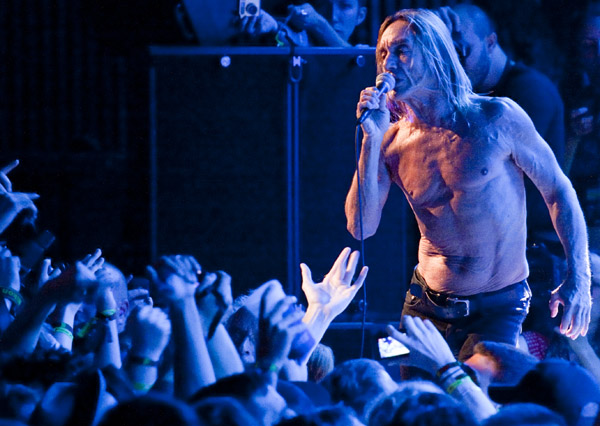 9:20 p.m.: Iggy Pop lands onstage as if he's just been shot out of a cannon. James Williamson batters his guitar, Mike Watt throttles the bass, and the Stooges charge into Raw Power with manic delight. At 63, the animated Pop seems more animal than human, his sinewy body riddled with grainy lines that resemble those found on a cut of flank steak. He sways his hips, punches imaginary foes, and enthusiastically dives at the feet of his mates, getting right up in the faces of the fans in the front rows that egg him on to escalate his wild antics. Pop responds by writhing and flailing, throwing microphone stands, pushing speaker monitors into the P.A. system (an action that causes nervousness amongst the stagehands attempting to re-steady the speakers), jumping into the crowd, and yelling for his band to keep up. Watt, Williamson, and company are more than up to task. From a crouched stance, Watt watches the entire spectacle with a sense of invested intensity, much like an overzealous football coach barking at his team to annihilate the opponent. Williamson is all business, manhandling his guitar and reeling off searing solos that further spike Pop's adrenaline. Steve MacKay remains off to the side, yet his blaring saxophone fuels the music's free-jazz irreverence. "Search and Destroy," "Your Pretty Face Is Going to Hell," and "Penetration" are pure unadulterated kicks to the stomach and uppercuts to the head. The explosions of unfettered volume, storming violence, and pummeling riffs are as inspiring as they are threatening. "Gimme Danger" bristles with deadly sensuality, a characteristic epitomized by Pop's physical movements and primal shrieks. He invites "freaks" and "spazzers" up onstage for a chaotic "Shake Appeal," yet this communal showing is topped by "I Got a Right," during which the iconic singer shouts "Do you feel it?" and demands an answer. Anyone within the premises that doesn't feel the passionate fury that the Stooges are throwing down isn't alive.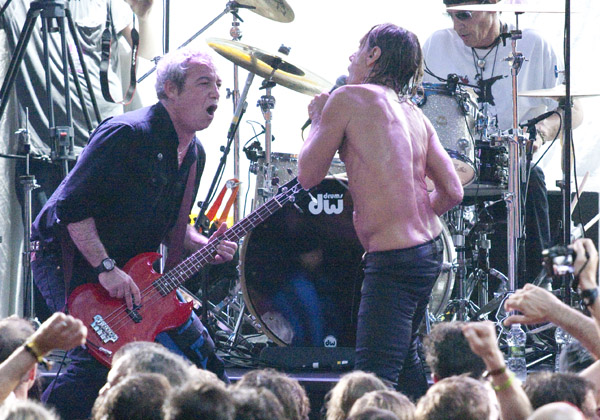 A harsh, demanding "I Wanna Be Your Dog" finds Pop wrapping the microphone cord around his neck while his cohorts turn the pounding music into an all-out blitzkrieg. The sonic torrent pushes the personalized "Open Up and Bleed" to the limits until everything threatens to collapse. Lights go up but the Stooges aren't done. "Funhouse" swaggers with big-band R&B inertia and the closing "No Fun" wallops the senses, hitting hard and aggressively before sending Pop off with a huge smile after he takes one last tumble over the hands of a sweaty crowd that's eager to give him his much-deserved victory lap. The bar for the remainder of the weekend is set extremely high. Will ATP 2010 be like Pitchfork 2009, when the Jesus Lizard performed on the first night and rendered the rest of the festival light by comparison? Bet on it.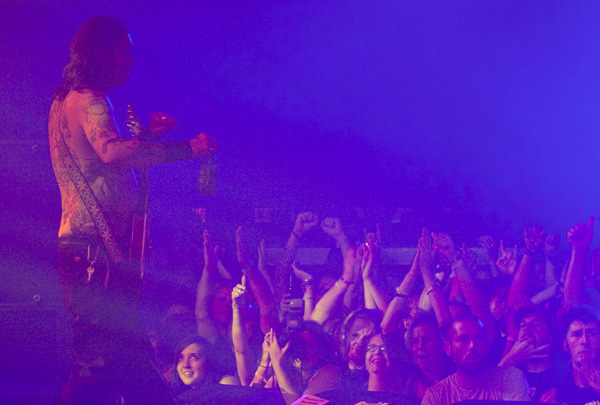 11:21 p.m.: How does a band follow the Stooges? If you're Matt Pike, you slow down the pace, up the decibel level, and utilize volume as a mesmerizing narcotic. Far removed from both the style and presence of the Stooges, Sleep captivates with almost unimaginable amounts of heaviness. The reunited stoner metal trio's foundation-shaking riffs and bowel-moving low-end thunder literally move the air in the room to the extent that anyone within the premises can feel the hairs on their arm moving from the vibrations. Dry ice fog and dense lighting shroud the band, whose psychedelic doom renders any vocals inaudible. This is all about the art of the drone and the dirge, and the committed virtuosity of the heavily tattooed guitar god Pike, who, with one swipe of his hand, unleashes a distorted chord that seems to hover for days. While playing Holy Mountain, Sleep treads as if scaling a glacier, taking its time, refusing to go fast, and steadily climbing up its way to the top. All that seems to be missing is the gong. Distinguished by titanic grooves, tectonic tension, and perception-changing feedback, the down-tuned thunder of overdriven sonic mulch such as "The Druid" and "Inside the Sun" appear to unfold in slow motion, coming into existence much like a fissure spits out lava on the ocean floor, whereby the presence of water distorts the rapidity at which the liquid is actually being released. Indeed, Sleep is playing in real time, and it's this altered sense of reality that makes the group's brand of sonic hypnotism and monolithic heaviness all the more impressive. Positively transfixing—and quite possibly the loudest show you'll ever experience.