ATP Festival: Part Two
September 4, 2010
Kutshers Country Club
Monticello, NY
photos by

Jeff Dorgay
text by

Bob Gendron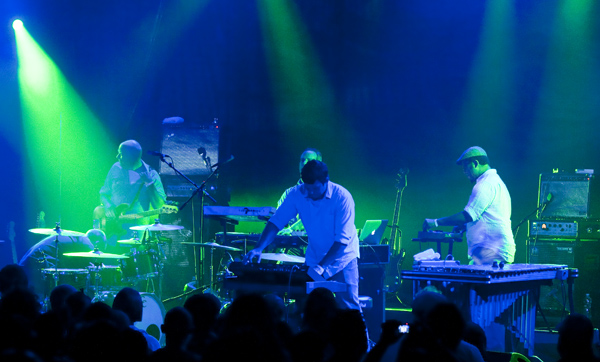 Who needs lyrics? Instrumental bands–and the myriad ways such artists engage in dialogue without vocal support–flourished during the second day of the 2010 ATP Festival in upstate New York. But before all was said and done, two veteran noisemaking groups, Shellac and Sonic Youth, each featuring underground icons, had something to say, literally and figuratively. Here's an hour-by-hour report. A full summary, with other insights, dozens of photos, and an in-depth take on the gathering's atmosphere and success, will appear in Issue 32.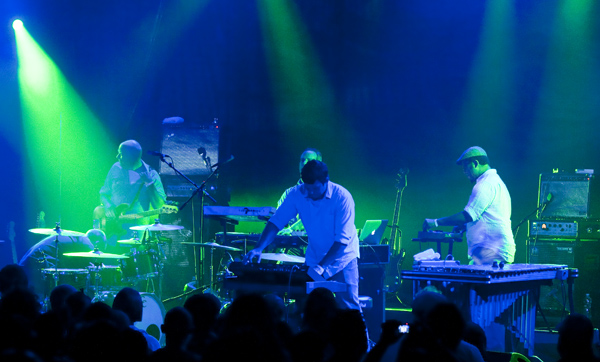 The members of Tortoise are pushing buttons, lightly skimming drums and cymbals, and creating what could be a composition designed for playback on a hi-tech calculator. Nothing about the Chicago quintet ever changes, including its disposition, a mix of stoic and serious. Counting producers and engineers amongst its fold, Tortoise approaches jazz-rock fusion with an audio geek's focused sensibility, the completely instrumental songs alternatively ambient and direct, fading and flowing, squealing and soothing. Jeff Parker picks out the occasional staccato passage on guitar, prompting Douglas McCombs to respond with a thicker bass line. Once a tune finishes its course, Tortoise shifts positions, exchanging seats on the drum kit or manning a second percussive stool, or picking up the mallets and preparing for a turn on the vibraphones. The band's liquid funk, outré blues, and modulated electronics give off a pastel glow that's not dissimilar from the purple hues of the overhead lighting. However cerebral and dependable, the experience is best ingested in small doses.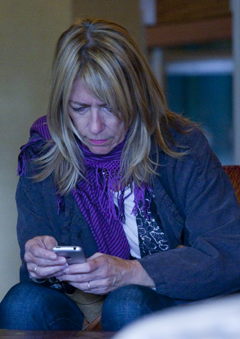 6:16 p.m.: Kim Gordon lounges on a couch in the main lobby. Few fans notice her, though she does take a moment to check her cell phone. She looks as if she's ready to stroll around the block; nothing about her presence shouts "rock star." Indeed, one of the biggest appeals of ATP is the sense that everybody–bands, press, fans–are equals. Aside from a small interview staging area, there's nary a sign of the separation present at other major festivals. No VIP section, no overpriced cabanas, no stages named after a video-game console. Moreover, the laid-back environment and existence of the Criterion cinema further lends to a cozy, unhurried vibe one can't even get at the Pitchfork Music Festival. The small amount of people is also a huge plus, making access simple, quick, and easy.
7:01 p.m.: Motorifik! Billed as Hallogallo, guitarist/composer Michael Rother and bassist Aaron Mullan converge in an intoxicating conversation with Sonic Youth drummer Steve Shelley. Nearly four decades ago, Rother flipped the conventions of art-rock music on its side with Neu, an influential and pioneering electronic band that bridged his native Germany's Krautrock heritage with exotic European timbres. Neu's impact is still felt in the work of U2, Radiohead, Wilco, and others, and while watching Rother calmly operate behind a table packed with gadgets, pedals, plugs, wires, cords, and boxes, and performing Neu material for the first time in 35 years, the importance of his band's legacy becomes transparent. Rother's heavily treated guitar sounds as if it is an aural laser that inhales helium gas and exhales a gorgeous array of soothing tonalities.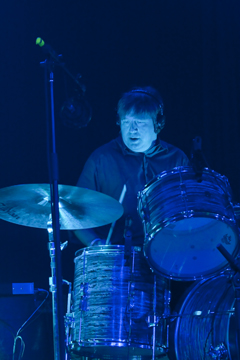 Seldom staring out at the enraptured crowd, the trio maintains constant eye contact with one another, the direct glances serving as communicative cues for when a groove should be switched into another gear. Shelley is a model of precision, pounding out tom-dominant beats that contrast with Rother's processed melodies and Mullan's slumbering bass burble. The steadily building "Hallogallo" stretches toward trance dimensions; "WeiBensee" begins as introspective film music before a heartbeat pulse creeps in and gets washed by soft ride-cymbal crashes, the arrangement doubling as a faint mist. Throughout, Rother's frequency-shaping tunes exude a hesitant urgency and finessed poise. All the concentration pays off in the form of a tremendous marriage of traditional to modern, the songs distinguished by excellent cornering and obsessive attention to detail. Clearly, a product of German engineering. If circuitry had a human voice and soul, Neu is what it would sound like.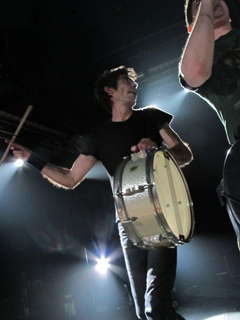 8:24 p.m.: Todd Trainer holds up a portable snare drum in front of guitarist/vocalist Steve Albini's microphone, the drummer moving around the stage as Shellac begins an epic version of "The End of Radio." Before the cleverly on-point song concludes, Albini reverently mentions legendary broadcasters Vin Scully, Jimmy Piersall, and Studs Terkel while chastising hate-mongering hacks such as Rush Limbaugh. Albini is in the process of delivering a somewhat impromptu monologue about the history of radio to an imagined alien civilization that sprouts up 10,000 years from now. It's one part sincere apology and nine parts sarcastic, truthful observation of what the medium has become and how society has let it, and its content, go to waste. As Trainer walks about, flinging drumsticks at ceiling tiles and giving new meaning to "little drummer boy," the Shellac singer wittily references Jonathan Richman's "Roadrunner," Eddie Money's "Two Tickets to Paradise," and an annoying Verizon slogan in mocking radio's commercial excesses, crass promotions, and cliched Top Ten lists. It's an inspired piece of rock theater, and the song bristles with the combination of seething anger, push-and-shove momentum, tightrope tension, and offbeat humor that infuse pertinent Shellac songs such as "Steady As She Goes." In just 45 minutes, the Chicago trio verges on stealing the show away from the bigger-name headliners, thanks to immaculate, dry, crisp sonics and unbridled intensity. Albini and seemingly cuddly bassist Bob Weston (each accomplished recording engineers) play through trademark silver amps distinguished by one large knob and audiophile-grade tones. The music swerves and dives, pausing and resuming at unconventional intervals, and erupting with an intentional imbalance of murderous intent and comical relief.


When he's not doing his best Street Fighter impression, kicking and twisting with guitar in hand, a spiteful Albini grabs the microphone stand as if he's a bookie shaking down a delinquent gambler. He spits as he barks and shouts lyrics, the effect savage, gnarled, and ferocious. Coated with a metallic sheen, the group's rhythms and riffs evoke the torque and sound produced when a large screw is forced into a too-small hole on a sheet of reinforced steel. Weston's instrument gurgles and throbs like a clogged drain, and Trainer brutalizes his drums, hitting with such might that his sticks look as if they've been gnawed by a pit bull. It's ugly, acidic, and caustic–and thoroughly energizing. For the uninitiated, Shellac is revelatory; for repeat listeners, the set is over much too quickly.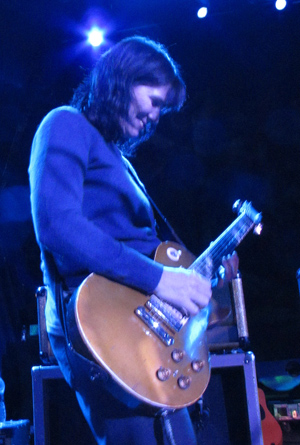 9:20 p.m.: Kelley Deal stands on her tippy-tippy toes to sing "I Am Decided" and assumes that posture throughout the Breeders' disappointing performance. After taking extra time to set up an armada of effects pedals, keyboards, and other related gear, the Breeders treat their slot as a band practice where anything goes. Little about the quintet suggests they've given any thought to their material in a while. Neither Kelley nor her more famous twin sister, Kim, prove competent on guitar, and frivolous pop fare like "Bang On," "Divine Hammer," and "We're Gonna Rise" amateurishly drift on by. Several tunes fumble with skeletal arrangements that share more in common with fragments than whole songs. Unconcerned and lackadaisical, Kelley appears oblivious to the band's hollow state. Only the surf-dipped "Tipp City," slinky early 90s hit "Cannnonball," and a country-bluegrass rendition of "Driving on 9," during which the Breeders are joined by a guest violinist, register any vitality. The rest is goofy, sloppy, unremarkable, and, particularly after Shellac, boring.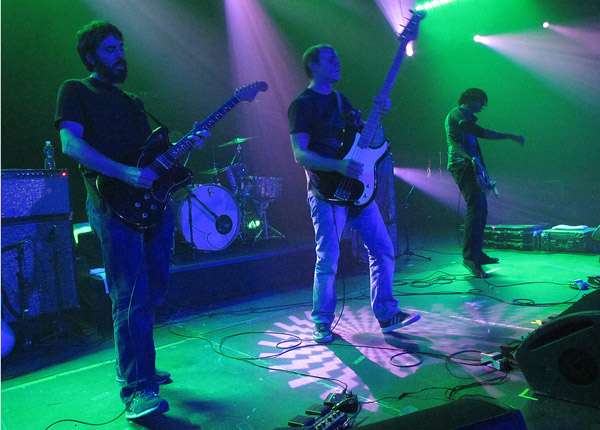 10:54 p.m.: The three guitarists in Explosions In the Sky simultaneously plunge their hands against the bodies of their instruments, swiping the strings with gusto while they all lean and jump forward at once. It looks as if the sight could be choreographed, but the display is simply an outpouring of the emotion and conviction that the wordless Austin quartet brings to its hybrid of gentle dream pop, bursting cosmic rock, and intermittent instru-metal heaviness. Seen on the stage floor in the dark, the band's lengthy arc of flashing effects pedals looks like a miniature version of an airport runway lit up at night. Deploying sustain, delay, distortion, wah, and volume effects, the group's ambitious compositions are true to the band's name. Harmonically driven songs conjure images of meteor showers, lightning storms, the aurora borealis, rocket launches, and solar eclipses. Laden with texture and color, individual notes shoot and spark, the trickles of reverb coalescing and forming choruses of sound that glow like stars against a deep-black sky. The members close their eyes for a majority of the concert, losing themselves in dynamic washes of controlled feedback and moody atmospherics. Tempos thrust forward and reverse, melodies flutter, and when crescendos reach an agitated state, the eventual detonations are often cushioned by a comforting softness. Explosions In the Sky revels in the areas found between light, shade, and darkness, and the band's widescreen sonics allow abrasive passages to seamlessly merge with quieter, wispy sequences. During climaxes, sudden depth-charge booms function as avalanches, knocking over the geometrical shapes that the band so carefully assembles. Imagine a tranquil sea progressively discharging a steady river of water that, once heated and collected, bears down on a compromised dam and leaves nothing in its wake. Extremely impressive, and wonderfully executed.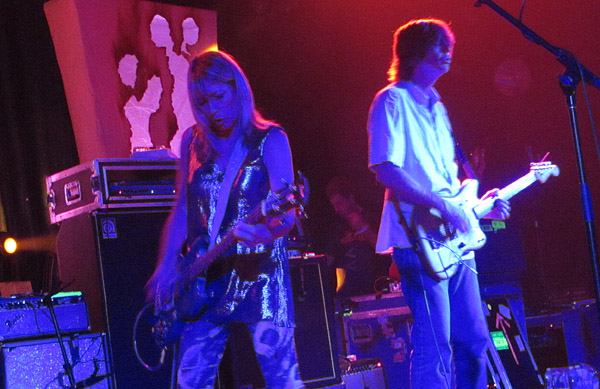 1:07 a.m.: Sonic Youth attacks the riotous "Death Valley '69" with a fervent menace that suggests the band is on the run from a desert madman. Lee Ranaldo, Thurston Moore, and Kim Gordon exuberantly shout into the microphone as the psychedelic ramalama boils to a fever pitch, drummer Steve Shelley pounding out a circular romp on the drum kit as a sign that the group needs to round up the wagons. Playing with vicious energy and rampant urgency, the iconic New York art-rock quartet appears to be in an especially blustery state of mind. What's immediately obvious is how far the band has come as accomplished musicians. The older, wiser Sonic Youth not only possesses the enviable disposition, freak-out experimentalism, and cool factor of the ensemble's early days, it also has the effortless capacity to spin thickets of imaginative noise and patchwork quilts of combustive rhythms into discernible songs. Gordon pounces with dont-mess-with-me feminist attitude on "The Sprawl." "Cross the Border" turns wild in a hurry, Moore sensing the excitement and jumping with childlike glee as the tune dangerously races around the bend, its manic thrash pace inspiring an active mosh pit. "Catholic Block" leaves its mark like a graffiti tagger does on a subway car. Similarly, the rush of New York's bustling downtown– the cabs, horns, trains, pedestrians, vendors–can be heard on the sensory-blurring "Stereo Sanctity." The band carves out plenty of space for adventurism, with "Eric's Trip" finding Moore assailing a modulated, hollowed-out bass and "Hey Joni" whirring to groundswells of corrosive feedback. Hot-rodded guitars cough, wheeze, burp, and gurgle. Pieces of wood double as makeshift bows that are dragged across frets and necks. Alternate tunings bring forth unexpected shifts and twists. Sonic Youth handles and shapes the seemingly discordant mix like aural putty, undaunted by the possibilities and renewed by the potential of what's to come. What a homecoming.