The Fixx
September 11, 2010
Clowes Memorial Hall
Indianapolis, Indiana
photos by

Jeff Dorgay
text by

Jeff Dorgay
Artist web site: http://www.thefixx.com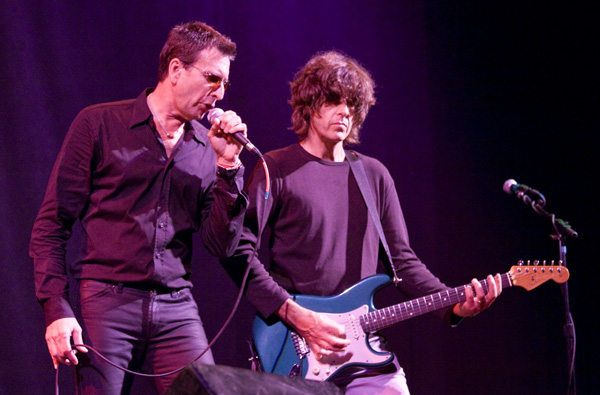 Just after one of the roadies poured a glass of red wine and set it on the drum riser, The Fixx took the stage promptly at 8:00 p.m., opening the show for Todd Rundgren at the Clowes Memorial Hall in Indianapolis, Indiana on the anniversary of 9/11 to a venue that was only filled to half capacity. In these days of mostly forgettable opening acts, those that didn't make the first part of the evening's show missed a great performance.
Original lead singer Ty Curnin fronted the lineup of mid 80's Fixx members Jamie West-Oram on guitar, Adam Woods on drums, Dan K. Brown on bass and Rupert Greenall on keyboards, so the audience saw the iteration of the Fixx that became a radio and MTV staple in the mid 80's right down to Greenall's vintage Yamaha DX-7 synthesizer.
Playing a set that lasted just over an hour, The Fixx delivered some of their biggest hits, but also treated the fans to some deeper cuts. Opening with an atmospheric version of "Deeper and Deeper", a bonus track from the 2003 remastered version of Reach The Beach was a perfect example of this approach, which also included "Driven Out" from Calm Animals and "Fatal Shore" from the Elemental album. They even slipped in a track, "Yesterday" that while not listed in any Fixx discography, could be from their upcoming album, Something Ahead of You. British understatement at its best.
There were plenty of Fixx fans in the audience, and they were treated to a headliners performance. Brown took a robotic position on bass, barely moving throughout, but the rest of the band clearly seemed to be enjoying themselves, with fair share of nods and smiles between songs. Just before the band broke into their biggest hit, "One Thing Leads to Another", Curnin took a gulp of wine, smiled and said, "This is still my favorite." Finishing to a standing ovation with "Red Skies", the band ducked backstage and came out for one more tune, "Secret Separation."
The band has a few dates left on their current tour, so if this was one of your faves from the 80's, you won't be disappointed. It's like they never left.