Mastodon
April 30, 2009
The Metro
Chicago
text by

Bob Gendron
Artist web site: http://www.mastodonrocks.com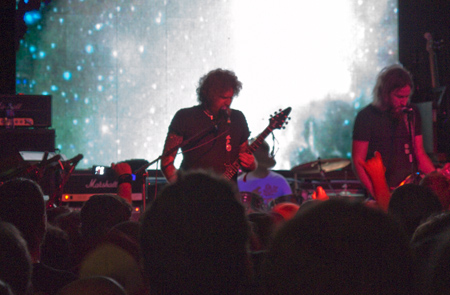 Despite its relatively short history, Mastodon has rightfully emerged as one of the 21st century's most mesmerizing bands. The Atlanta metal quartet has progressively raised the stakes on each of its four studio efforts, the most recent of which, Crack the Skye, finally garnered the group overdue mainstream attention-and an impressive debut on the Billboard charts. The elaborate record is only the latest mind-boggling statement from a band that isn't afraid to challenge itself or its audience.
Such ambition was on display April 30th at Chicago's sold-out Metro, where Mastodon began the dizzying 100-minute show by playing Crack the Skye from beginning to end. With film images related to the concept album's narratives flashing on a screen behind them, the members focused intently at the task at hand-namely, mastering the array of tempo shifts, revolving vocal passages, and complex fills demanded by the material. Speaking not a word to the crowd, Mastodon created an aura-rich atmosphere rife with roaring volumes, corrugated rhythms, and trance-inducing intricacies. Dynamic and stormy, it was the equivalent of being dragged feet-first into a turbulent spirit world.
Holding his bass at a perpendicular angle to the floor and bending backward, singer Troy Sanders struck his best Phil Lynott poses while continually trading vocal duties with guitarist Brent Hinds. His head branded with a jagged tattoo, Hinds shouted lyrics like an under-siege ship captain barking orders to his crew. Along with guitarist Bill Kelliher-a fellow misfit whose rat-tail hair, mutton chops, and scruffy mustache perfectly sum up the band's refreshingly carefree attitude towards trends and conformity-Hinds juggled a cornucopia of choppy riffs, spacey hooks, and pointillistic leads. While the duo did their share of shredding and thundering, spaciousness and restraint were also in order.
"Quintessence" benefited from ample breathing room before embracing spongy drones that kicked the song into another stratosphere. Hinds' nimble finger picking on "Divinations" sent the tune into a series of rollercoaster spins, turns, and dives. And a deliberate intro to the four-part epic "The Czar" came on as an ambient wash, with Hinds and Kelliher's complementary notes taking on the shapes and textures of falling snowflakes. In terms of merging technical precision, soulful dexterity, and reckless abandon, a better hard-rock guitar tandem doesn't currently exist.
Perched behind a modest drum set and seated on the floor (sans riser), virtuosic drummer Brann Dailor held it all together. Wrists and arms in constant motion, he kept time and added accents with a technique that combined equal parts power and finesse. On occasion, Dailor pulled double duty, contributing harmonies to "Crack the Skye" and auxiliary psychedelic touches on "The Last Baron."
If the first half of the concert was music of séances, spells, flashbacks, dreams, and myths, the blustery second half functioned as a crushing blitz of Mastodon's heavier side and thematic probe of earthly creatures and natural elements. Exploring its evolution in reverse order, Mastodon tore through songs from its first three records by starting with the free-for-all "Bladecatcher" before breaking the a-chronological sequencing by climaxing with "Hearts Alive." In between, the band threw Southern punches ("Colony of Birchmen"), triggered sonic avalanches ("The Wolf Is Loose," anchored by Dailor's kit-mashing), and invoked man-versus-monster tussles ("Seabeast"). On this night, Mastodon left no doubt as to what party proved victorious.