Black Label Society
April 10, 2009
Hammerstein Ballroom
New York City
photos by

Rachelle Ramm
text by

Rachelle Ramm
Artist web site: www.blacklabelsociety.com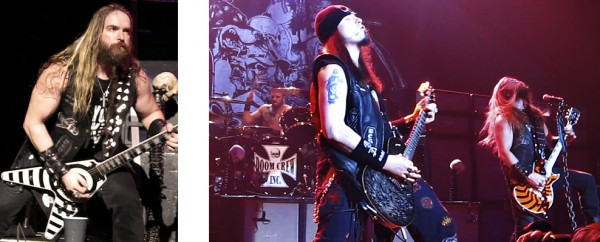 Black leather, long hair, tattoos, and smiles united under the golden mosaic roof of the NY Hammerstein Ballroom to feel the heavy metal thunder of Black Label Society. On April 10th The NYC chapter members brought on the SDMF (Society Dwelling M.F.'s) attitude as BLS performed the new greatest hits CD/DVD, "Skullage". Representing the West Coast (San Francisco, CA) as a Metal enthusiast and performer it was a treat to begin my recent NY trip attending this bash. Having seen the sold out opening show of the tour back in my home town at the Fillmore on March 6, I was impressed that Zakk Wylde and company had fine-tuned the show and camaraderie even further. Edsel Dope's band, Dope got the party started with some of his originals, including "Addiction" and finished with a mixed bag of covers, ranging from Billy Idol's "Rebel Yell" and NWA's "Fuck the Police."  Shots were delivered to the band via a Hustler dancer, inviting the crowd to join the after party at the Hustler Club.
Sevendust took the stage next with master metal frontman Lajon Witherspoon.  They played their hits and covered metal standards "Master of Puppets", "Walk" and closing out with "We Die Young" , pouring out a lot of energy to pump up the crowd even further.  Just before BLS took the stage, they played Patsy Cline's "Crazy" as intro music.  I had a great time singing along with this one, but it did seem to confuse some of the audience.  I chalked it up to Wylde's Southern influences.
Then, the enormous BLS banner hit the floor and the siren kicked in; they hit the stage and opened with "Black Mass Reverends."  Wylde's voice was heavy with reverb as he ripped away on his new orange Gibson "Zakk Wylde ZV Buzzsaw" guitar, one of only 50 produced.  Nick Catanese lived up to his title of "evil twin guitarist" scorching riffs on his PRS guitars, with the backbone of BLS, JD Deservio on bass and drummer "Louisiana Lightning" cranking out some thunderous beats.  Wylde went on to blast out his hits, "Destruction Overdrive", "Stillborn", "Blessed Hellride" and "Suicide Messiah" with he and Catanese using their double stacked Marshalls to blow the roof off the Ballroom.
Zakk swears on every tour he will play the tribute song "In This River" dedicated to the late Dimebag Darrell Abbott (Pantera).  Wylde, put the chest pounding metal studs side of his personality down for a few minutes as he sat down at the piano to play this tribute to his good friend; the piano adorned with a BLS American flag and two large photo banners of Abbot.  "Fire It Up" was laden with multiple crowd delights. Black Label icon beach balls were tossed into the crowd frenzy as t-shirts were shot out of a CO2 cannon. Zakk ended the blaze by soloing ala Randy Rhodes style with the Flying V over his back and with his teeth. A blistering Star Spangled Banner further unleashed Wylde's guitar playing soul while touching many hearts in the Big Apple.
Leslie West of Mountain appeared as a special guest proving he still has a great voice. West, Wylde, and Catanese all unleashed impressive guitar solos, with both BLS guitarists using double neck guitars. Following the Mountain special was "Concrete Jungle" and the infamous finale of "Stillborn".
The BLS NYC Chapter shined their faithful colors with hours of metal mayhem, admiring Zakk Wylde as the Metal Messiah and frequent gestures of respect went back and forth between the bandmates. Thankful pointing gestures to the power that be, personal Wylde hugs and lots of one on one eye contact with the fans in the front row were soaked up as Wylde made his exit.
It's always great to see guys this talented have a dose of humility.  I think it's safe to say that Zakk Wylde's Black Label Society successfully destroyed and conquered NY's Hammerstein Ballroom this evening.