Bob Mould
March 29, 2009
Old Town School of Folk Music
Chicago
photos by

Michael Buckner/Getty Images
text by

Bob Gendron
Artist web site: www.bobmould.com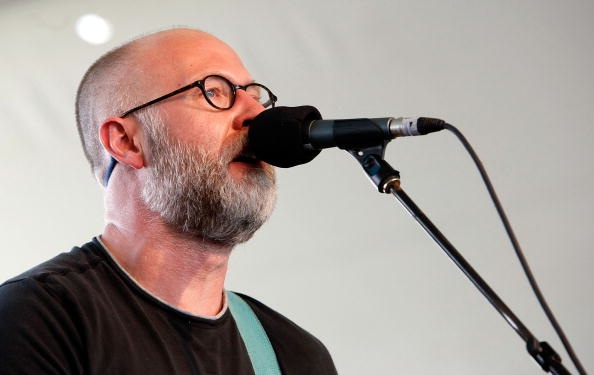 Bob Mould arrived at Chicago's Old Town School of Folk Music on the last Sunday in March with the intention of playing an intimate solo acoustic show in support of his new Life and Times (Anti) album. Yet as he's done throughout his career, the iconic singer/songwriter/guitarist deviated from the script.
Joined by bassist Jason Narducy, a veteran member of Mould's touring band, the former Husker Du frontman treated the sold-out crowd to an invigorating career-spanning set that culminated with the 48-year-old musician plugging in an electric guitar that spit distortion in a venue renown for quiet and restraint. With his voice in pristine shape and emotions running high, Mould's gray whiskers and bald head were the only obvious indicators of his status as indie-rock's elder statesman. Whether excited to test out material from the new record-his second in 13 months-or simply charged by the thrill of delving into his rich catalog, Mould remained engaged from start to finish.
Dressed in a navy blue shirt and blue jeans, the workman-like vocalist didn't come to chat. "You know me and talking. It's just better to go…," he announced before launching into a caustic rendition of "Poison Years," one of five tracks drawn from 1989's celebrated Workbook. Similarly, "Brasilia Crossed With Trenton" found him rocking back and forth at the microphone while choking the lifeblood from his guitar, his facial expressions a mess of agitation and disillusion. After he finished the epic tune, mental exasperation forced him to move to another place. "We had another one from Workbook but I'm feeling trapped by my past," he admitted in the midst of the 90-minute concert.
Mould's past proved nothing if not cathartic. His cracked falsetto and nasal accents produced the illusion of vocal echoes on "Wishing Well," a track propelled forward by wavy chords and Narducy's nimble accompaniment. "See a Little Light" shook and swayed, its bright tuning indicative of the cautiously hopeful lyrics. "Favorite Thing," a gem from Mould's days in the 90s pop-rock trio Sugar, jangled with anticipation. "If I Can't Change Your Mind" persuaded with ringing melodies and magnetic hooks. Throughout, Mould tailored the strumming to each song's needs. As his right arm loosely dangled over the instrument's body, his right hand alternately stabbed, snapped, scraped, and swiped at the strings.
Few artists know how to get more from less. Primarily avoiding solos, Mould built songs up to a breaking point and brought bruised narratives into the forefront. Raw and vulnerable, a number of his newest songs seamlessly blended in with time-tested classics. Seething frustration poured through the deceptively mellow "The Breach," an introspective number that, like many others on this night, tried to make sense of the disconnect, fallout, regret, anger, and ache that stem from troubled relationships.
In this regard, few songs were better than the bittersweet kiss-off "I'm Sorry, Baby, But You Can't Stand In My Light Any More." Questioning himself as much as the behavior of his discarded partner, Mould sang "I always find the broken ones/What does that say about me?," hitting on a subject that has forever been a staple of great pop music.