Alan Holdsworth and Co.
January 5, 2010
Aladdin Theater
Portland, Oregon
photos by

Jeff Dorgay
text by

Richard Colburn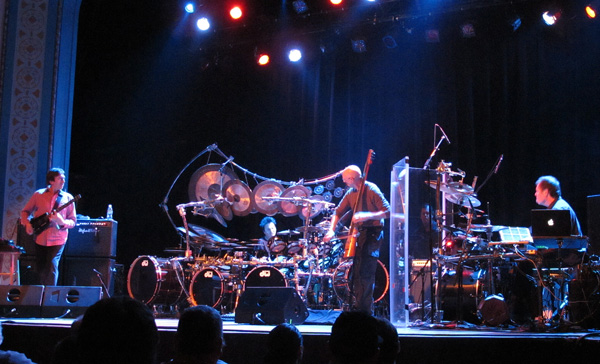 Hardly, but I'll get to that in a moment. It seems like the Publisher and I are starting a tradition. Either wait in bitter cold for a concert or wait in cold and rain. So we dutifully waited forty minutes in the rain for the door of the Aladdin Theater to open so that we could see the Bozzio, Holdsworth, Levin, Mastelotto band in action. For the record, it was a sellout and then some.
Looking as the resumes of the players and perusing their resumes, one would expect something in the jazz/art-rock/fusion vein from them. Moreover, once I saw the lineup, I expected some pretty excellent musical pyrotechnics and was really in the mood for a gigantic fusion slap on the side of my head. Instead, what we got was two thirty five minute sets of relatively tame meandering.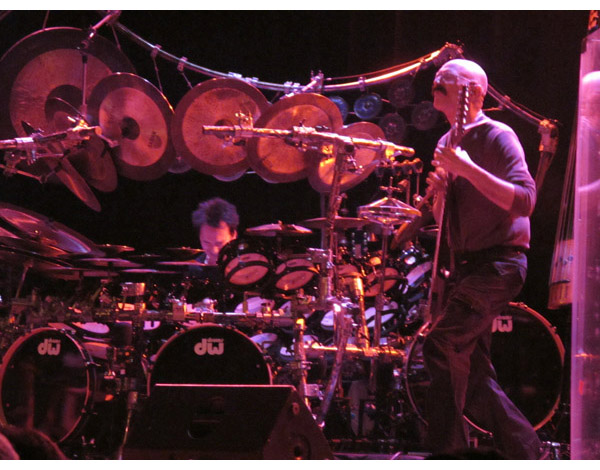 With Terry Bozzio and Pat Mastelotto in attendance, you get varied and intense percussion no matter what material is being played. And the complex rhythms and sinewy interaction between these two was superb. Tony Levin provided subterranean bass lines via his five string electric upright or Chapman Stick. Occasionally he'd climb the registers and do some spontaneous soloing, but otherwise it was bedrock bass. Allan Holdsworth was the perfect example of admirable restraint. Given the free-from nature of the two sets, he could have wandered into wretched excess, but on the whole he wove complex often mournful sounds into the fabric of the music.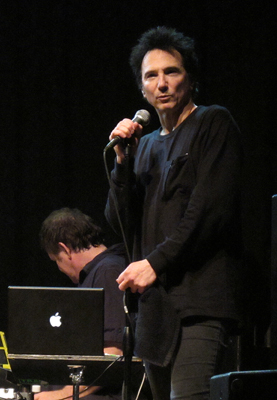 Even though the audience was a bit nonplussed by the performance, the musicians were strong enough to pull off the unexpected in a commanding fashion. I guess one could sum the evening up in Bozzio's own words at the onset of intermission: "It's obvious we don't have any prepared material tonight. Think of what we are doing as though it were an instant soundtrack."