U2
September 13, 2009
Soldier Field
Chicago
photos by

U2.com
text by

Bob Gendron
Artist web site: www.u2.com
Who says bigger isn't better? Certainly not U2. Parked at the North end of Soldier Field, the band's colossal 90-foot tall, 170-ton, four-legged stage—a monstrosity dubbed "The Claw" that resembles an invading aircraft from "War of the Worlds," takes four days to build, and another two-plus days to dismantle—made it immediately clear that even before Sunday's show began, the Irish icons intend for their current 360 Tour to transcend that of mere performance. As the group did in the early 90s with its pioneering Zoo TV tour and again later that decade with the enjoyable albeit flawed PopMart spectacle, U2 is returning to making its live appearances significant events at which music is just one aspect of the production. What else to expect from an ensemble whose ubiquitous frontman declared, sans irony, "We're reapplying for the job of the best band in the world" in 2002?
As far as innovative designs are concerned—and the band can claim several—the 360 Tour deserves high marks. A cutting-edge cylindrical video screen weighing 54 tons opens and expands, rises and falls, much like a giant two-way curtain would at a ritzy opera house. And just like the play-to-all angles perspectives offered by the stage, the one-million-piece visual contraption provided the sold-out crowd close-up views no matter where they happened to be sitting. Referred to by lead singer Bono as "space junk" and a "spaceship," the hulking structure—capped by a giant light tower/antennae that itself is crowned by what might be the world's brightest disco ball—threatened to engulf the music. At times, this miniature city of blinding lights and echoing sound did just that.
While more successful than PopMart, U2's latest venture lacks the delicate (and admittedly complex) balance between art, showmanship, creativity, intimacy, fun, sincerity, and song that made the multimedia-based ZooTV the best arena tour in history. Not that the shortcomings owed to a deficiency of ambition or willingness. On the second of a two-night stand that opened the band's North American jaunt, U2 stepped out of its comfort zone by eschewing the stale greatest-hits approach that bogged down its two prior tours. Instead, the band put a premium on pushing recent fare. Seven of the 23 songs that the quartet played came from this year's No Line on the Horizon album, including the show-opening "Breathe" and show-closing "Moment of Surrender," each serving their purpose with near-perfect results. Having already traversed Europe this past summer, U2's members also have all of their moves down. Bono utilized the wrap-around runway as both a jogging track and church pulpit, and guitarist The Edge and bassist Adam Clayton frequently stepped across mobile bridges to ensure that no side felt ignored.
Of course, it was difficult to miss any action given the enormous screen and its continual projections of Bono's continuous posing, preening, and prancing. Displaying a knack for drama that any award-winning thespian would envy, the charismatic vocalist carefully matched messianic hand gestures and facial expressions with the music's breaks and choruses. If not for occasional traces of self-knowing humor (his flippant kissing of video cameras, sardonic smiles, and cock-of-the-walk gait), the pomp and circumstance would've come perilously close to unintentional parody and self-aggrandizing arrogance.
Yet aside from an inspired conga-themed rendition of "I'll Go Crazy If I Don't Go Crazy Tonight" and dizzying run through "Vertigo"—the tune's namesake sensations reinforced by fast-spinning images of real-time footage broadcast on the video screen—U2 often prized seriousness above entertainment. Rather than do all the talking, the band spread its trademark political and social messages via a video plea from Archbishop Desmond Tutu and a solidarity march of concertgoers that wore paper masks to honor Aung San Suu Kyi, the Burmese leader under house arrest. Orchestrated during "Walk On," the latter demonstration had the contrived feel of a Super Bowl halftime stunt. By contrast, the connection made between pro-Iranian democracy activists and the still-potent "Sunday Bloody Sunday" registered with truer conviction. As did "Ultra Violet (Light My Way)," which witnessed Bono emerge in a jacket outfitted with light-emitting diodes before he swung from an illuminated, wheel-shaped microphone suspended from the top of the stage's metal canopy. The demonstration functioned as a prime example of how, when used subtly, technology doesn't need to overload the senses in order to effectively convey meaningful points.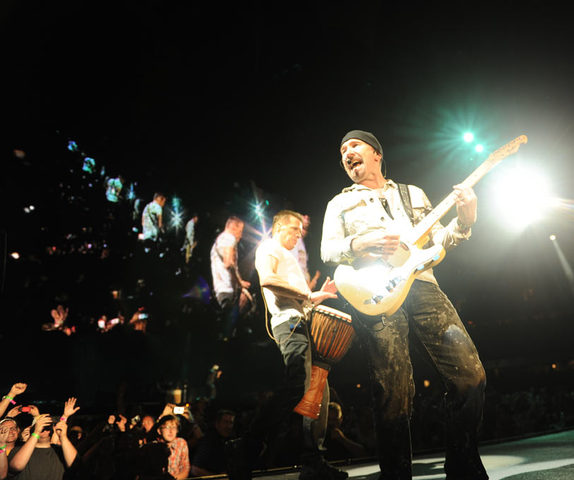 Alas, U2's pacing, sequencing, and all-things-to-everyone concerns torpedoed what could have been great but which settled for being a cut above average. While Clayton and drummer Larry Mullen Jr. put on a rhythmic clinic, and the always-dependable Edge made the myriad treble-rich guitar melodies, effects, and orchestrations seem effortless, there was no salvaging tedious numbers such as "Your Blue Room" and "Unknown Caller," tunes whose atmospheric qualities are better experienced on record. Cover snippets—The Clash's "Rock the Casbah," The Police's "King of Pain"—tacked on to the end of songs derailed momentum and didn't always fit with their mates. And while the scale of the stage was partially accountable—there's certain risk involved in building a set so massive that it considerably shrinks the members' physical proportions even for those watching from premium seats—the band's collective energy remained lukewarm until towards the end of the 130-minute extravaganza.
An initial encore featuring the soulful "One" and uplifting "Where the Streets Have No Name" turned the outdoor stadium into a cozy slow-dance ballroom and mass-karaoke rally, respectively. Devoid of pretense and proselytizing, such bonding moments continue to define U2 and enduring appeal of its highlight performances, where the lines between artist and fan, lyrics and personal experience, and the spiritual and secular are erased, at least momentarily.
Setlist:
1.Breathe
2.No Line On The Horizon
3.Get On Your Boots
4.Magnificent
5.Beautiful Day / King Of Pain (snippet) / Blackbird (snippet)
6.I Still Haven't Found What I'm Looking For
7.Elevation
8.Your Blue Room
9.Unknown Caller
10.Until the End of the World
11.Stay (Faraway, So Close!)
12.The Unforgettable Fire
13.City Of Blinding Lights
14.Vertigo
15.I'll Go Crazy If I Don't Go Crazy Tonight / I Want To Take You Higher (snippet)
16.Sunday Bloody Sunday / Rock The Casbah (snippet)
17.MLK
18.Walk On
Encore 1:
19.One / Amazing Grace (snippet)
20.Where The Streets Have No Name / All You Need Is Love (snippet)
Encore 2:
21. Ultra Violet (Light My Way)
22. With Or Without You
23. Moment of Surrender