"Unspeakable Fire Flowing Through Art:" Bob Gendron Interviews the Man In Charge of the Roadburn Festival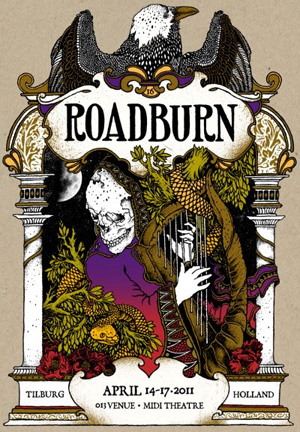 An intimate four-day gathering of psychedelic, avant-garde, heavy, and nearly every other imaginable cutting-edge sonic delight, Roadburn Festival is without peer. Every April, dozens of bands and eager listeners from more than 40 countries descend upon a quaint town in the Netherlands to share in a common love of sensory-absorbing music, underground art, and likeminded discussion. It's not difficult to understand why.
Unlike most festivals, Roadburn is focused and small; boundaries between the performers and audience are practically nonexistent. Due to its international reputation, unparalleled vision, and limited capacity, the multi-day event sells out within minutes. Indeed, Roadburn has become the gold standard in a music industry that's increasingly more reliant on festivals. This year's lineup represents a veritable wet dream for any metal, experimental, or doom fan: Sunn O))), Godflesh, Shrinebuilder, Winter, Trap Them, Corrosion of Conformity, Keiji Haino, The Secret, Earth, and Swans are just some of the names involved.
TONE is honored and humbled by the organizers' invitation to attend Roadburn 2011. Our forthcoming report will serve as the magazine's cover feature in Issue 37. In the meantime, to get an even better understanding of Roadburn's history, purpose, and unique characteristics, we talked with festival organizer—and fellow audiophile—Walter Hoeijmakers via email. All festival directors should bring his level of passion, insight, and dedication to the fore.
BG: Roadburn began as a website but ultimately turned into a festival. Can
you give some background on how the music festival came about, and when you
started?
"At the very beginning, we just wanted to convey the overall feel of the website onto the stage. We started out very small by inviting several bands that we had featured on the website. Plus, we wanted to project parts of the website's artwork behind the bands, and also have deejays spinning the music we were covering. Along the way, we started to experiment with live streams since we also sought to keep up with Internet's progress. There was no real master plan; but nothing was contrived, either. We just did what felt best, and got tons of creative input along the way. All of this cumulated into the 10th Roadburn festival in 2005, which became the blueprint for the festival as we know it today."
Most festivals are sprawling affairs that involve tens of thousands of people and vague artistic focus. Roadburn is the opposite. It strives to melt any boundaries between artists, fans and organizers. How do you manage to accomplish this? And what motivated you to set these goals?
"We want Roadburn to be a small, intimate, and well-organized festival. We love the bands, and thrive on creating a unique social vibe by emphasizing the cutting edge and honoring the forefathers. This is all joined together by a love of music. We're not thriving on financial goals, neither do we want to be the next 'best outdoor festival.' Our main goal is to bring together a diverse group of artists that push the envelope, are truly original, and inspire us all with the unspeakable fire flowing through their art. It's a gathering of kindred spirits, bands, and fans alike, and the lines between them are often completely blurred as they all worship the power of sound together. At Roadburn, most bands don't hang out backstage: They can be found down in front!"
Tickets for this year's festival sold out in about 15 minutes. The fest is now an internationally recognized phenomenon. Do you have any idea how many countries are represented by the people attending? Do you remember how long it took the first festival to sell out?

"The first-ever Roadburn Festivals didn't sell out at all. We sold out in 2003 for the very first time when the festival took place at the Effenaar club in Eindhoven; 450 people showed up. Then, in 2006, Roadburn sold out a few days prior to the festival. We had moved to the 013 venue in Tilburg, and offered 1750 tickets. It was crazy to see that approximately 70% of our attendees were from abroad and not from the Netherlands. These figures still stand today, as we have about 44 different nationalities attending the festival. They descend upon Tilburg from the world over, ranging from the USA and South America to Australia and Japan, and all the European countries in between. For Roadburn 2011, we're even welcoming people from Singapore and Indonesia. It's something that still amazes me today as we just started the festival out of a labor of love, and still do it for that very reason."
As the organizer, can you share what your duties involve and how early you start planning? Once the festival begins, are you able to enjoy it or are you too busy managing logistics?
"We start planning one year in advance. I'm already working on Roadburn 2012 even though the 2011 edition has yet to take place. Unfortunately, I'm not able to see much at the festival as I'm often busy micro-managing. I always tend to spend time with bands and attendees, and as soon as I'm able to catch up with them, you'll find me backstage or talking to all the wonderful people in the venue's hallways. Sometimes I can enjoy a band. There's always a show that I'm trying to catch in its entirety, and it's my goal to catch several this year. I desperately want to see likes of Wovenhand and Shrinebuilder, among others. Luckily, we record most performances for the on-demand audio streams, and I catch up with everything at home when listening to the steams."
The lineup for Roadburn 2011 is any metal and underground music fan's dream. How do you go about inviting artists? Do you start with a wish list? Do certain bands contact you expressing their desire?
"Both Jurgen van den Brand (Roadburn's co-organizer) and I start out with a band list. We have a pretty good idea of the bands we'd like to invite for the festival. The list keeps changing throughout the year, and we're very proactive by approaching the bands ourselves. It's always very rewarding if certain bands on our list start to approach us. It's in the spirit of the festival, and makes confirming their involvement easy. On a personal note, I've been around in the underground scene for more than 25 years and happen to know many bands personally, as well as lots of bookings agents, managers, and journalists. This is really helpful, because getting in touch with certain bands is really easy for me. The Roadburn phenomenon also helps to get in touch with bands that I don't know on a personal level."
You were able to get Keiji Haino, Caspar Brotzmann Massaker, Ufomammut, and at least a half dozen other bands that can be considered nothing less than coups for any festival. How does one go about doing this?
"Keiji Haino and Caspar Brotzmann Massaker have been invited by Sunn O))) for their curated Roadburn event. We asked [Sunn O))) leaders] Greg Anderson and Stephen O'Malley to open up the styles and sounds of the festival, and they did a great job. Their curated day is nothing short of amazing, and a tribute to some master guitarists that influenced them as artists. Offering a day of the festival to a curating band or artist is of great help in getting coups for Roadburn. It inspires other bands to be part of the festival as well, as they want to be among their peers in an intimate setting—which is Roadburn."
This year's lineup has a definite psychedelic and doom flavor. Was this intentional? If so, are there any bands that you targeted that, for some reason, you weren't able to get for the festival?

"It all happened naturally. When we started to work on this year's Roadburn festival, we noticed some very interesting doom and psychedelic bands that we really liked. It's part of our mission to put emphasis on the cutting edge. Thus, inviting these bands was inevitable, and pushed Roadburn 2011 in a more doomy and dark psychedelic direction. We love evolving the festival in manners like this to keep it interesting for our attendees. In the end, the festival should be a tribute to the open minds of bands and attendees alike. As far as bands we wanted but didn't get, it would have been great if we could have had The Obsessed for Roadburn 2011, but we couldn't pull of the reunion yet!"
There's an incredible balance between new and older bands on the bill, i.e., with highly influential veterans such as COC, Pentagram, Godflesh, and Earth sharing the bill with relative newcomers such as The Secret, Liturgy, et al. Was this by design?
"We want Roadburn to be a well-balanced festival and do everything to keep it that way even if it means that we have to pass on certain opportunities. In order to keep the balance, several great bands didn't make it on this year's lineup. However, we remain in touch with these bands for future Roadburn festivals since they are good reference points for next year's direction."
Is there anything that you are doing for this year's festival that improves upon what you did in the past?
"We keep improving every year, whether it's about backlines, projections, crowd control, food vendors, a merchandise venue, or the metal disco. We want to maintain the laidback vibe of the festival as much as we possibly can. Luckily, the incredible staff of the 013 venue, home of Roadburn, is of great help—they are a main part of the festival, too."
What advice what you give somebody who has never been to Roadburn?
"Go with the flow. Don't try to catch as many bands as you'd like or get distracted by some overlaps. Please immerse yourself in the laidback vibe of the festival, and enjoy the company of all these like-minded people. Then you'll experience the camaraderie amongst the festivalgoers and end up seeing some amazing bands you didn't intend to see while making new friends along the way."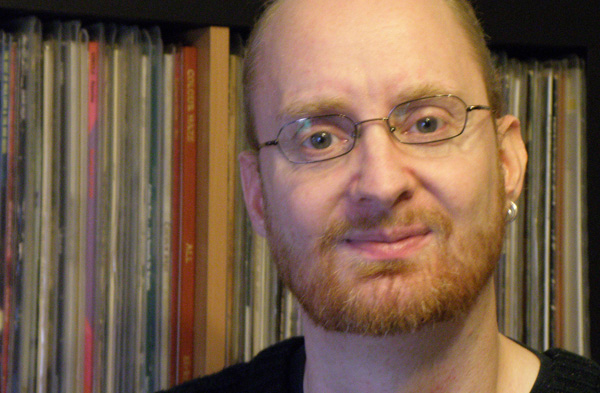 You've been there from the start. Can you share a few favorite memories?
"There are way too many stories to be told. Maybe I should write a book some day about all the shenanigans and debauchery behind the scenes—hahaha! All joking aside, if someone would have told me 25 years ago that I would run a festival like Roadburn and collaborate with either Neurosis, Tom G Warrior (of Celtic Frost and Triptykon), Saint Vitus, or Hawkwind, I simply wouldn't believe them. It all just happened."
Is there any single band or performance this year that you can't wait to see?
"As I said earlier, I'm really looking forward to seeing Dave Eugene Edward's Wovenhand at Roadburn. It's an incredible coup for the festival to have the band on the bill. At first glimpse, Wovenhand is a little off-kilter, as Roadburn tends to be an underground festival for psychedelic, avant-garde, doom, or any other variation of leftfield sonic pleasures that push the boundaries of music. But Wovenhand will prove that making really heavy music does not necessarily mean having the loudest guitar or the most amps."
You're obviously a huge music fan. And the intimate construction of the festival suggests that you appreciate good sound. Are you interested in audio gear? If so, on what kind of system do you listen to music at home?
"I have been fascinated by audio gear and spent lots of money on speakers, interlinks, tweaks, and the like over the years—just like many of TONE's readers, I suppose. For the last 8 years, I've been really enjoying my Marantz Music Link series (preamp, phono preamp and monoblocks). My current set of speakers is Floating Systems' Synthese.
"I have a pair of AE4s (by Acoustic Energy) as well, but don't use them very often. I really love old MIT interlinks and MIT Terminator speaker cables, which I prefer over high-end Japanese brands like 47 Lab; I have some of their interlinks as well.
"I'm in love with my mid-70s Ariston RD 11 turntable (it's the predecessor of Linn's LP12) plus SME tonearm. As far as cartridges go, I'm sticking to a Grado Statement Wood—amazing warmth, and perfect for my vast collection of 60s and 70s rock on vinyl. "I prefer vinyl over CDs any time, but have an experimental CD player that's custom-built by a Swiss audio geek. I bought it relatively cheap. Sometimes you need to be lucky!"