Ammoflage!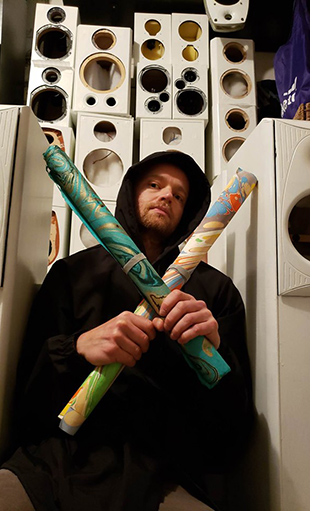 Friend and occasional TONE contributor Andy "Ammo" Schneider has been doing something incredibly creative with his spare time, combining a love for music, art, and high end audio.
You may have seen "Ammo" on the stage at Coachella, or selling audio gear at AV San Francisco in a past life, or roaming the streets of Seattle, where he now calls home.
An incredibly multifaceted individual, he's combined his highly tuned visual skills and music love with an environmentally friendly and affordable approach to audio gear. He's been wrapping, painting, and grinding secondhand, inexpensive gear to create one – off pieces of audio art.
We chat a lot on Facebook, so I've been following his progress. He had a few minutes to give me some more specifics into the how and why (or as they say in art school, "explain your process") and talk about some of his friends/customers than now have a unique way to listen to music.
TONE: How did you come up with this idea, that is obviously way off the beaten path for audio?
Ammo: I started doing this in San Francisco years ago when I was between jobs, just to stay busy and sane. Though I have a decent 9-5'er now, I've got a bit more time since musicians like myself aren't on the road touring. I've always loved collecting audio and am on Craigslist all the time. Friends are always asking me for help wading through the audio jungle, but it must look cool.  I'm always the one that friends call when they are looking for a system. Regardless of what I'm doing, I'll always drop everything and start searching to find them something.
I think if you can make hifi look interesting, it's a lot easier to step beyond an Apple or Google device to play and enjoy music more. Once it gets into the house, it's like a Trojan Horse! I'm particularly proud to say that I have as many female customers as male, which having worked in audio retail, is not usually the case.
TONE: Agreed. Visual appeal is something many manufacturers overlook, or some of the ones that pay close attention to aesthetics, build gear that is out of reach for more casual buyers.
Ammo: I'm definitely building these for people my age and younger, a lot of my followers on Instagram (you can find him here: @ammodrums under the "ammoflage" Highlights). I'm always trying to make something interesting and personal. Every single piece is a one off, done by me, by hand.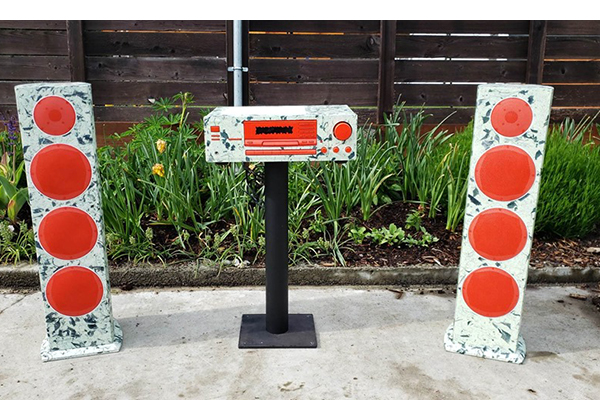 TONE: What do you look for in donor gear?
Ammo:  I try to keep it reasonable. I love stuff in the $25 – $100/per box range, as that makes it much more accessible for the end users. I love tackling new speakers whenever I can, though personally I love Andrew Jones' earlier work with Pioneer. For a while you could get those for $50 a pair new!  I'm watching for stuff that's easy to modify visually.
Athena speakers are great for the price, and the ones I'm always looking for since you can do some interesting contrast stuff with the different removable fascia pieces. I like some of the smaller Polk Audio models too.
It's also interesting to note that used gear in Portland is way more expensive than Seattle or San Francisco. I suspect it's because the gear stayed with families a lot longer, and how painfully hip Portlanders are with collecting vintage kit.
TONE: What was one of your biggest challenges?
Ammo:  My favorite challenges are when someone sends me a picture of their living room and lets me take it from there, carte blanche. My least favorite challenge was an old Denon amp that was the ugliest thing. I sanded everything off, telling the buyer to just remember the button and knob functions from a picture.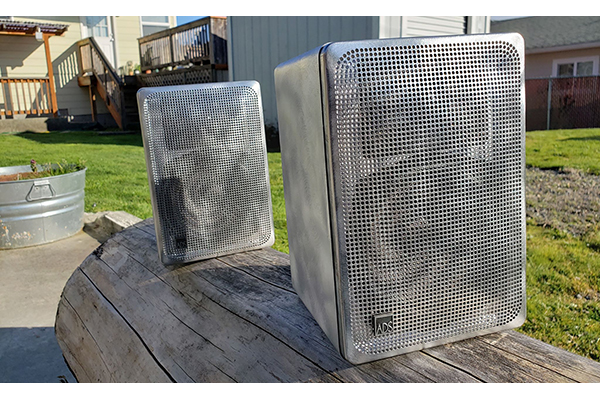 TONE: Yeah, I saw that one! Liked that, as well as those vintage A/D/S speakers that got the same treatment!

Ammo: It's a creative outlet, and a way to get people to understand and enjoy their music in a new, fun way – ironically by focusing on how their stereo looks rather than sounds.
TONE: What else goes into the project?
Ammo: Art supplies. Lots of art supplies. I'm stocking up on art supplies just to keep up! I'm not really making a profit, but am staying even. If someone decides to pay me a decent price, I'll gift another system to someone who can't afford investing in a decent rig. Kinda like Toms for speakers, only without a business model. My audience isn't necessarily the standard audio store customers either. But it is helping to bring more people to music – that's way better than binging on Netflix all day!
TONE:  Can you tell us more about the colors and the rest of your process?
Ammo: I primer the cabinets, and then work with a wide range of mostly Indian and Thai hand-made craft papers. I stick it down with an adhesive compound – the paper is very delicate. This kind of negates scaling to a wider audience. But who knows?
TONE:  Do you go more for subtle or statement pieces?
Ammo: One goal is to make the pieces look as far away from original as possible. I look for interesting patterns, ranging from organic to psychedelic.
TONE: Do you take input from the recipients of your creations?
Ammo:  All the time. I work with my friends to see the color pallete of their living space. I always get interesting vibes and inspirations. I did one pair of speakers to match a friend's shoes, because he told me he would be putting his favorite pair of shoes on one of the speakers.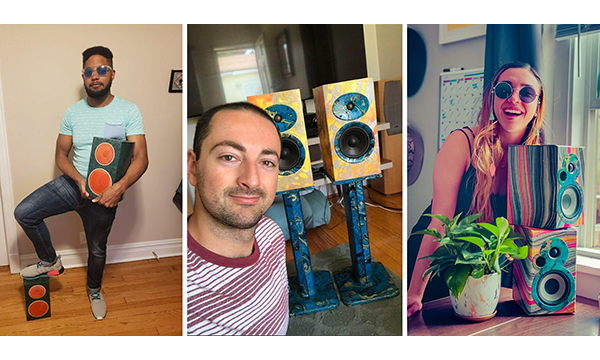 TONE: Better than the cat, eh?
Ammo:  Hahahah. Hey I'd color-match someone's cat if someone asked!
TONE: This is certainly a great way to introduce people to hifi.

Ammo:  I think so, and it's awesome to hear from clients how much more time they're spending listening to music, which is amazing. I'm not really trying to be a product evangelist, and most of this gear is mass market to be sure, but it still sounds way better than an Alexa, or Sonos all in one.
TONE: And that's still a major step forward, for all.
Ammo: Agreed!
So, if you're looking for something way more interesting than an Alexa, drop Andy "Ammo" a note on Facebook, Instagram, or email directly at [email protected]. These are some incredible creations.