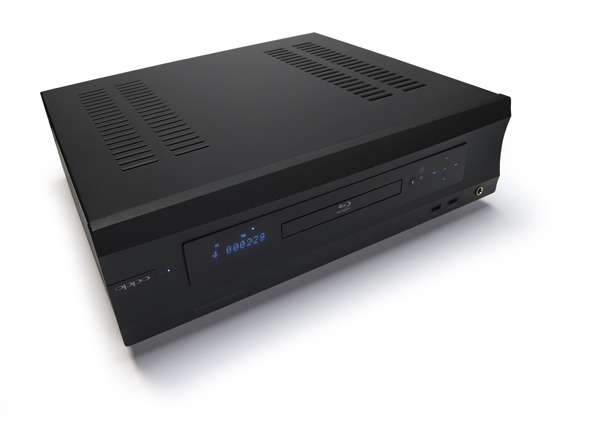 After a few months with the Oppo BDP-105, I've reached the conclusion that it's the perfect digital anchor for just about any system.  If you're a music lover, this player will allow you to listen to anything your heart desires on any kind of media.  If that weren't enough, it's also a 24-bit/192-kHz DAC that lets you play all the digital downloads in your music collection—I can't think of a better DAC for the price.  Those collecting music files in the DSD format are also covered, the BDP-105 can play DSD files from any optical or USB storage too. And if you're a movie nut, Oppo throws in an awesome DVD/Blu-ray player with the deal.
But that's just scratching the surface.  If you'd like to get back to listening to music, just go online and order a BDP-105.  It rules.  I've auditioned a lot of great digital players over the years, with reasonable to ridiculous pricetags, and the BDP-105 makes the entire process so painless; it's a wonderful thing indeed.  It's hard to believe that the MSRP is only $1,199.
The earlier Oppo players of just a few years ago came across as slightly lacking in mechanical finesse, though they represented an excellent price/performance benchmark.  But you can forget whatever you thought you knew about Oppo.  The BDP-105 is a world-class product, from the casework to the thoughtful packaging.  If you didn't know any better, you'd swear that you were unpacking a $20k Meridian player, right down to the nice bag that the case is wrapped in.  Also included is a concise owners manual that easily guides you through all of the setup procedures—an essential read for those using both the audio and video portions of this player.
The remote is straightforward and all business.  This is where the $1,199 Oppo differs from the $20k Meridian player (and even trumps the mighty Meridian).  In addition to the standard-issue backlit remote, Oppo also provides a free, downloadable app for Android or iOS users, allowing you to leave the remote in the box.  For someone always losing remotes (like me) or despising clutter (my wife), this is an outstanding solution.  The menus are easy to read, and the app separates functionality into two screens: one that acts as an express remote, and one with the full feature set of the remote.  This is a brilliant move that I wish more manufacturers would duplicate.
Getting Down to Business
Those wanting to skip the manual and just concentrate on playing with their new shiny thing (or in this case, matte black) can get pretty far without the manual.  CDs and SACDs play without needing the user to access the remote control or external monitor.  Playing the discs in your DVD-A or video collection requires a monitor, so that you can set the correct multichannel aspects for your system.
While I'm not much of a videophile, it's worth mentioning that this player integrates fantastically with my Anthem MRX 700 home theater receiver.  (Be on the lookout for this combination being mentioned frequently in upcoming concert-disc reviews.)  The video performance of the BDP-105 is simply stunning, and I'd happily pay the 1,200 bucks asked for just the video section of this player.  Operation is quick, color rendition is excellent and the noise floor is supremely low, resulting in a very saturated picture.  But that's another review for another day.
Regardless of disc chosen, the BDP-105 plays them quickly and effortlessly with no long boot-up sequence required.  When listening to audio discs, users can access a "Pure Audio" mode from the remote to shut down all of the video processing circuitry, providing optimum audio performance—and this is worth doing.  On the extended "Mountain Jam," from the recent MoFi release of the Allman Brothers classic album Eat a Peach, the midrange frequencies open up, and the Pure Audio mode removes a layer of grain from the high frequencies.  The extended drum solo on this record reveals good attack and transient response, while the audience mixed in confirms an excellent sense of the three-dimensional spatial perspective.
For someone with a wide range of music, all in different formats, the BDP-105 helps to bring the fun back to music collecting.  Now, when you're shopping at the local used music store, or eBay, it won't matter what the format is.  While this reviewer is not on the DSD-download bandwagon yet, it's nice to know that new BDP-105 is already equipped to handle this format, and the other Oppo player I have needed only a quick firmware download/install to be fully capable; perhaps at a later date we will explore this option.  For those interested in the full media capabilities of the BDP-105, please click here.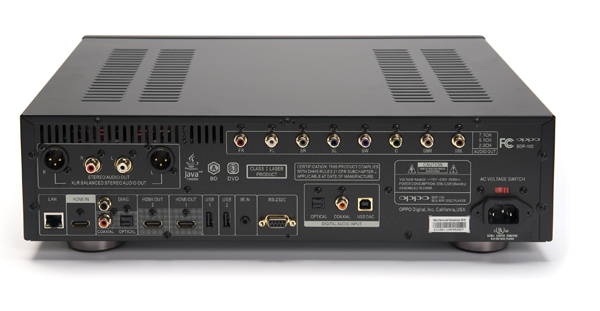 Ins and Outs
Those moving away from optical discs will enjoy the DAC performance of the BDP-105.  With coaxial, Toslink, asynchronous USB and HDMI inputs, the BDP-105 is a perfect digital hub for any source, whether it's a computer or a transport.  RCA, HDMI and balanced XLR outputs (along with full 7.1 outputs) make the BDP-105 equally easy to merge into any system.  Those just starting to assemble a component system can even take advantage of the BDP-105's variable outputs and work without a preamplifier or linestage.  Stepping up to the main system in room one, utilizing identical Cardas Clear interconnects, I find no difference in sound quality between the RCA and XLR outputs, and the BDP-105 has no problem driving long interconnects of either style.
The BDP-105 works well in the context of a system built around a PrimaLuna ProLogue power amplifier and a pair of Dynaudio Confidence C1 II speakers.  Nothing in the owner's manual specifies whether the volume control is in the analog or digital domain, but the volume control works effortlessly from the remote or phone app.  Those wanting to build an all-digital system could easily live with the Oppo player and a power amplifier.
My reference Sooloos Control 15, via the S/PDIF input, provides excellent synergy, as do high-resolution digital files played from the Aurender S10.  I use the Meridian Audio Core 200 to sample the Toslink input, and a MacBook Pro for the USB input, running iTunes and Amarra.  All inputs work without a hitch, providing good fidelity and the ability to easily switch between them without noises or glitches.  This player is positively painless to use, no matter what the source!
To make sharing music even easier, there is a USB input right on the front panel that lets you plug a USB stick directly in, provided the music files are in standard formats.  When the player is hooked up to a video display (which you'll need for DVD and Blu-ray formats anyway), you can even stream music files from your NAS.  If there's a format that the BDP-105 can't handle, I haven't got it.
Comparisons Big and Small
The BDP-105 does so much right and nothing wrong.  Unless you put the player head-to-head with something like a dCS stack or the DaVinci DAC (on a world class system), you won't even miss the resolution that these flagship players offer—and those comes at a much higher price.  While the following is a somewhat silly comparison, it does outline the boundaries of the BDP-105's performance envelope:  Jumping into a friend's Ferrari F430 immediately reveals what my little Fiat Abarth is incapable of; yet, when I'm back in the Abarth's drivers seat for 10 minutes, happiness returns and I'm not missing the F430 one bit.  And let's not even talk tune-ups.
Comparing the BDP-105 to similarly priced hardware, and even players costing twice as much (some even more), the Oppo is ahead by a country mile.  There are a few DACs in the $1,000-to-$2,000 range, the Rega in particular, that sound slightly more "analog-like," revealing a smidge more music than the Oppo, but none of these players have the format diversity that the Oppo offers.  It even has an onboard headphone amplifier that works as well as anything you'll pay a couple hundred bucks for; the Oppo headphone amp proves compatible with all of the headphones at my disposal.
Whether rocking out with Alice in Chains or a peaceful Mozart symphony, this player always delivers a highly musical experience.  Highs are well rendered, and, if anything, the tonal balance of the BDP-105 is ever so slightly on the warm side of neutral, which is a good thing with most digital files.
Fans of acoustic and vocal music will be thrilled with the natural sound quality that the BDP-105 reveals.  Even after a few months, I remain impressed with just how much performance is here for this price.  The title track from Dessa's 551 sounds fantastic, with the combination of vibes, her husky voice and the deep bass beats.  The mix stays coherent with the lead vocals well out in front while the vibes occupy a larger-than-life, diffused part of the recordings space.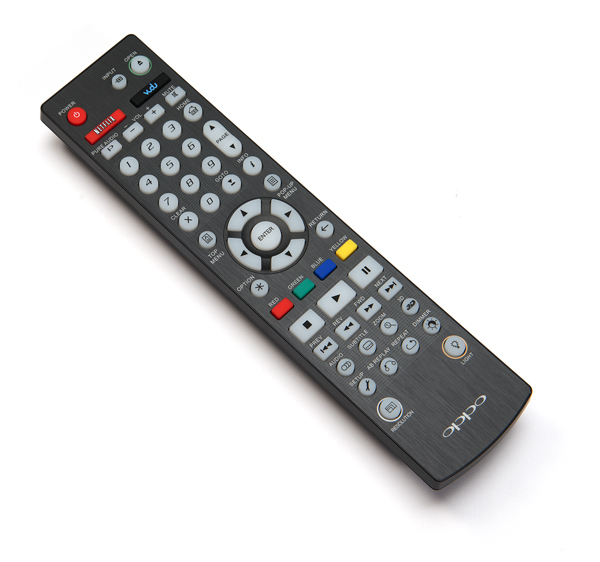 A Fantastic Buy
The BDP-105 feels substantial when lifted from its box, and removing the cover reveals a tidy layout.  A miracle of surface-mount efficiency, the Oppo has separate boards for power supply, analog circuitry and the DAC section, all tied together with flat cables.  The construction suggests Mark Levinson–level quality more than anything else.  This player is a benchmark for sound at its price, as well as for build quality.  I've seen more than a few $5,000 players that are mostly air under the hood.
While we are more than happy to award the Oppo BDP-105 one of our Exceptional Value Awards for 2013, it is worthy of even more.  This is a rare component that ticks all the boxes from both a sonic and an engineering perspective, and that is tastefully designed and luxuriously packaged to boot.  No, you don't get a dCS Vivaldi for $1,195, but you do get a digital player that can deliver every format imaginable, doing so at a level better than every one of its peers.  And there's that free video player thrown in with the deal.  It doesn't get any better than this.
For an encore, we will be comparing the BDP-105 to its lower-priced sibling, the $499 BDP-103.  Watch the Comparo section of our website.
Oppo BDP-105
MSRP:  $1,199
Peripherals
| | |
| --- | --- |
| Music servers | Apple iMac w/Amarra    Sooloos Control 15    Aurender S10 |
| Preamplifier | Nagra Jazz |
| Power Amplifier | D'Agostino Momentum Stereo |
| Speakers | Sonus faber Guarneri Evolution |
| Cable  | Cardas Clear |
| Power | IsoTec Super Titan |