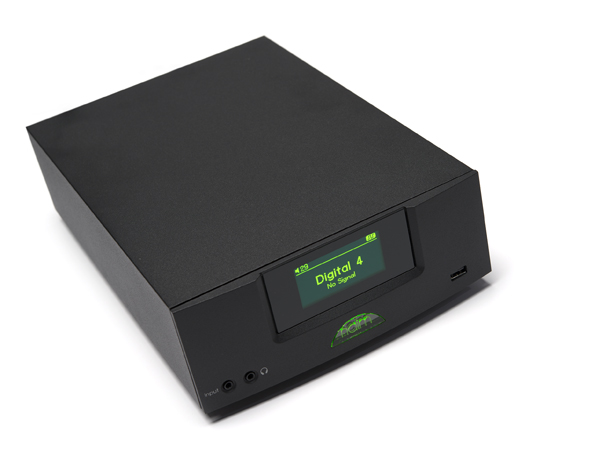 When Naim introduced its all-in-one UnitiQute player a couple years ago, everyone here went bonkers over the damn thing, drawing the obvious references to the legendary Naim Nait. The original Nait, with only 15 watts per channel, came packaged in a similarly sized (i.e. small) chassis and had the ability to drive a pair of moderately sensitive speakers to musical heights not experienced for that price tag. Back in the mid 1970s, a Naim Nait fetched about $699 at your favorite hi-fi dealer, but it was worth every penny to those who owned it. Today, a spotless example still commands nearly the same price and loyalty. That's product longevity.
The original Qute substituted a high-quality DAC for the phonostage and allowed streaming, in addition to providing an FM tuner and a sweet sounding 30-watt-per-channel power amplifier. Adjusted for inflation, this is still a bargain at $1,995—especially if one takes into consideration all those power cords and interconnects that you won't have to buy. You can read our review of the original UnitiQute here.
The Qute 2 nudges the sticker price up slightly, to $2,195, with a substantial increase in power. It's more robust 50-watt-per-channel amplifier gives this mighty product even more system flexibility in terms of the speakers it can power.
The Qute 2 is a perfect solution for anyone wanting a compact yet high-performance component, essentially a receiver, that can power your favorite pair of speakers and call it a day. It is tastefully styled, well built and highly functional. And best of all, it's easily expandable, should you desire to build a more elaborate system at some point—a hallmark of Naim products. Those living in a small space will appreciate the subwoofer output, making it easy to add a sat/sub speaker system with a powered subwoofer. This is almost always ignored on even more expensive all-inclusive components.
A Little System Matching
As part of a compact high-performance system, with the KEF LS-50 speakers, the Qute 2 proves impressive, however, it does require a few days of constant play to sound its best. Right out of the box, the sound is slightly constrictive, but it opens up quickly. I push the Qute 2 even harder by replacing the LS-50s with a pair of 3-ohm MartinLogan Aerius i speakers, which are notoriously tough to drive, and the Qute 2 doesn't miss a beat.
Listening to Graham Parker's 2001 release Deepcut to Nowhere quickly reveals the Qute 2's ability to create a believable three-dimensional soundstage and maintain rock-solid pace, which are Naim hallmarks. A similar effect is realized when listening to the last set of remastered Beatles CDs. At the beginning of "All You Need is Love," the violins, horns and chorus all have a distinct placement between the speakers, while John Lennon's vocals stay anchored slightly stage left and McCartney's signature bass brings up the foundation of the track.
It should be noted that, for the Qute 2, you will need a pair of speaker cables with banana plugs on at least one end, as the Qute 2 is pressed for real estate on the rear panel. Like the Wadia Intuition we recently reviewed, the Qute 2 only has space for a pair of banana plugs. On one level, this pays homage to Naim's past and keeps the setup tidy. There wouldn't be any room for massive audiophile plugs behind this petite amplifier even if the clever Naim engineers could squeeze a pair of binding posts back there. We ran the same pair of AudioQuest Meteor cables that were used on the original Qute review with excellent results. Long gone are the days that you have to use Naim's own speaker cables to properly interface with your speakers.
When keeping things at a reasonable pace and volume level, there is nothing in the TONEAudio arsenal (or my own collection of speakers) that the Qute 2 can't push effectively. Bringing back a friend's Qute reveals that the original still possesses a bit more midrange sweetness (which can easily be taken for coloration, depending on what side of the fence you're on), but the extra power far outweighs a smidge of midrange magic for this reviewer, who really does like to rock.
Broadening the perspective and taking advantage of the Qute 2's analog input, I add a Naim StageLine phonostage and a Rega RP6 turntable with Exact cartridge to the system, nearly doubling the cost of the Qute 2/LS-50 combination—which will also double the pleasure for the analog lover. Spinning the recent MoFi remaster of the Allman Brothers' Eat a Peach is a ton of fun, and the Qute 2 delivers more than enough resolution to provide a great analog experience.
It certainly resolves enough musical detail to easily discern the difference between the $2,000 Rega table and the $500 Pro-Ject I also have on hand. With the Rega in the mix, the soundstage is more expansive in all three dimensions, with a more airy, fleshed out and better-defined upper register. Don't let this compact package fool you; the Qute 2 has far more substance than its small size suggests. It's a full-bodied Naim component in every sense.
The Qute 2 is Apple friendly, so it will snag the digital bitstream from you iPod or iPhone, making it easy to take advantage of your music collection. MP3s with 320 kbps play back with startlingly good clarity. Upping the game to CD-quality files demonstrates just how good the iPod can be in an audiophile environment when loaded with better software.
Taking advantage of the Qute 2's high-resolution DAC makes listening to high-res audio files via the Astell&Kern AK100 and AK120 portable players a real treat, and this arrangement is in keeping with the compact ethos of this component. Listening to the slinky vocals on the recent HDtracks download of Joni Mitchell's Hissing of Summer Lawns reveals layer upon layer of detail when compared to the original CD rip.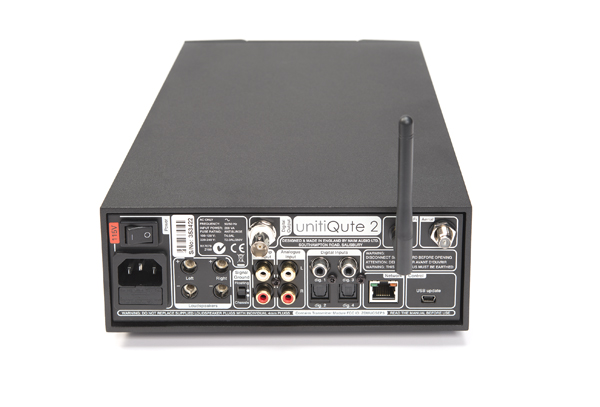 A Joy to Use
Even though the Qute 2 features a wide range of functions, it is surprisingly easy to use. While it is critical that you don't lose the remote, as none of the functions can be accessed from the front panel, the app that is available for iPhone users is far more handy and convenient to use, giving a graphic display of the Qute 2's functions. When synced with your home network, the Qute 2 app allows you to control inputs and volume anywhere within range. This comes in handy when the phone rings, and it also means you can have one less remote control lying around.
Once the Qute 2 is powered up, a quick run through the front panel allows you to optimize its settings. You can select relevant sources and choose big or small speakers; the bass rolls off a tad for small speakers, giving you some extra headroom in the process. Should you be leaving the Qute 2 unattended, I suggest taking full advantage of the maximum volume setting, which will save you from blowing a tweeter or upsetting the neighbors.
If seven digital inputs and an analog input aren't enough, you can also use the USB socket on the front panel to play music from a USB flash drive. You can also summon files from an UPnP music server via a hardwired connection or via the built-in Wi-Fi. Naim suggests a hardwired connection for best digital performance and we concur, especially if your music collection consists of CD-quality and HD-quality digital music files. Those with large collections of low-res MP3s will not suffer terribly from the wireless connection, should a wired connection not be convenient. Those not streaming digital files, or if you're just listening to music via a CD player (like Naim's excellent CD5si, which we currently have in for review), can still use the Wi-Fi antenna to connect your iPhone to the Qute 2 for full remote functionality.
Running the Qute 2 through a gaggle of different headphones reveals that the on-board headphone amp is up to snuff and that it will drive all but the most difficult headphones with ease. The only ones we really had trouble with are the HiFiMan HE-6 headphones, which are notoriously tough to drive with even some of the world's best dedicated headphone amplifiers, so no fault there. Those of you with Sennheiser, Grado, Audeze and Beats phones will thoroughly enjoy the headphone performance of the Qute 2.
Last but not least, the built in FM tuner (DAB for our European friends) does a spectacular job foraging for signals, providing high-quality sound in the process. Those having decent FM stations nearby will be pleasantly surprised at just how good the Qute 2 sounds in this mode—far better than satellite radio any day. Adding a modestly priced Terk antenna to the Qute 2 further improves performance.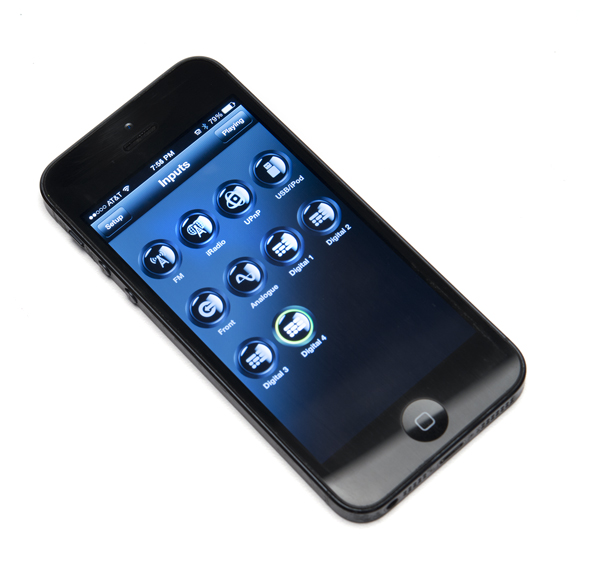 Little It Can't Do
After living with Naim's UnitiQute 2 for a couple of months, I have found that its luster remains. The quality of sound provided is utterly fantastic and the range of functionality is tough to beat.
Though not packaged in as sexy of a shape as the Wadia Intuition, or the Devialet 110 also featured in this issue, the Qute 2 is mega-affordable and keeps with the easy-to-use yet high-performance ethos that we think the high-end audio industry desperately needs. For less than a top of the line Bose system, you can pair the Naim UnitiQute 2 with a great set of speakers and have a serious hi-fi setup. And for all the same reasons we found the original UnitiQute worthy of merit, we award the Qute 2 one of our Exceptional Value Awards for 2013.
Naim UnitiQute 2
MSRP: $2,195
www.naimaudio.com (company website)
www.soundorg.com (U.S. Importer)
Peripherals
| | |
| --- | --- |
| Digital Sources | Meridian Media Source 200    Astell&Kern AK120 portable player    Naim CD5si |
| Analog Source | Rega RP6 turntable    Exact cartridge    Naim StageLine phonostage |
| Speakers | KEF Blades    KEF LS-50    Harbeth Compact 7    MartinLogan Aerius i |
| Cables | AudioQuest Colorado interconnects and Meteor speaker cables |