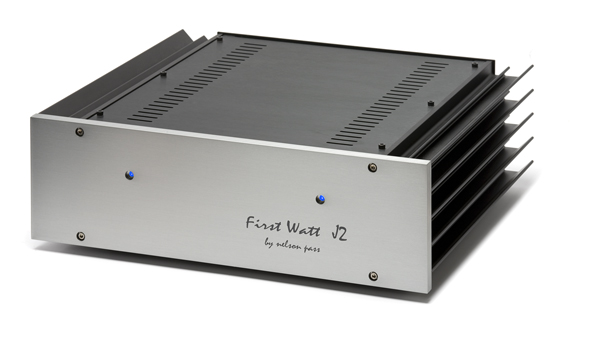 The First Watt J2 is an absolute honey of an amp. Hooked up to my Zu Essence speakers, the sound isn't merely spectacular; it regularly keeps me up long after I should have gone to bed. The J2 is sublime, but I don't think this point can be made often enough: when a reviewer says an amp is "great," what he's really saying is that it's great with the speaker (or speakers) he's auditioned it with. The same logic could be applied to speaker reviews because you can't listen to speakers without listening through an amp. So it's really the combination of the two – speaker and amp – that we hear. Sure, the rest of the system, namely the preamp, sources and cables, all play their parts. But the interactions between amp and speakers can make or break the sound – and with the high efficiency Zu's it's a winner.
The First Watt J2 and Zu Essence are both made in the United States. Zu is a new wave, youthful audiophile company. First Watt is a Nelson Pass enterprise, and he's the founder and CEO of Pass Laboratories. In the 1970s, his first venture, Threshold, broke new ground in solid-state designs, and he's still advancing the state-of-the-art. First Watt exists because Pass wants to explore a variety of amplifier-design strategies in what he thinks of as "neglected areas:" amplifiers that might not fit into the mainstream and are probably not appropriate for Pass Labs.
The J2 is a stereo power amplifier rated at 25 watts per channel into 8 ohms, and 13 watts into 4 ohms. The clean, compact design measures 17 by 5.5 by 16 inches, and it weighs about 25 pounds. It has a two-stage circuit and operates in pure single-ended Class A mode, with signal JFET devices forming the input stage and power JFET devices for the output stage. What's that, a JFET output stage? That's special. Every solid-state amp you or I have ever heard used bipolar or MOSFET transistors in the output stage. The J2 sports JFETs, and that's way cool.
Yes, I recall that Sony and Yamaha made JFET amps ages ago, but then power JFETs were MIA. Now they're back. Pass heard that SemiSouth Corporation of Missouri had started making new power JFET transistors with high voltage, current and power capabilities – as high as 1,200 volts, 30 amps, and 273 watts. These new JFETs were designed for very fast switching in solar-power and electric-car applications. Pass bought a few of these JFETs and found they had a very low distortion characteristic. Compared with MOSFET-type power transistors, JFETs can achieve 10 to 20 dB improvements in distortion performance. So a JFET doesn't need as much feedback to keep distortion low. It's low from the get go.
Pass aims to design what he calls "simple circuits" because, as he once so eloquently put it, "Complexity tends to be the nemesis of musicality…" As he refines a design, he listens to how individual parts – capacitors, resistors, semiconductors, etc – change not only what he can measure but how they put their "signatures" on the sound.
Low-power, singled-ended tube amps have been popular with some audiophiles, especially those with highly efficient speakers, so you might assume Pass was trying to build a solid-state amp that would appeal to that crowd. But that's not the J2's mission. It doesn't sound like tubes; it's not warm, mellow, romantic or lush.
The J2 is all about purity and exceptional transparency. It's a colorless device. Low-level resolution of recording-room sound or added reverberation are reproduced with startling fidelity. If you want romance, look elsewhere. Play a nasty-sounding recording, such as  Arcade Fire's recent The Suburbs CD, and it will sound hard, grainy  and ferociously compressed. Gorgeous recordings, such as Ella Fitzgerald & Joe Pass' Sophisticated Lady CD, will be a feast for the ears. Ella's voice, from a whisper to a full-on wail, takes center stage, and Pass' fleet-fingered fretwork is not too shabby! The feel of the sound is tangibly live, and the anything-can-happen excitement of the 1983 Tokyo concert was perfectly resurrected by the amp and speaker. Sophisticated is my favorite Fitzgerald album, precisely because it gets me closer to the live event than anything else.
The J2/Essence combination is dynamically consistent from bass to treble, so the sound feels right. There is a definite tunefullness, a toe-tapping, engaging quality that brings music to life. Bass is quick and nimble, but it won't bowl you over with room-shaking, pants-flapping low-end. If you want that, get a subwoofer.
After an hour or so, the J2's heat sinks and the entire chassis get pretty warm, so you wouldn't want to rest your hand on it for more than a few seconds. The power switch is on the amp's rear panel, which might be a tad inconvenient if you want to put the J2 in a rack or cabinet. Then again, considering how much heat this amp generates, proper ventilation is a must. I put the J2 out on the floor between the Essences, so it was easy to reach around to the power switch. The warranty runs three years, but Pass claims that in more than eleven years, he's never had a single First Watt product returned for a warranty claim.
Comparing the J2 with my Pass Labs XA100.5 100-watt monoblocks was a study in contrast. The big amps' power advantage was obvious, and that manifested itself in sheer gravitas and a richer, fleshier tonal balance. The XA100.5 soundstage was deeper and broader, but the J2 was just as transparent. Low-level resolution and transient speed were on par the XA100.5. And the big amp is four times as expensive as the J2.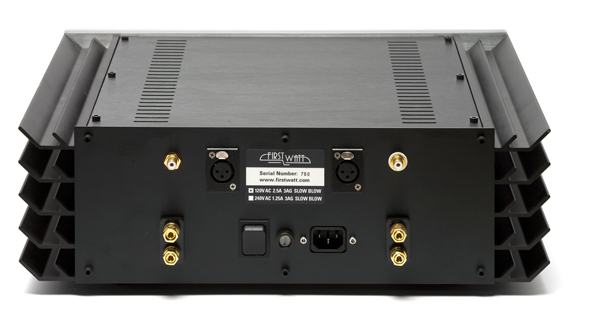 The little amp's 25 watts uncorked the full measure of Booker T & the MGs prodigious funk. Healthy doses of the band's Time Is Tight three-box CD set proved the amp has what it takes. Duck Dunn's supple bass lines made all the right moves, and Steve Cropper's tasty guitar tricks were finger-lickin' good. Then again, Booker T's Hammond-organ grooves are the music's bedrock, and he was always adding just the right flavor to the mix.
The live tracks from Cream's Goodbye LP may not have had the same sort of unstoppable mojo as the Booker T sides, but played at a satisfyingly loud level, Jack Bruce's fat bass riffing off Eric Clapton's stinging guitar leads were beautifully rendered. Ginger Baker's heavyweight drumming had tremendous impact, so any concern that the little amp's 25 watts per would inhibit my style were soon forgotten.
The Cream record isn't by any stretch an audiophile recording, but I loved the way the J2 decoded the texture of Bruce's bass and Baker's drum kit. They were more dimensionally present than I ever recall hearing from the Mobile Fidelity Goodbye gold CD. Same could be said about Still Life, a live Rolling Stones LP from their 1981 tour. I've never really liked this LP, but it clicked over the J2, and it made me think about how much better the Stones were when bassist Bill Wyman was still in the band. "Start Me Up" was a highlight; the band still had a bit of their youthful power, but that was almost 30 years ago!
I also put the J2 through its paces with Anthony Gallo Acoustics' new and improved Reference 3.5 speakers. It's not a super-efficient design (only a moderate 88 dB/1 watt), but the impedance stays around 8 ohms before it drops like a stone around 20 kHz. I really love this new Gallo for its remarkably open quality and its transient speed. Soundstage depth and low-level resolution are superb, and the J2 handily exploited all of those strengths. But power was an issue, so if you like to listen loud, the J2/Reference 3.5 combo won't float your boat.
The Hifiman HE-6 planar-magnetic headphones (similar operating principal as Magnepan speakers) can be hooked directly to any power amp, so I couldn't help but try the headphones with the J2. Wow, the sound was oh-so transparent, definitely on par with Stax electrostatic headphones. But the J2/HE-6 combination was vastly more dynamic and the bass kicked harder than any 'stat phones I've ever tried. The HE-6 is one of the most open-sounding headphones around, and the J2 only seemed to enhance that quality. Soundstage width and depth on Brian Eno's Small Craft on a Milk Sea CD were truly expansive. My only reservation was the bass. Other amps generated gutsier drive and more low-end oomph than the J2 did with the HE-6.
The J2 doesn't sound like a tube amp, but its musicality with my Essence speakers was spectacular. So if you have a Zu, horn or any high-efficiency speaker, the J2 could do the same for you.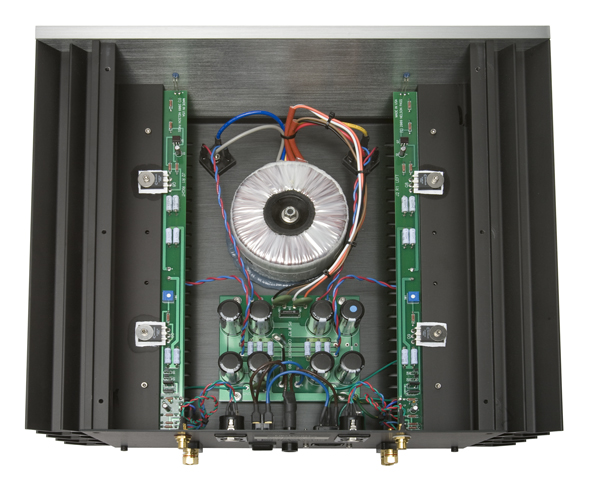 Additional Listening:
More Power!
By Jeff Dorgay
Should the J2 not be quite enough juice for your speakers, consider the First Watt M2.  Rated at an equivalent 25 watts per channel, the
M2 is a push-pull design whereas the J2 is single-ended Class A. The M2 produces 40 watts per channel into a 4 ohm load, where the J2 produces only 13 watts per channel.
Bottom line, the M2 amplifier should be able to drive most speakers to adequate sound-pressure levels.  I've been a fan of Nelson's Class A designs all the way back to the Threshold 4000A, but everything that Steve has described in the J2 is available with slightly more power in the M2 model. The M2 is slightly less expensive, at $3,600.
Removing the $60,000 pair of Burmester 911 mk. 3 monoblocks in my reference system, the M2 held its own, with even slightly more inner detail than the German monster amps.  This amplifier was able to take hold of the GamuT S9's with enough control that a few casual visitors didn't even know the Burmester amplifiers were no longer in the system!
Watch for a full review shortly when I have time to peel the smile off of my face.  Nelson Pass has done it again.
First Watt J2 Power Amplifier
MSRP: $4,000
Peripherals
| | |
| --- | --- |
| Analog Source | VPI Classic turntable with van den Hul Frog cartridge |
| Digital Sources | Ayre C-5xe MP Universal Player    Oppo BDP-83 Special Edition Blu-ray player |
| Electronics | Parasound JC 1 preamp    JC 2 power amp    Pass Labs XA100.5 amp   First Watt J2 power amp    Whest 2.0 phono preamp |
| Speakers | Zu Essence    Zu Soul Superfly    Dynaudio C-1    Mangepan MG 3.6/R |
| Headphones | Hifiman HE-6 |
| Cable | Zu interconnects and speaker cable    Audioquest Sky interconnect    Analysis Plus Silver Oval interconnects and speaker cables    XLO Signature-3 power cords |