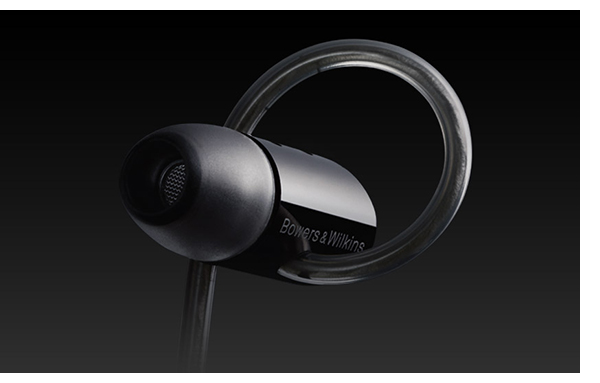 The iPod is often a bright spot for those that commute via mass transit. When the London Tube was part of my daily regimen, it seemed everyone wore headphones. However, bulky, noise-canceling 'phones feel like winter earmuffs in the summer; too hot and sweaty for my taste.  And yet, swapping them for in-ear phones always presented too much of a sonic compromise. That is, until I experienced the B&W C5s.
At first glance, I thought the loop attached to the C5s went over the ear. Nope. The rubber loop, or "Secure Loop" as Bowers & Wilkins calls it, goes into your ear and curls around the inner rim to help hold the headphones in place. Each loop adjusts to suit different-sized ears and ensures a snug fit for all users. To help further ensure the headphones stay secure, each inner casing on the C5 is lined with Tungsten and weighted toward the ear. On the end of the headphones, you'll find a "Micro Porous Filter" that contains hundreds of tiny steel balls that act as a diffuser. It is designed to help open up the sound and make the C5s more lifelike.
Build quality is excellent. The aluminum casing is high quality, and the gloss-black finish adds a sexy look. While they haven't any active noise-canceling technology, the supplied earpieces do an adequate job of keeping out ambient noise. Bowers & Wilkins also included an Apple-approved cable with its own volume control. It even contains a microphone so you can make phone calls.
From the start, I could tell these headphones were good. The C5s possess an almost-organic sound quality. Listening to Bob Seger's "Turn the Page" from Live Bullet showcases a tangible vocal realism that further draws me into the music. The opening saxophone solo sounds clear and smooth, as well as extended and airy. This passage sounds harsh on some speakers, but the C5s provide a great window into the information.
The C5s don't miss a beat on the title track from Bruce Springsteen's Darkness on the Edge of Town, either. Nothing seems lost, and I clearly hear the piano in the background. The track also features great contrasts between the deep bass and piano highs. Splendidly, the C5s put both characteristics in perspective, never interfering with another—a difficult task. Midrange is open, pure, and balanced. No, the C5s aren't entirely neutral, as a slight mid-bass boost makes the sound fuller. But the coloration suits my personal taste given that it allows music to sound more realistic and less like a plain recording.
Ke$ha's "Blow," from Cannibal, acts as a bass test. Here, the low-end is articulate and deep—attributes often missing from in-ear headphones. Moreover, the bass doesn't interfere with Ke$ha's vocals. And while not amongst my highest-quality files, it still sounded very good through the C5s. These headphones are very revealing, but not in a ruthless way, meaning that low-quality MP3s sound okay. Yes, there's a noticeable drop in fidelity, but not enough to make songs sound atrocious.
Keep in mind that the C5s aren't designed as ultra-revealing, studio-quality headphones that let you hear every blemish of a track. Instead, they reveal what's on each recording without placing it under a sterile microscope. And that's a fresh approach any in-ear headphone fan can welcome.