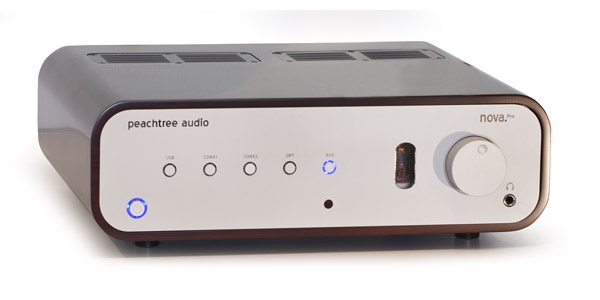 Peachtree Audio burst on the scene in 2007 with its Decco integrated amplifier with built-in DAC and onboard USB input, which was somewhat of a novelty at the time but has since become ubiquitous.  It also has another fun feature: a vacuum tube in the preamplifier section that is visible through a glass window on the front panel, which breaks up an otherwise plain-looking case and combines design elements from audio's past and present.  The success of the reasonably priced Decco—Peachtree sells refurbished versions of the original Decco for $499—led to a broader product line and contributed highly to the viability of a new renaissance of integrated amplifiers with built-in DACs.  Here, Peachtree was clearly a trendsetter.
Peachtree's products combine stateside engineering and design talent with overseas manufacturing efficiencies.  It has grown its initial dealer-direct model to include an extensive dealer network to help support the company's expanding product line.  Two of the newest additions to the lineup are the $999 novaPre and the $1,399 Peachtree220 power amplifier reviewed here.  The company has also moved further upmarket with its Grand series, which thus far comprises an integrated amplifier and a preamplifier.  We'll explore these at a future date.
A Quick Tour
The novaPre features four digital inputs and an analog input, so those wishing to incorporate an analog source are not left out in the cold.  There are two single-ended RCA outputs, both with variable peak levels so that a powered subwoofer can be used, which is particularly useful for those employing a sat/sub system.  The Peachtree220 is a powerful Class-D amplifier, with 220 watts per channel into an 8-ohm load that almost doubles to 400 watts per channel when going into a 4-ohm load.  The review samples arrived with a beautiful rosewood finish.  (They are also available in high-gloss-black and cherry-wood finishes. Cherry is standard, rosewood and black a $100 upcharge.)
Fit and finish is impressive and build quality is at the top of the chart, with perhaps the only inconvenience being that the RCA jacks are a bit close together, which limits your choice of interconnect cables to ones with svelte connectors.  My reference cables from Kimber and Transparent just made it, but some others with large plugs may not.  Setting up the Peachtree combo has a low degree of difficulty.  Eschewing the stock power cords for a pair of Shunyata Venom cords adds a cost-effective bump in sound quality.
The novaPre's digital inputs feed an ESS Sabre DAC capable of handling 24-bit/192-kHz data.  One of the digital inputs is the ubiquitous asynchronous USB, along with S/PDIF coaxial and TosLink inputs.  The novaPre's optical input is limited to 24-bit/96-kHz data, while those from most others handle 24-bit/192-kHz data.  In addition to the variable line-level outputs, there is a headphone jack on the front panel.  The tube in the window remains, but now a 6N1P replaces the 6922 of the original Nova, and can be included in or out of the circuit with the flip of a switch.  In this case, it acts as a buffer stage—handy when a bit of tube warmth is really needed.  The 6N1P is a very reliable tube, but does not encourage tube rolling, as there are few variations on this one.  Oddly, the novaPre only features single-ended RCA outputs, while the companion power amplifier has a pair of balanced XLR inputs.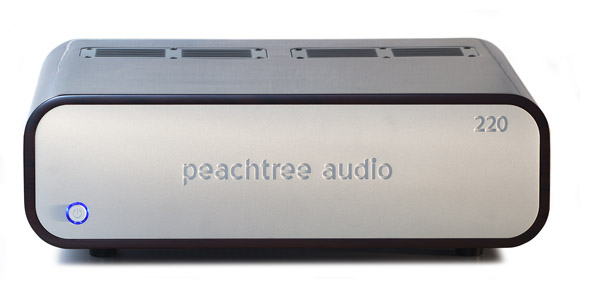 Good First Impressions
The Peachtree gear breathes life into familiar reference tracks as well as new favorites.  Marc Johnson's latest ECM collaborative album with pianist Elaine Elias, called Swept Away, is a perfect example.  The natural elegance of the arrangements is reminiscent of Bill Evans—full of tonal color and richness.  Piano and acoustic bass are always tough to reproduce convincingly, especially on an amp and preamp with a lower MSRP than a pair of premium interconnects.  Particularly impressive was the Peachtree combo's ability to control the lower frequencies, rendering the full-bodied, woody texture of Johnson's bass lines, with no overhang into the midrange.  This only improves as the gear racks up listening hours.
Staying in the ECM groove, next up is Anouar Brahem, the Tunisian master of the oud, which is a Middle-Eastern variation on the lute.  Brahem's recordings vary in texture, with accompaniment including saxophone, accordion and flute.  The Peachtree pair exhibited an overall smoothness and pace in capturing these exotic melodies and rhythms, which became simply hypnotic the longer I listened.  When mixed in with the other exotic instruments, the oud provides a true test of resolution that the Peachtree gear easily passed.
While I was drawn to recorded acoustic music, I also wanted to give the Peachtree gear a chance to rock out.  Texas singer-songwriter Ryan Bingham just released his fourth album, Tomorrowland, which is a more straight-ahead rock effort.  His previous outings were laced with Southwestern flavors, country and blues.  Bingham lets loose on this new self-produced and self-released recording.  He is pissed off and he wants you to know it.  The politically charged lyrics are perfectly underscored by the Stones-esque hard-charging backing.  The Peachtree duo did not falter in any way, providing plenty of the necessary drive and energy.
I Believe by the great '90s band Spain was the last disc that crystallized what the Peachtree combo is all about: nuance.  The band's music is filled with deep emotional content, played at downbeat tempos, and finely textured.  The Peachtree gear allowed all the emotion in these beautifully layered compositions to shine through brilliantly, especially on tracks like "She Haunts My Dreams" and "Born To Love Her."
Moving on, now using the novaPre as straight preamplifier, with a Marantz CD player connected to the Peachtree's analog inputs, I heard much of what I heard with sources connected to the digital inputs.  I found the novaPre to be rather straight up, with bad recordings not at all flattered.  Mumford & Sons new album Babel is somewhat brittle sounding, which is exactly what comes through the novaPre.  On the other hand, U2's classic track "Please," from the band's Pop album, is big and bold, with plenty of drama and a warmer overall sound that the novePre rendered with equal fairness.  Regardless of musical choice, the novaPre neither embellished nor detracted from familiar music.
This writer preferred keeping the tube in the signal path, so I kept it engaged most of the time. The difference is subtle but obvious.  Engaging the tube adds an organic ease and additional harmonic complexity to the presentation.  Of course, your preferences will vary depending on your taste and the rest of the system, but it's nice to have the option.
Born for Each Other
Both units worked flawlessly in my system during the review period.  My only complaint is a minor one:  I wish the volume steps at the lower settings were more nuanced via the remote control.  One tap brought it from conversation level to total silence.  It would have been nice to have a wider gradation, as with the volume control on the front panel.
The integrated amplifier with onboard DAC is a category that continues to become more popular as more music lovers turn to their computer as a source component—and the novaPre is a prime example.  Mating it to the companion Peachtree220 power amp makes for easy one-stop shopping.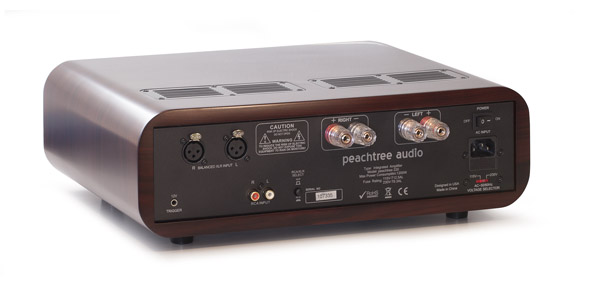 Additional Listening
By Jeff Dorgay
With an admitted bias against Class-D amplifiers, I was smitten with the Peachtree220 when I first heard it early this year at the Consumer Electronics Show, where the Peachtree folks were using a pair of Aerial 7T speakers to showcase their latest products.  For those unfamiliar with the Montis, this is not a particularly easy speaker to drive, as it presents relatively low impedance at high frequencies, which more often than not throws both tube and Class-D amplifiers a curve.
The Peachtree combo proved a formidable partner for the Montis, and I would have easily believed Peacthree front man David Solomon if he had he told me that these two boxes cost twice as much.  They gripped the Logans with aplomb, casting a huge soundstage combined with a smooth high end—impressive.
Before sending these two pieces to Andre for review, I made it a point to try both the 220 amp and novaPRE here with the variety of different speakers that I have at my disposal—and they passed all tests with flying colors.  Even a couple of the more difficult speakers in my arsenal (the B&W 802D and the Magnepan 1.7) were no problem, so whatever you might be using, rest assured, the Peachtree220 will be up to task.
The novaPre proved equally flexible, whether using the Sooloos music server, Mac mini or an old Denon CD player as a digital source, with everything from MP3s to the latest offerings from HDtracks.
Two words sum up this combination: value and refinement.  In a world full of five- and even six-figure components, these separates from Peachtree offer mega performance at a modest price, allowing the creation of great music system on a tight budget.  I am happy to award them both one of our Exceptional Value Awards for 2012.
Peachtree novaPre and Peachtree220 power amplifier
MSRP:  $999 (novaPRE); $1,399 (Peachtree220)
Peripherals
| | |
| --- | --- |
| Streamer | Squeezebox Touch |
| DAC | Musical Fidelity V-DAC II |
| CD Player | Marantz CD5003 |
| Speakers | Boston Acoustics M25 |
| Integrated Amplifier | McIntosh MA6600 |
| Cables | Transparent MM2 Plus    Kimber Hero Ag    QED Genesis Silver Spiral   Shunyata Venom |