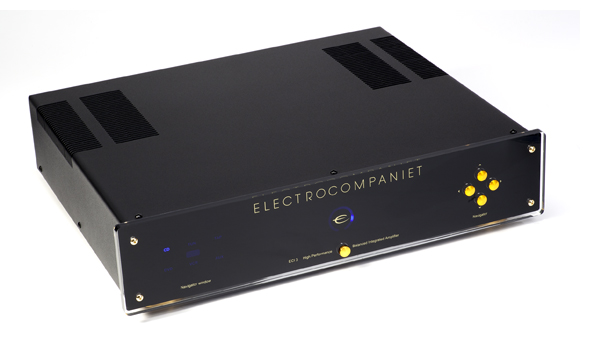 Norwegian manufacturer Electrocompaniet has produced highly regarded electronics going on four decades now.  My first vivid audio memory from childhood is of my father reading a glowing review of an Electrocompaniet amplifier in the The Audio Critic.  As I recall, he mentioned that the reviewer loved the way the amplifier sounded with the Rogers LS3/5A, which he also owned.  Why my father was telling me this I don't quite know, but I've always maintained a curiosity about this seemingly exotic Nordic brand.  The company currently offers a full line of products, including speakers, amplifiers and cutting-edge digital sources, like wireless and USB DACs.
The 70-watt-per-channel ECI 3 integrated amplifier, priced at $3,400, is the entry-level integrated amp in Electrocompaniet's Classic line.  And it's a stunner, with copper-tinged buttons adorning a heavy-duty acrylic faceplate against black casing—the signature look for the entire line—plus ice-blue LED lights, which lend the amp a futuristic feel when the lights in the listening are dimmed.  Its connector and speaker terminals are high quality, and its 26.5-pound weight inspires confidence in its build quality.
The ECI 3 is fully balanced, with six inputs, and it offers two tape outputs.  There is also a balanced output, an Electrocompaniet trademark, for driving an external balanced amp.  Electrocompaniet touts its motorized volume control as being virtually transparent.  The company also claims that its proprietary Floating Transformer Technology is unique, allowing greater current reserve than other conventional power supplies, and that the amp can drive virtually any loudspeaker.
All of its functions are accessible via the supplied remote, which has the ability to control multiple Electrocompaniet components.  Setup is simple and straightforward, which makes it easy for me to use the ECI 3 in two separate systems with three different pairs of loudspeakers, including the MartinLogan Ethos, the Thiel CS2.4, and the Harbeth Compact 7ES-3.  My sources include various CD transports, as well as Logitech's Squeezebox Touch decoded by Bryston and PS Audio DAC units.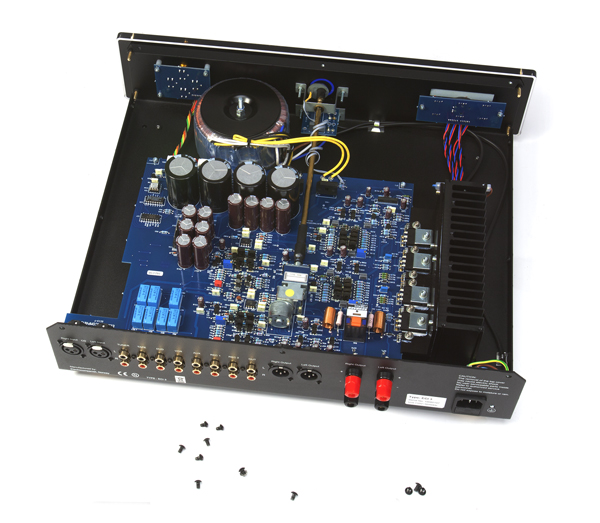 The ECI 3 is an excellent match with the MartinLogan and Harbeth speakers, but not so much with the Thiels, which just sound too dry and lifeless when paired with this amp.  As superb as the Logans sound with this amplifier, the Harbeths prove to be the proverbial match made in heaven, with an incredibly wide soundstage and a tonal beauty that makes walking away from listening sessions difficult.  This combination displays an almost tube-like quality in terms of harmonic richness.  But don't get me wrong:  This is not a soft-sounding amplifier obscuring musical detail in a haze of warmth.  There is plenty of energy and presence, which the amp delivers in the most musical way.
Specifically, I truly enjoy the superb delicacy in the treble and the wonderfully clean and smooth midrange, with plenty of bass weight and articulation.  These qualities are found across the board, regardless of musical genre.  I call up a slew of Ben Harper albums, which are always a great test for gear, since he bounces between earnest acoustic stuff and blazing Zeppelin-influenced rock, as well as soul, punk and alternative.  His sublime Diamonds On the Inside, from 2003, even throws in some hardcore '70s-style Bob Marley jams and ballads.  I am very impressed with the ECI 3's ability to navigate these winding musical waters with absolutely no effort, and its ability to render the music with zero mechanical artifacts.  This is not a mechanical sounding solid-state amplifier by any means.
Digging deeper into my music collection leads me to Gábor Szabó, the hugely influential Hungarian jazz guitarist.  His '60s and '70s albums are littered with pop tunes of the day and standards in mind-bending psychedelic arrangements.  His album 1969 sounds exactly as the title suggests, with quaint embellishments in the fashion of the time, like sitars, tablas and Eastern modalities.  The ECI 3 keeps Szabó's tone creamy and fluid, yet it maintains a high level of resolution all the while.
I decide to pull a joker from the deck, cueing up Shine a Light, the soundtrack to the 2008 documentary on the Rolling Stones.  Mick and the gang are unusually energetic in this show, but the CD mix tends to come off as a bit messy.  This is not the case when listening to it through the ECI 3.  I hear Bob Clearmountain's mix in a whole new light, so to speak:  The guitars bite, the drums crack with authority and there is plenty of bottom end.  Jagger's vocals are dead center in the mix, with the horns and backup singers positioned well across the soundstage.  The ECI 3 rocks out, and does so with class.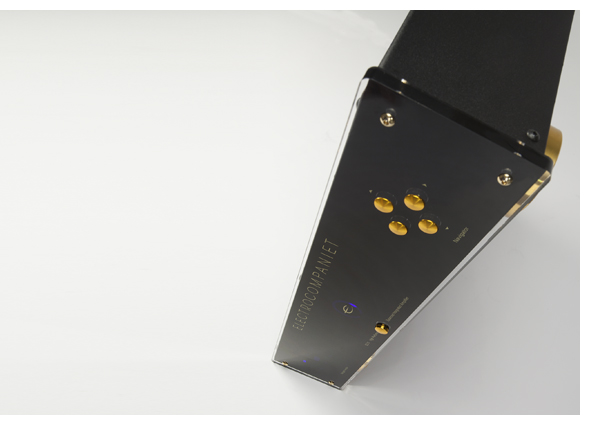 Operationally, the ECI 3 is plug-and-play all the way and a pleasure to use.  Careful listening reveals the balanced input has a slight edge on the single-ended inputs in terms of clarity, but this of course will depend on the source component. As the PS Audio NuWave DAC is truly balanced, it showcases the ECI 3's balanced design.  Furthermore, the ECI renders amazingly quiet backgrounds and excellent dynamics—it easily handles the most dynamic of orchestral crescendos, which supports Electrocompaniet's claim that the company uses top-quality parts and execution for this piece of gear.
As a self-admitted remote-control junkie, my only complaint is the plastic remote, but this is a minor issue.  I'm sure most users would prefer that Electrocompaniet instead allocate its resources to the parts affecting sound quality.
With a crowded field of integrated amplifiers in the $3,500 range, it is difficult to stand out.  The example does stand out, combining elegant sound and aesthetics, with the support of Electrocompaniet's long and respected pedigree.  We are so highly impressed with ECI 3 that it will be an in-house reference component for the TONEAudio reviewing team going forward, because it offers such high value and flexibility.  With plenty of power on tap, more than enough inputs to satisfy, a fully balanced design, superb build quality and cool Scandinavian aesthetics, the Electrocompaniet ECI 3 is a product that we highly recommend.
Electrocompaniet ECI 3 Integrated Amplifier
MSRP: $3,400