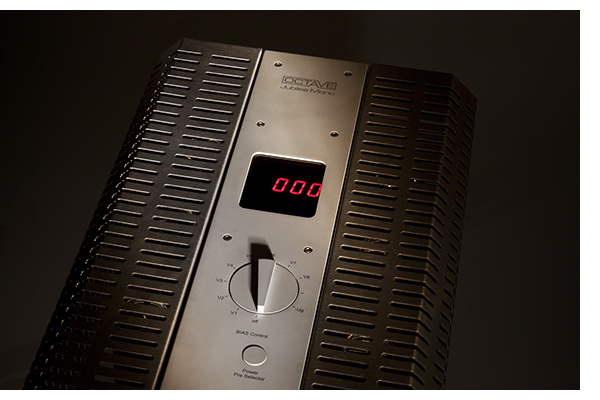 It's easy to become smitten with a pair of large, high-powered, German tube monoblocks at first listen.
There's always something incredibly cool about amplifiers that have the delicacy, the airiness and that extra dimensional palpability that tubes bring to the listening experience, yet have the weight and sheer dynamic thrust that only comes with high power.  The Octave Jubilee monoblocks have been here for the better part of a year now, paired with many speakers large and small. They've excelled with every speaker I've had the pleasure to connect them to, with no loss of magic.  If anything, I'm more enthusiastic about these amplifiers than the day they arrived.
Elvis Costello and Burt Bacharach's collaboration "I Still Have That Other Girl," illuminates the Jubilees' ability to take a strictly mediocre recording and, with a bit of help from a top-quality source (in this case, the $110,000 dCS Vivaldi stack), extract the maximum amount of detail from it without crossing the line to become overly analytical – striking a perfect balance of tonality and dynamics.  As they should, for $67,500 per pair.
Control in the lower register is difficult for all but the world's finest vacuum tube amplifiers – again, the Jubilees convey a sense of reality that usually requires a high-current solid-state amplifier.  The big beats on Eric B. & Rakim's "Put Your Hands Together" hit hard without losing control instead of just coming across as boom, boom, boom – no one-note bass here.  A lost day to unearthing the best bass-laden tracks I can find fails to make the Jubilees falter.  Everything from Daft Punk to Pink Floyd is served up with gusto.
Getting Down to Business
Powering the KEF Blades in room one (with a sensitivity of 90db) is a splendid experience – even at eardrum-shattering levels, the Jubilees show no sense of strain.  It feels as though Alx Rose is right there in the room, whistling the intro to "Patience" from the G N' R Lies album. The illusion continues further as Rose's lead vocal comes in with barely a whisper, amidst a pair of acoustic guitars that stay sorted left and right of center.  Perhaps the enchantment is relayed best of all tracking through Use Your Illusion I and II, at near maximum volume, proving that these monoblocks – with eight 6550 power tubes per channel (KT88s can be substituted, while KT120s are not recommended) and massive power supplies – are up to the task of whatever program material you love to play loud. I cannot drive the Jubilees to clipping with the Blades in the system.
They prove an equally excellent match for the GamuT S9 speakers.  With a -3db low frequency limit of 17hz, they easily illuminate shortcomings in an amplifier's ability to go deep. Again the Jubilees show what they are made of, both with extension and textural ability.  Tal Wilkenfield's rapid-fire bass playing on Jeff Beck's Live at Ronnie Scott's is a perfect example of the way the Jubilees take hold of the GamuTs multiple woofer cones, without haze or hangover, picking up every nuance brilliantly. Yet when asked to go deep, digging up the beats buried in Bombay Dub Orchestra's 3 Cities disc, the Jubilees feel as if they have a silicon output stage, offering better grip than any power amplifier I've had the pleasure of using with tubes under the hood. And Daft Punk's controversial new album is a true treat, chock full of '70s and '80s disco beats rattling my insides at club level, courtesy of the Jubilees.
Inner Space
Moving the amplifiers to room two, now partnered with the Sonus faber Guarneri Evolution speakers, provides another intoxicating experience.  These compact speakers only have a sensitivity of 86db, and while they will play with a 40-watt per channel tube amplifier, they need big power to come alive and energize the room. The intro of Bauhaus's "Bela Lugosi's Dead" becomes a massive three-dimensional cube of distorted, in-your-face guitars, surrounded by jangly guitars floating on the periphery of the room boundaries.  "Heathen Child" from the Grinderman 2 album is equally well decoded.  This recording is somewhat dense, yet playing it through the Jubilees lays it bare, filling it with space and texture.
The small but mighty Sonus fabers sound as if the flagship Aidas, which we reviewed in December 2012, have been placed in a shrink machine: they provide a similar amount of detail and finesse, yet in the context of a smaller room.  Supreme Beings of Leisure's "The Light" expands wide and deep with electronic effects buoyant above the rock-solid bass line and sultry lead vocal, all having their own distinct space.  Having used the Jubilees with the Aidas during that review, this combination feels like it has returned to my smaller room – the presentation is stunningly lifelike.
And while the Jubilees produce 250 watts per channel, those subscribing to the "first watt" theory (i.e., if the first watt doesn't sound great, why bother with the rest) can rest assured that even at low volume, the Jubilees excel.  The Rolling Stones' version of "Like a Rolling Stone" from their Stripped LP remains engaging at light conversation level, with plenty of weight and a massive soundstage, providing a highly convincing rendition of the Stones playing in a small club – all of the spatial cues, from Charlie Watts drumming to the sound of the applause bouncing off of the club walls, are reproduced perfectly in my 13-by-16-foot listening room.
When Clint Eastwood whispers "You don't listen, do you asshole?" on the Pretenders tune "Bad Boys Get Spanked," it sounds as if he's sitting right there on the couch, whispering in my ear.  Fantastic.
The Long Game
It's always a rare privilege to listen to an amplifier for a long period of time, as manufacturers can't always spare a flagship product in this manner.  However, it's highly revealing when they can, as it provides the opportunity to experience a wider range of musical selections, far beyond the favorite tracks often used in the context of a normal review.
A wide variety of speaker and system configurations reveal that the Jubilees are infinitely flexible.  Thanks to XLR and RCA inputs, switchable from the rear panel, the Jubilees should work well with any type of preamplifier – all of the combinations auditioned here work perfectly.  They produce more than enough power for all but the most inefficient speakers, and they are even able to power my power hungry Magnepans without strain.  While none of my speakers prove problematic, the manual specifies a load no less than two ohms, so there may be a few speakers that the Jubilees will not drive.
While the Jubilee monoblocks do absolutely nothing wrong, their greatest triumph is truly a natural tonal rendition, combined with the ability to render layer upon layer of musical detail effortlessly.  Much like the Simaudio 880M monoblocks we just reviewed, the Jubilees paint an almost identical palette, yet offer up slightly more space and sparkle than their solid-state counterparts.  Ultimate system matching will come down to personal preference.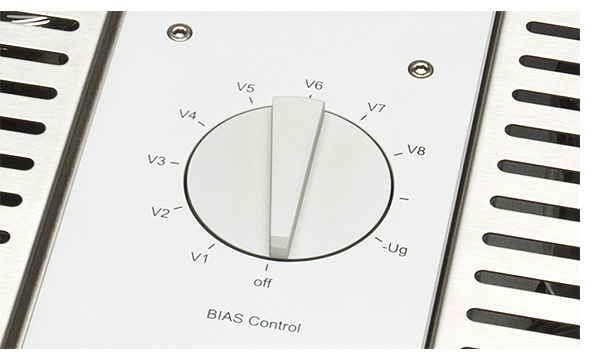 Tube and Reviewer Bias
Tonally, the Jubilees come right smack in the middle of CJ and ARC, two of my favorite tube amplifiers.  The ARC REF amps are a bit more in the "just the facts, ma'am" category, where the current CJ ART series tends to embellish somewhat in a more saturated kind of tonality. (A personal favorite and definite bias for this reviewer)
The Jubilees add only the lightest touch of "tube warmth," yet remain highly dynamic and incredibly quiet as well.  A full tube design, they use four ECC82 (12AU7) tubes as drivers, and eight 6550 or KT88 tubes for output.  The owners manual states that they can also use EL34 tubes, with a slight rebias adjustment, which could be incredibly intriguing.  What the owner's manual doesn't state is that a decrease in power is probably likely, as the EL34 tube has a much lower plate dissipation than the KT88 or 6550 tubes.
The Jubilees each use a single bias adjustment per amplifier, yet you can check bias on each individual tube via the rotary switch on the top panel.  The downside to this configuration is that each bank of tubes will have to be as closely matched as possible.  When they deviate by more than 15%, it's replacement time. Each mono amplifier includes two extra tubes, so that should one go out of spec, you can easily replace it without having to get another fully matched set.  Octave claims a 3-5 year lifespan on the power tubes, and 10 years for the drivers. A set of 10 per amplifier when you do replace them would be prudent, just to be sure to have a couple of spares on hand, because one never knows when catastrophic tube failure will occur. Fortunately, the Jubilees have a very elaborate, yet unobtrusive, protection circuit; when I did have a tube failure, the amplifier gently shut down without clicks, pops or any other bother.  The Jubilees make no spurious sounds of any kind during normal power up or power down either; they quietly go about their business.
That touch of tubeyness is usually in the background, but makes itself known immediately when listening to acoustic music.  The gentle interplay of Pat Metheny and Charlie Haden on "He's Gone Away" from the Beyond the Missouri Sky album reveals the Jubilees' ability to let the notes hang on the vine, ever so slightly longer than they do when played through a solid-state power amplifier.  A similar sense of dimensionality is experienced with the Portland Cello Project's current album, A Thousand Words.
Quite the Destination
The Octave Jubilee mono amplifiers are not for the faint of heart, back or wallet.  However, they deliver a fantastic musical experience that is commensurate with the price asked and are built to last a lifetime.  This has truly been an enjoyable long-term test drive!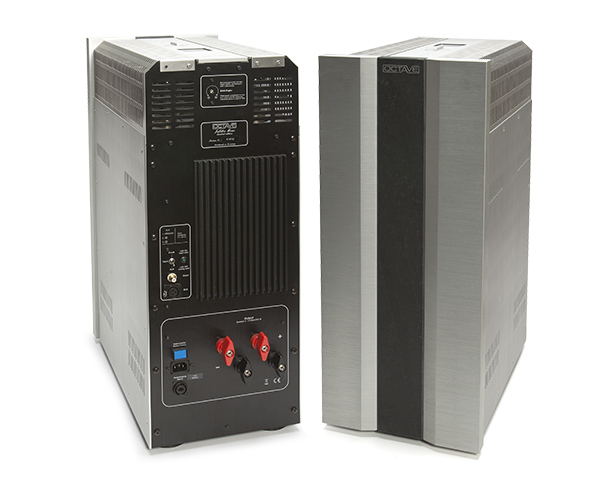 The Octave Jubilee Monoblock Amplifiers
MSRP:  $67,500