Sword
November 1, 2008
The Rose Garden
Portland, Oregon
photos by

Jeff Dorgay
text by

Jeff Dorgay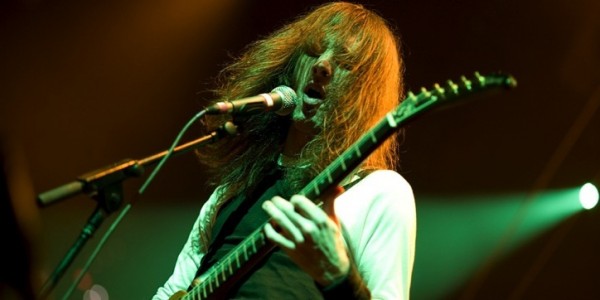 You have to have something up your sleeve to open for Metallica.
Unlike the pompous guys from Down that were the middle act in the Death Magnetic show, this brilliant metal band from Austin delivered the goods.  Rather than parade around the stage, demand that everyone "get up off their seats" and use a limited vocabulary to converse with the audience (mostly limited to the word, fuck) Sword did it old school and played their asses off.
Limited to a 45 minute set, they played material from both of their albums, Age of Winters and their current release, Gods of The Earth.  Lead singer John Cronise has a classic metal voice that has often been compared to Ozzy Osbourne, and rightfully so.  As you can see from the photo, lead guitarist Kyle Shutt never stayed still long enough for me to get a shot of him not in motion.
If you like your metal served up the classic way; loud and proud with a generous helping of heavy riffs, make sure you check out Sword on the current Metallica tour.  And let's hope to see these guys as headliners soon.