John Scofield
July 14, 2009
Miles Davis Auditorium
Montreux, Switzerland
photos by

Montreux Jazz Festival
text by

Jeff Dorgay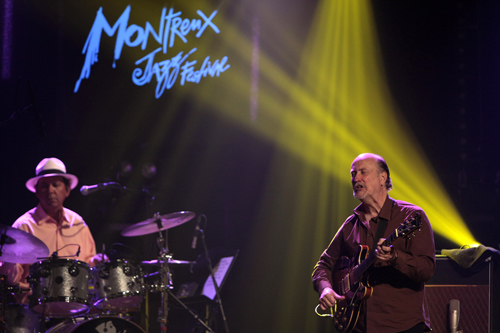 John Scofield took the stage in Montreaux last night with a very different band than the one he was touring with just a few months ago when he came through town for the Portland Jazz Festival.
Touring to support his recent release, Piety Street, which has much more of a gospel feel, the band consisted of Jon Cleary (vocals, piano, Hammond B3 organ); Donald Ramsey (bass); Ricky Fataar (drums) and Scofield on guitar..
The band played most of the tunes from the album, and the evening had a very laid back feel, in contrast to Scofields usually more free form guitar escapades, with him adding some occasional background vocal tracks.  However, the set was not without a few great Scofield guitar solos, which kept the audience very entertained.
The Miles Davis hall had a perfect ambience for this music and the live mix was excellent.  If you love jazz, Montreux should be on your calendar for next year!