Madeleine Peyroux
July 16, 2009
Miles Davis Auditorium
Montreux, Switzerland
photos by

Montreux Jazz Festival
text by

Jeff Dorgay
Artist web site: www.madeleinepeyroux.com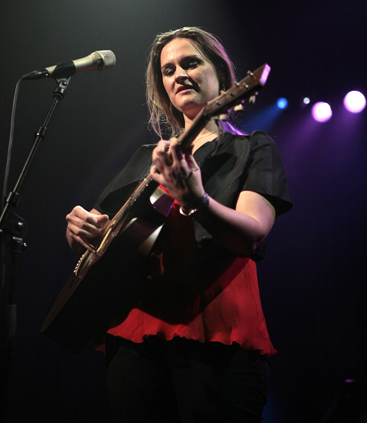 Madeleine Peyroux took the stage Thursday night after Allen Toussaint thouroughly warmed up the crowd.   She delivered a very warm and romantic set, not at all unlike what fans have grown accustomed to on her records.
While the performance was excellent, it did not deviate terribly from the set list that I had seen when she stopped in Orgon a few months earlier this year.  The band was tight and did not miss a beat, however the Oregon performance at the beginning of the tour was more lively.
Here in Montreux, Peyroux was playing it safe, perhaps knowing this show was being recorded and filmed?
Regardless, the fans got a nice mixture of her last two albums along with a number of her original compositions from her current record, Bare Bones, which features all original tunes.