Alejandro Escovedo
Sept 13, 2008
The Aladdin Theater
Portland, Oregon
Artist web site: http://www.alejandroescovedo.com/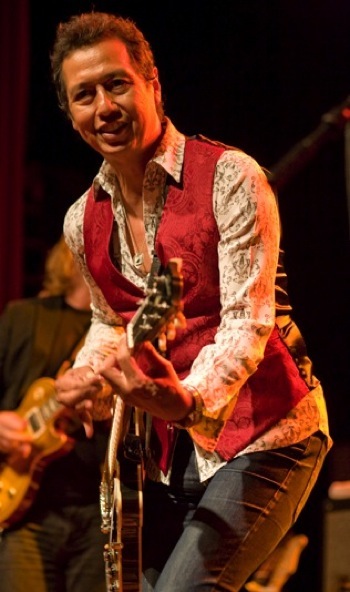 Having just reviewed Alejandro's CD in the last issue of TONE, I was anxious to see him live.  Alejandro has a long musical history with roots rock/alt country music, including time in Rank and File, The True Believers as well as a few others.
But tonight's show was far beyond that.
Playing a wide range of his music, he performed the title track from his current CD, Real Animal along with a few other tracks from this disc.  This show was a lot more rock than alternative with Escovedo jumping around the stage like a 25 year old.
Towards the end of the set, he told us about performing at the Democratic convention and that he was now playing "Castanets" again.  (Escovedo had stopped playing it for a few years because he found out President Bush had the song on his iPod) At the end of the show, when I thought it couldn't possibly get any better, he came back out for an encore and announced he was going to play a David Bowie song.
We were rewarded with the best version of "All The Young Dudes" I've ever heard and I've seen Mott the Hoople more than once.  With the crowd on their feet, he looked down and said "Yeah, I like that song".
There are still quite a few dates left on the tour, don't miss him.  And to the audiophiles in the crowd, the woman that runs Alejandro's board on tour is stellar.  This was by far the best live sound I've ever heard at the Aladdin.  The live mix was perfect!