posted: August 5, 2022
Ella's Latest: A must hear
Live At the Hollywood Bowl: The Irving Berlin Songbook
Verve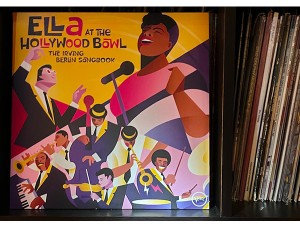 A couple of years ago it was a German recording. Lost tapes of a 1962 show that caught Ella in some kind of prime (yes, she had several, as committed Fitzgerald fans know) were found and released, and from the crazed swing of "Jersey Bounce" to the sublime diction of "Mr. Paganini," it was a jewel.
So is this new find, a Bowl/Berlin confluence from the summer of '58 that finds the singer's voice limber, playful, commanding, fiery and thrilling…to say the least. I guess a case could be made that those adjectives could correctly be used during much of the icon's career, but here listening on the back porch on a 2022 summer night, the blend of craft and esprit she brought to the Hollywood Bowl is euphoric.
Her famed songbook series was on its fourth installment, and it had just earned her a Grammy for Best Female Vocal Performance. Irving Berlin's "Blue Skies," "Isn't This a Lovely Day" and "Remember" were probably pinging through the heads of ticket-buyers when the First Lady of Song, backed by a contingent of brass, reeds and strings helmed by the album's conductor Paul Weston, stepped up to the mic to sweep everyone away. "As you listen to the band, don't cha get a bubble? As you listen to them play, don't cha get a glow?" The opening of "Let Yourself Go" is a good place to point your ears. Team Weston is taking the advice of the song's lyrics, bouncing the beat like transcendence could be part of every bar.
Ella grabs the vibe and doubles down through many of these performances. Dash and drive fight it out with zing and zip as she conveys the anticipation of a night on the town in "Top Hat, White Tie, and Tails." And the brass section's brio meshes nicely with the singer's vocal acrobatics on "Heat Wave." The occasional indictment that Fitzgerald lacked sufficient dramatic skills to convincingly convey despair is swept to the side here, too. Her quaver sets a forlorn tone on "Russian Lullaby" (a duet with the harpist) and the poignancy is palpable when she speaks from behind a broken heart in "You're Laughing At Me." But the ballads are in the minority here. By the time the giddy swag of "Alexander's Ragtime Band" closes the deal, we've all been reminded that Ella set the bar high when it came to dispensing exuberance. Artistry abounds on this must-hear find.
–Jim Macnie