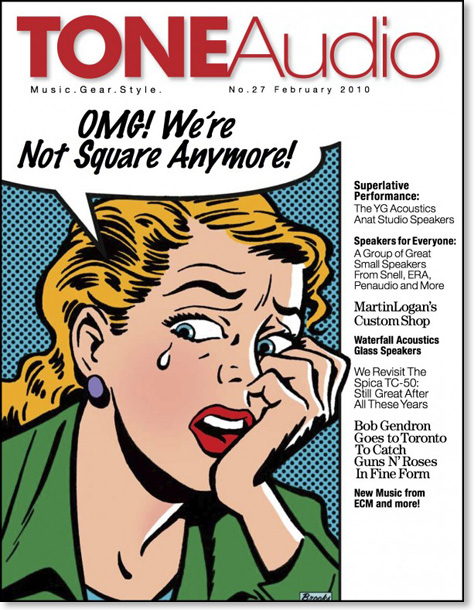 TONEAudio Magazine Issue 27
Cover Story
We Celebrate Speakers & Our New Format!
Download TONEAudio Issue 27
180 page PDF Standard Resolution 17MB
---
Features
Old School: The Spica TC-50
By Jeff Dorgay

The Journeyman Audiophile: The PK-KI Amplifier: Another Rare Pearl From Marantz
By Jeff Dorgay

Budget Gear: The Naim Stageline: A Solid Performer
By Jerold O'Brien
Tone Style
The MartinLogan Custom Shop: A New Level Of Excellence
Hublot's Depeche Mode Watches: Fight Teen Cancer, Buy a Watch!
From McDonalds to Mick Jagger: The Art of Jeff Ham
Cool Shooters from the House of Fred
The Waterfall Iguascu EVO: Transparent French Beauty
Hide Your Flat Screen With Help From Media Decor
Music
Live Music: The TONEStaff Covers Guns N'Roses, Chris Botti, Steve Earle and City and Colour.
Current Releases:
Fresh Releases in the Pop/Rock World
By the TONE Staff
Audiophile Pressings Presented by Music Direct
The Bad Plus, Johnny Hartman, The Flaming Lips and more.
Four New Releases From ECM:
Selections From the Six Degrees Catalog
By Richard Colburn
Previews
Apple's New iPad
YZX Omega X Phono Cartridge
MartinLogan's Motion 4's
The J-Corder Technics 1500
Reviews
Headphone Planet: One to Keep, Two to Toss
By Jeff Dorgay

The Snell K-7's
By Jerold O'Brien
YG Acoustics Anat II Studio
By Jeff Dorgay

KEF xQ-20
By By Jerold O'Brien

Mark& Daniel's Maximus Diamond+
By Mark Marcantonio
Penaudio's Rebel 3's
By Steve Guttenberg
ERA Design 5
By Rich Kent
SLUMMIN'
The Garrard Zero 100