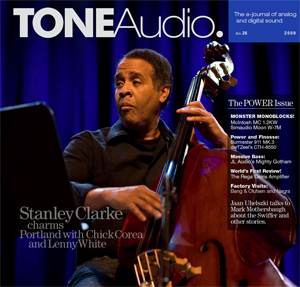 TONEAudio Magazine 26
Cover Story
The POWER Issue!
Download TONEAudio Issue 26
166 page PDF Standard Resolution 19MB
---
Features
Old School: The Mark Levinson no.23 Power Amplifier
By Jerold O'Brien

The Journeyman Audiophile: Paradigm Studio 60v.5 Speakers
By Mark Marcantonio

Budget Gear: The Devilsound DAC
By Jerold O'Brien
Mark Mothersbaugh: Almost Everything You Want to Know
By Jaan Uhelszki
Rolling with the Stones:
By Ben Fong-Torres
High Style and Functionality A Visit to B&O and review of the BeoSound 5
By Jeff Dorgay
Swiss Performance The Nagra LB Mastering Recorder and a Visit to the Nagra FactoryBy Jeff Dorgay
Dealers That Mean Business: We Visit TomTom Audio in the UK
By Jeff Dorgay
Tone Style
The Canon G11 Compact
Audiophile T-Shirts from Friend or Foe
Greener Screen Cleaner
The Aston Martin Cygnet
The Olympus LS-10 Digital Recorder
XBox Boxer Shorts
Smiley face wine
Music
Live Music: The TONEStaff Covers Bruce Springsteen and Stanley Clarke.
Current Releases:
Fresh Releases in the Pop/Rock World
By the TONE Staff
Audiophile Pressings Presented by Music Direct
Devo, Blue Note on XRCD, Jeff Beck and more.
Club Mix:
Exploring French Music
By Scott Tetzlaff
Previews
Burmester's 911 mk.3
The McCormack DNA-750 Monoblocks
The Naim HDX Music Server
The WinAnalog SET Monoblocks
Reviews
Headphone Planet
By Bailey S. Bernard

The McIntosh MC 1.2KW's
Major Muscle
By Jeff Dorgay
The Simaudio Moon W7M monoblocks
By Jeff Dorgay

JL Audio's Gotham: The Ultimate Subwoofer
By Jacob Heilbrunn and Jeff Dorgay

Perfection: The Burmester 911 MK.3 Amplifier
By Jeff Dorgay
The daRTzeel CTH-8550 Integrated Amplifier
By Jeff Dorgay
The Rega Osiris Integrated Amplifier
By Jeff Dorgay
SLUMMIN'
Classics on the cheap