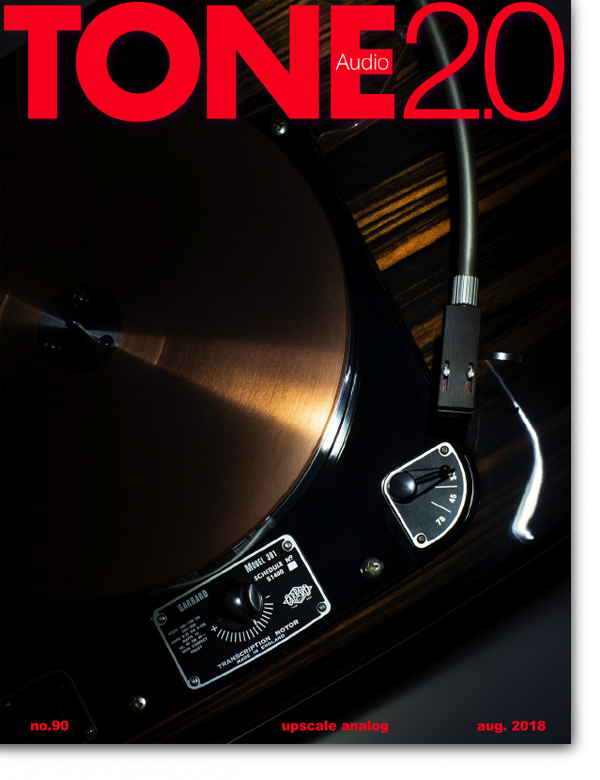 Issue 90
Cover Story
Upscale Analog!!
Download TONEAudio Issue 90
188 page PDF Standard Resolution 47MB
---
Features
Old School:
Jerold O'Brien revisits the Shure V15 III!
995:
REGA's FONO MC is a steal
By Jerold O'Brien
Journeyman Audiophile:
The Boulder 508 Phonostage
By Jeff Dorgay
In Praise of the Party Table:
Get Something for the whole family
MINE
Goldenberg's Peanut Chews
Kate Koeppel Record Dividers

Van Halen Board Shorts

Big Chill Fridge
and more….
Music
Playlists:  We share our readers choices from around the world
Can't Get it Out of my Head
By Emily Duff
Future Tense
JBL L-100 Reissues
Sugden A21 SE Integrated
Pass Labs XP-27
and more…
This Month's Gear: Upscale Analog!
The EAT E-Glo phonostage
Grand Prix Audio Parabolica Turntable
Band-WIDTH Kaskode 1 Phonostage
VPI's Avenger Reference
Artisan Fidelity Garrard 301
and more…