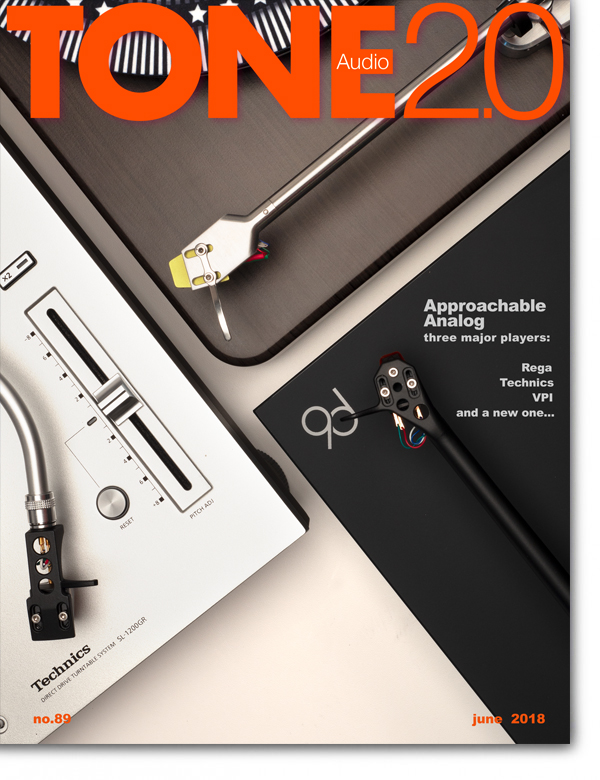 issue 89
Cover Story
Approachable Analog
Download TONEAudio Issue 89
164 page PDF Standard Resolution 55MB
---
Features
Old School:
Paul DeMara revisits the Walkman!
995:
Pro-Ject Debut Recordmaster
Journeyman Audiophile:
Parasound JC3 Jr.
By Eric Neff
Aural Exam:
Stressing about Cables
MINE
Gig Harbor Goodies
Ortofon Headshells

Super Sneakers

Analog Magik Torque Wrench
and more….
Music
Playlists:  We share our readers choices from around the world
Audiophile Pressings: The Rolling Stones Studio LP's
Can't Get it Out of my Head
By Emily Duff
Take Your Whisky Home
A new column by Roy Hall
Future Tense
Gold Note Integrated
Luxman belt drive table
Pure Audio Project Voxative Drivers
and more…
This Month's Gear: Approachable Analog!
Rega P6
VPI Cliffwood
Technics SL1200GR
MoFi UltraDeck +
Channel Islands PEQ•1 Mk II
Musical Fidelity NuVista Phono
Tellurium Q Black and Black Diamond Phono Cables
Clearaudio Charisma v.2
Sumiko MM carts
Hana SL MC cart