Franco Serblin Accordo and PMC twenty.26
Two amazing but radically different speakers for about 13 grand
By Jeff Dorgay
Twelve thousand dollars will buy you a really nice used car these days or a really posh weekend at the Monaco Grand Prix.  It will also buy you a great hifi system, so if you're dropping twelve large on the speakers alone, the expectation is high.
The two speakers observed here more than fit the criteria and go about their business in a completely different way, with different design goals, aesthetics and overall sound.  Both will be equally enticing to their prospective owner, so this is not a "shootout," as there would be no winner.  Sales 101 says "define the customer," and there's no better challenge than selling high dollar hifi.  It's rarely a case of better or worse, but almost always a case of "what flavor will it be?" If you can put your finger on your priorities, the choice will be crystal clear.
One speaker hails from England, the other from Italy.  Both come from two of the top minds in speaker design.  Recently deceased Franco Serblin was the man behind Sonus faber and Peter Thomas, former BBC loudspeaker designer and principal at PMC both take a high tech as well as a high touch approach to their speakers.  Each rely on a different set of criteria and in their own way remain true to the musical presentation.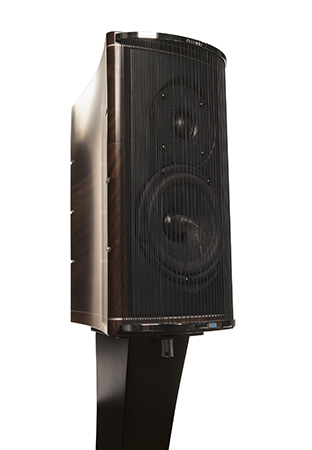 The Franco Serblin Accordo
I spent a ton of time on this review, perhaps too much, looking for that magical combination of speakers and amplification that would lead to more of a full range performance experience with the Accordos, to no avail.  The required clarity came during a test drive with the Lotus Elise.  While I wasn't zooming around corners as fast as I could with a Porsche Boxster S or my own BMW Z4 (both cars having over twice the horsepower than the little Lotus), the communication the Lotus provides is sublime, in a league of its own.  A similar conclusion was drawn driving a new Dodge Challenger, with the big Hemi.  More powerful, yes. More interesting, more engaging, not necessarily.  To my Challenger loving friends, don't despair, I do love this car.  Stepping out of the Challengers driver seat, with a fresh bouquet of tire smoke at my back the epiphany struck me over the head like a lug wrench – these are a brilliant pair of loudspeakers, but not everyone will get them.
Not everyone will love the Accordo, but much like the legendary Quad 57 or the original Sonus faber Guarneri, if you love what the Accordo excels at; incredible midrange definition, exquisite rendition of texture and a HF register that is smooth, distortion free with a complete absence of grain – nothing else will do.  If you liked the original Guarnari, think of the Accordo as a continuation of this philosophy.
Forget Metallica.  If you want to rock the house, buy something else.  Slipping an early Japanese pressing of Bowie's Aladdin Sane on the turntable and listening to his discordant piano solo glide between these tiny, almost invisible transducers gave me goose bumps.  Forget a big room too.  These speakers don't have much deep LF output to begin with, so placing them in a large room makes them work way too hard, and adding a subwoofer takes away from the design ethos. As excellent at the REL and JL Audio subwoofers at my disposal are, they just don't quite have the delicacy required to augment the Accordos, they always sounded better by themselves, even though I wished they had more bass at times.  (There is always the Sonus faber Stradivari, considered by many to be Serblin's masterpiece, but that's another story for another day.)
The Accordos will not be for everyone at $12,995 a pair, but they will be everything for the right person.  Much like a Wavac SET amplifier that only delivers 9 watts per channel and has a $60,000 price tag, it's about quality.  It's about an exquisite rendition of sound within a range that you won't get anywhere else unless you spend a lot more money.  These speakers are truly precious, and the longer you listen to them; the more they unravel the nuances of your recordings in a way that you may have not thought possible.
Next up, the PMC twenty.26….