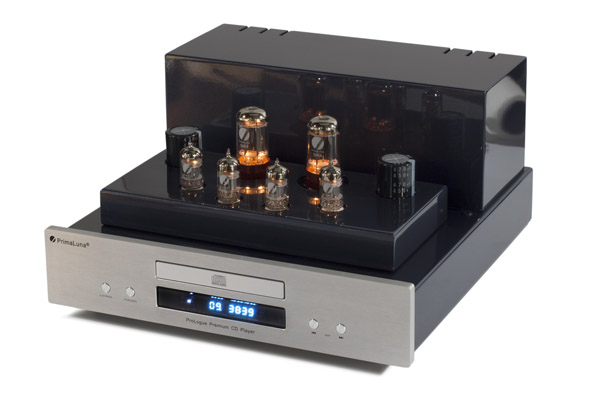 Whenever I'm asked to suggest a CD player that's warm, romantic, and "anti-digital," I always recommend a player with a vacuum-tube output stage. I nominate the same player TONEAudio contributors Bob Gendron and Jerold O'Brien use—the PrimaLuna ProLogue 8, now labeled the Classic. It takes the harsh, digital sting out of CDs. Sure, some digital players are more accurate and refined. But if you are a hardcore analog nut, many end up sounding thin in comparison. PrimaLuna recently took its vacuum-tube digital disc player a step further with the improved Premium.
For those not familiar with the name, PrimaLuna has been in business for more than a decade and boasts a fantastic reputation for sonics, build quality, and wonderful fusion of old-school and modern aesthetics. Available with satin black or silver faceplates, the new player's chassis is covered in a deep metallic-blue finish that's hand-polished to display a mirror finish—a PrimaLuna hallmark.
My only complaint with the Classic? It lacks a digital input. But PrimaLuna addresses this and more with the Premium. To its credit, the company has not simply tacked a vacuum-tube buffer onto the end of a traditional CD player to soften things up. All the gain stages utilize vacuum tubes, and the Premium is the only player we've seen that uses a tube for the clock circuit, as well.
Arguments about system synergy and tonal coloration aside, the approach works well, and in much the same way an analog enthusiast would choose a Grado Statement or Koetsu Urushi phono cartridge over a Lyra Titan i or Ortofon Winfield. It's not better or worse, but it's a specific flavor, and if it's the one you crave, nothing else will do.
Beginning listening sessions with discs on the harsh side of the spectrum, it takes only a few minutes to see the brilliance of this approach. No, the Premium still can't make the brightest CD ever made, Stevie Wonder's In Square Circle, sound like an LP, but everything else on my toxic list becomes considerably more palatable. Tinkly percussion bits in "Thunder," from Prince's Diamonds and Pearls, float around the soundstage as they should, with the electronic drums now slightly subdued, and making all the difference in the world.
While I won't define what this instrument produces as a tone control, it is a different set of tonal values, and even on the best CDs, an enjoyable presentation. For those new to TONEAudio, my listening bias favors an overall tonal balance just a touch on the warm side of neutral. So if you possess canine hearing and want a system than can remove wallpaper from the walls, you know where I stand.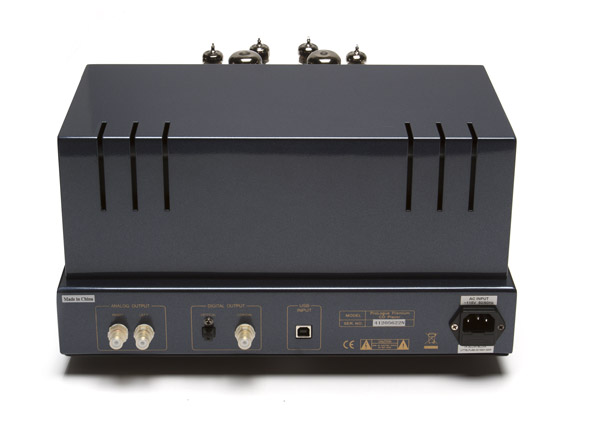 New Versus Old
Costing $1,000 more than the Classic, the Premium adds a larger, dual mono power supply, upgraded active and passive parts, and a different analog stage featuring four 12AU7 tubes (the original uses a pair of 12AX7s and a pair of 12AU7s). The dual 5AR4 rectifiers are retained to excellent effect. One of the biggest improvements arrives via the incorporation of a second Super Tube Clock, further reducing jitter and increasing low-level resolution.
Borrowing O'Brien's Classic for a side-by-side comparison proves illuminating. Where the original player sounds more like a Dynaco Stereo 70, i.e. "classic tube sound," the Premium sounds more like a more modern tube amplifier; think BAT or ARC. It still possesses a wonderful and tubey midrange, but also more extension at the top and bottom end of the frequency range, and more inner detail and punchier dynamics.
Brian Eno's latest work, Lux, illustrates the aforementioned characteristics.  Another of his ambient works, reminiscent of Tuesday Afternoon, the composition rolls along gently with bell-like keyboard sounds that ease in and out of consciousness. Where the Classic cuts the decay short, the music lingers longer and fades further out before going to black via the Premium. A similar experience manifests on the title track of Jack White's current Blunderbuss, with the newer player doing a better job at keeping sorted individual elements in a mix. Every disc I play with a relatively dense mix yields the same scintillating results.
Long-Term Pleasure
The Premium never gets on your nerves and proves great for extended listening. The vacuum tubes also make it easy to tune the sound. Stock PrimaLuna tubes will be fine for most, but with a plethora of vintage 12AU7s on the market (and at significantly less cost than 12AX7s), one can tube-roll to infinity. Scour the Internet, or brainstorm with Kevin Deal at Upscale Audio, PrimaLuna's importer, to enjoy different perspectives on the player when the mood strikes.
Full-day listening sessions are free of fatigue and, on more than one occasion, I'm lulled into thinking that I'm not listening to digital. Comparing the Premium to my Linn LP-12 turntable, I wasn't disappointed in the least. Switching back and forth between CD and vinyl versions of the Tubes' What Do You Want From Live? surprises me, with critical cues like audience claps and hall ambience nearly identical in texture and rendition.
A wide range of source material reveals no obvious shortcomings, although the slight warmth added by the all-tube design lends something special to rock and solo vocals. The grungy guitars of Mick Ronson and Ian Hunter on the classic "All the Young Dudes" overflows with texture and overtone, sounding like a pair of Marshall stacks right here in the listening room, with their Celestion drivers flapping at maximum excursion. Cat Power's "Manhattan" is equally enthralling, her wispy vocals hovering just above the main mix—another example of a modern disc sounding better than it ought to.
One Input Makes All the Difference
When PrimaLuna introduced its first CD player about three years ago, computers were not the ubiquitous music sources they are today, and the company's players had a closed architecture. The Premium's USB input allows for a computer to be directly plugged in and utilizes an M2Tech HiFace USB/SPDIF converter internally, a touch that tremendously increases the player's value.
Feeding high-resolution files into the Premium's USB reveals the DAC's merits.  The bass riffs in Charlie Haden's The Private Collection instantly disclose the advantage of extra resolution from the HD download versus the excellently recorded CD. Texture abounds, and the player sounds more neutral when playing high-resolution files, with the slight bit of upper-bass warmth fading further into the background.
Comparison listening puts music played from the tray on equal footing with the same 16/44.1 files played via USB input. Still, high-res files via the server gain the edge in clarity and dynamics. All digital files are upsampled via a Burr Brown SRC4192 24bit/192kHz upsampling circuit and converted to analog via Burr Brown PCM1792 DACs. While some audiophiles condemn upsampling, it works splendidly here.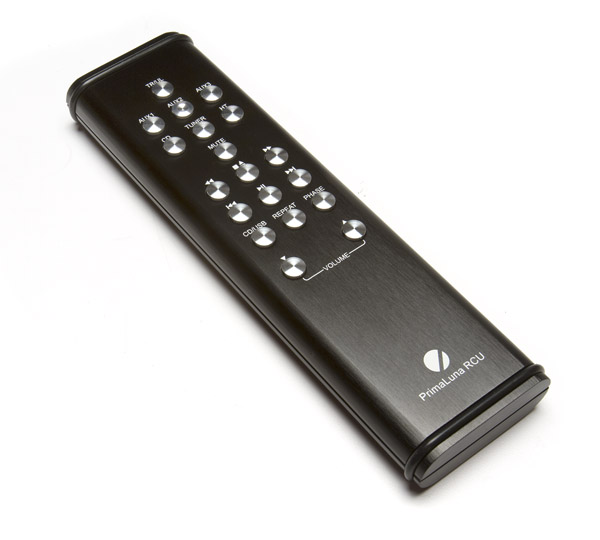 Ticking the remaining boxes
Since it's a tube player, the Premium takes about an hour to stabilize. It sounds a bit slow with some upper bass bloat for the first 15 minutes, but within an hour, the issue completely dissipates. The Premium comes triple-boxed and includes a tube cage and pair of white gloves to keep the player's smooth finish free of fingerprints—or provide amusement when you play Thriller. The posh aluminum remote also controls any PrimaLuna preamplifier or integrated amplifier, keeping room clutter to a minimum. But don't lose it. You can't access the USB input or change phase without it.
I appreciate that the Premium only has a 2-volt output from its RCA jacks (instead of the more common 4-volt output), allowing the average linestage to stay in the sweet spot of its operating range and offer a wider range of volume adjustment.
No, PrimaLuna's strategy isn't for everyone. Detail fanatics demanding razor-sharp leading edges on transients might be better served by a solid-state player. But if digital still leaves you cold after all these years, and you're wondering why you still aren't enjoying your CD collection (or digital files) as much as you should, give the ProLogue Premium CD player a spin.
PrimaLuna Premium CD Player
MSRP: $3,999
Peripherals
| | |
| --- | --- |
| Preamplifier | ARC REF 5SE |
| Power Amplifier | Pass Labs XA200.5 monoblocks |
| Additional Digital Source | Mac Book Pro/Pure Music |
| Speakers | Sonus Faber Aida |
| Cable | Cardas Clear |