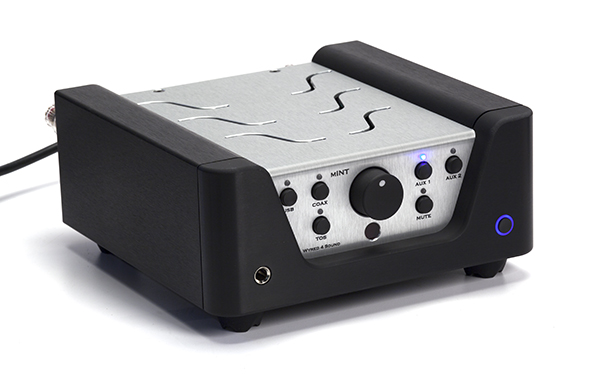 Central California's Wyred4Sound has taken the high end by storm with their extensive line of Class D based amplifiers, DAC's, and music servers.
The Wyred4Sound mINT, short for Mini Integrated Amplifier ($1,499), is indeed a half sized component that interestingly, looks at once both retro and modern. The mINT boasts 100 wpc, and is a custom Class D design based on the ICE power modules. Wyred4Sound goes out of their way to stress the refinements found in the mINT that are usually regulated to much more expensive components. One aspect of the design they are especially proud of is the volume control. According to W4S, it is "a true-resistive ladder which results in linear control, excellent channel matching, and impressive sonic quality."
But wait, there is more. A lot more.  Along with two analog inputs, the mINT is also a three input DAC, with TosLink and Coaxial inputs that handle 24 bit, 192 Khz data. There is also an asynchronous USB input that handles up to 96 Khz. Rounding off the list of features is a fixed output for a recording device, a variable output, an HT bypass, and a very nice, full function attractive remote control. And, the mINT is fully designed and built in California.
Down to business
The mINT was paired with Harbeth Compact 7 ES3 and the Opera Mezza speakers, proving a wonderful match for both, with more than enough power to drive both speakers to their limits. To put it another way, my listening rooms suffered from overload well before the mINT could even break a sweat.
The mINT is equally capable when fed analog sources, like a CD player or a file streamer, offering a spacious, precise, and untarnished presentation that I find wonderfully balanced. If anything, the tonal presentation of this amplifier is slightly tilted to the warm side, unlike the Class D amplifiers of a few years ago, that offered great bass performance at the expense of a smooth top end.  That bleached feeling is no longer a line item with Class D, and certainly not the mINT.  It proves very nimble on top, balancing dynamic contrast with brass instruments, staying delicate and finessed on strings and vocals.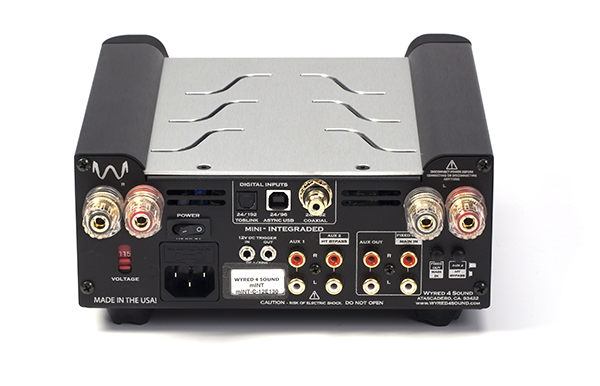 The three digital inputs work equally well, and performance is on par with many outboard DAC's that are similarly priced.  Eliminating some of the extra buffers and gain stages required with separate components pays big dividends here, giving the mINT high performance at a very reasonable cost.  You could easily spend $1,499 on power cords and interconnects between a separate power amplifier, preamplifier and DAC, making this little marvel a major bargain. In addition, the mINT offers a headphone jack on the front panel, upping the fun and the value factor even further.
The relaxed tonality the mINT provides, makes it highly enjoyable across a wide range of musical genres.  The opening track of Imelda May's Love Tattoo album, "Johnny Got a Boom Boom," combines a fast, dynamic slap bass line, snare drum and cymbal crashes, combined with May's sultry, often screaming vocals.  Legendary salsa singer Hector Lavoe's La Vos provides more of the same.  Percolating with layers of bass, percussion, brass and heavily syncopated rhythms, the mINT never loses its cool, throwing a large soundstage.  The mINT does an excellent job keeping these densely packed, explosive recordings well sorted and three dimensional – a perfect torture test for any amplifier.
Digital functionality
Windows users will need to install the proper USB drivers form the Wyred4Sound Website, and Mac users can just plug and play, selecting the the mINT in their sound control panel. All in all, an easy task, no matter what platform you choose.
The internal DAC proves equally balanced and on par with the amplifier section of the mINT.  Tunes from my Windows 7 laptop using Jriver's Media Center 18 and FLAC files were spacious and engaging. Emmylou Harris' Hard Bargain for a wide range of bluesy folk tunes and instrumental dexterity again reveals the mINTs ability to unravel delicate tracks without getting overly grainy or "digital" sounding.
The only area that left me wanting was the USB input being limited to 24/96.  The S/PDIF and optical inputs claim full 24/192 resolution, so those purchasing tracks in this format will have to search for a good USB converter to take full advantage of the mINTs digital performance.
However, this type of digital input flexibility offers a world of convenience to those who have ripped their CD collections to a hard drive or purchase high resolution downloads.
The mINT is a clever package, and if this is an indication of the rest of their line, I look forward to hearing more from this company.  It offers enough resolution to show what a higher quality power cord can do as well as better interconnect and speaker cables – a great sign.  But more refinement will cost quite a bit more money, perhaps twice as much, making the mINT an excellent bargain.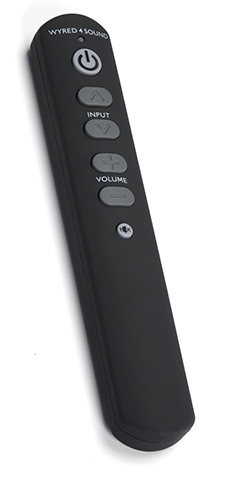 Additional listening
The Wyred4Sound mINT is the perfect solution for music lovers wanting great sound that have a reasonable budget and want to maximize space, i.e. not have a giant rack full of audio gear. Its ability to work with analog and digital sources means you can keep your turntable in the mix, or add one if you're curious.  Thanks to its tiny form factor, the mINT, a turntable and a compact phonostage can fit on a shelf or tabletop nicely. The Rega RP3, Exact cartridge and Naim StageLine phonostage make a perfect match for the mINT, combining to make a system any analog lover will enjoy.
Its 100-watt per channel power rating opens the door to a much wider range of speaker choices that many of the small, desktop integrateds from Naim, Rega and others don't drive as easily with 25-50 watts per channel.  The mINT was even able to drive the Magnepan MMG to adequate volume, and thanks to the variable output can take advantage of a small powered subwoofer – again increasing versatility.
Having tried it with a number of great speakers at my disposal, my favorite, hands down was the pairing with the Sonus faber Venere 3.0 speakers reviewed in issue #54 of TONEAudio.  Their 90db sensitivity makes for house party volume when you need it and great dynamics the rest of the time.
Equally intriguing is the built in headphone amplifier.  Starting with the ultimate torture test, the HiFi Man HE-6, the mINT falls down a bit, but to its credit, so does just about everything else, no black marks here.  Moving to a suite of much easier phones to drive (Grado, Sennheiser and Denon) proves enlightening.  Decent control and tonal balance overall makes the mINT a great way to get into the headphone game. Rocking some headphone favorites, it throws a wide and deep soundstage with Pink Floyd's Wish You Were Here, and Low's The Invisible Way.
The Wyred4Sound mINT is easier to set up and listen to than it is to spell correctly.  For many, this will be a destination product, offering flexibility and performance unheard of five years ago.  We are happy to give the mINT one of our Exceptional Value Awards for 2013.  – Jeff Dorgay
The Wyred 4Sound mINT amplifier
MSRP: $1,495
Associated Equipment:
Opera Mezza Loudspeakers
Harbeth Compact 7 ES3
Musical Fidelity CDT transport
Marantz NA7004 streamer/DAC
Darwin Cables silver interconnects
QED Genesis Silver Spiral speaker cables
QED digital cables