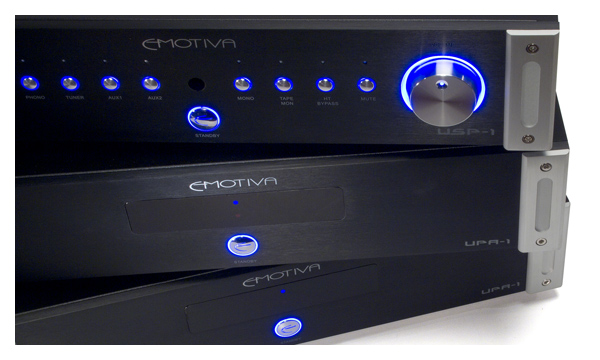 In an audiophile world where individual components have five (and sometimes six) figure price tags, the concept of being able to get a preamplifier and a pair of 200-watt mono amplifiers that use discrete circuitry instead of just being Class-D for under $1,200 is refreshing. You may have guessed that such components are manufactured offshore and sold direct to you from the manufacturer; both methods are necessary to keep costs down to this level. However, due to the high praise that greets Emotiva products, it appears that the company makes quality control a main priority.
The USP-1 preamplifier fetches $499 while the 200-watt-per-channel UPA-1 monoblocks cost $349 each. Popping the top on both components reveals beefy power transformers, large capacitor banks, and tidy construction throughout. No massive film capacitors, fancy wire, or mega-expensive binding posts—simply well thought-out components that are consistent with their design goals.
Both pieces also sport no-nonsense features. Each has more than adequate inputs and outputs, along with 5-12v. trigger inputs for remote access, etc. The power amplifiers have two sets of reasonable binding posts while the preamplifier boasts a decent headphone amplifier, internal LF crossover for use with a powered subwoofer of your choice, and a phonostage capable of MM and MC operation.
Subwoofer and HT-Ready
The UPA-1s had more than enough power to drive any of the speakers at my disposal, and the USP-1 preamplifier comes with an adjustable low-pass and high-pass filter for those using smaller satellite speakers that have limited LF capability. This can also prove handy for listeners wanting to use a powered subwoofer with a lower-power tube amplifier with their main speakers. I followed that very scenario with the CJ MV-50C1, which I used to power Polk Audio TL-3s and Paradigm Millennia One speakers (both currently in for review). Rolling off the output at 100Hz and passing that to the CJ relieved the tube amplifier of heavy lifting. I passed the LF information to a MartinLogan Grotto i subwoofer, making for an incredible sub/sat system.
I came away highly impressed at the preamplifier's versatility. In addition, the USP-1 also offers a pair of bypass outputs for use in a multichannel home theater system. So, if you don't currently operate in the multichannel realm, you won't have to eliminate the USP-1 to integrate your two-channel system should you expand at a future date.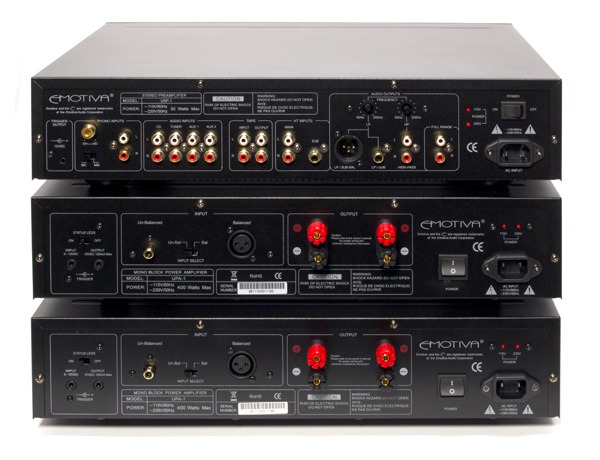 Easy Listening
Talk about a quick and easy setup. Using AudioQuest Columbia interconnects, Rocket speaker cable, and a set of Shunyata Venom 3 power cords, I was rolling in about 15 minutes. The rear panels of all three components are well labeled, so you should have no trouble hooking everything up sans the assistance of the well-written manual.
While the out-of-the-box sound was good, the system sounded smoother after being powered up for 24 hours. Once power cycled for 48 hours, the UPA-1 required about an hour for the sound to fully stabilize. As it was barely warm to the touch, I kept the trio powered up at all times to net the best sound. Those feeling slightly more environmentally conscious may want to consider leaving the amplifiers off between listening sessions. The preamplifier only requires 30 watts, so it's worth leaving on.
Aces the Fundamentals
To stack the deck against the Emotiva combination, I began my listening sessions with the B&W 805Ds. These moderately efficient 2-way speakers are heavenly but highly resolving. The diamond tweeter reveals any inadequacies in equipment that drives them. The 805Ds made such a great match with the Emotiva components that, after experimenting with a few other speaker systems, I kept them in the system for the duration of the review. The UPA-1 amplifiers drove all of the other speakers we hand on hand for our budget gear issue (Issue 38), including the power-hungry Magnepan MMGs.
While not the equal of my reference Burmester 911 mk. 3 monoblocks, the UPA-1s did a respectable job driving the $150,000 GamuT S9s—very impressive for a $700 pair of amplifiers. Playing "Baltasaurus" from D.F.A.'s 4th at a fairly high level, as well as "Euthanasia Waltz" from Brand X's Livestock, I was instantly struck by the Emotiva's ability to keep the pace intact while playing complex musical passages at moderately high listening levels. When pushed too hard, the UPA-1's quickly soundstage collapsed. Still, the volume was quite high, and the GamuTs only have 88db sensitivity. With more efficient speakers, you should be able to rock out to your heart's content before running out of amplifier power. Those needing brain damage levels would be wise to consider Emotiva's 500-watt monoblocks.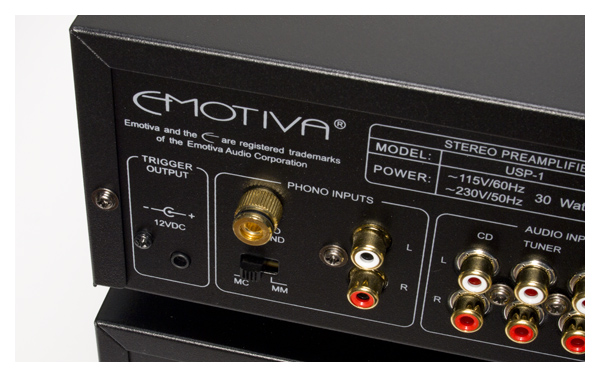 Taking a Spin
The USP-1 offers an onboard MM and MC phonostage, which is somewhat unbelievable given its price. Remember, these days, $500 will get you a mid-grade power cord at many other places. Doing some quick comparisons with the Rega RP1 turntable and its associated performance pack upgrade yielded great synergy. And as switching to my Cambridge 640P and NAD PP3i revealed, the USP-1's onboard stage is easily the equivalent (and perhaps slightly more resolving) of these $200 standalone counterparts.
While most vinyl enthusiasts will probably opt for a MM cartridge that stays within the parameters of a budget system, the USP-1's MC performance ranks above average. The somewhat low output (.25mv) Denon DL-103R proved an excellent match.  There is only one loading option (240 ohms) and gain is fixed (no level specified), but it should work just fine for most available entry-level MC cartridges. Both inputs offered a quiet background and enough dimension that one could still hear a meaningful difference between analog and digital with comparably priced source components.
More Comparisons
My experience with acoustic and vocal music found it fairly well reproduced, yet these are areas where big-bucks gear leaves budget stuff in the dust. Listening to TONEAudio cover girl Keren Ann's latest record, 101, it became obvious that there were textures and that prized third dimension that the Emotiva gear couldn't bring to the table. These shortcomings were the combination's only real limitations and, again, at this price level, tradeoffs are a reality. A PrimaLuna ProLogue integrated will give you more midrange depth and texture, and the Rega Brio-R possesses more resolution, but these amplifiers are 40 and 50 watts per channel, respectively. Obviously, 200-watts-per-channel allows for a much wider range of speaker choices.
Even when using the Klipsch Heresy IIIs, the difference in sound quality between the Emotiva triplets and Simaudio Moon 600i (reviewed last issue) wasn't subtle; the Moon gear claimed a clarity that the budget separates could not match. But a quick comparison to a $1,200 Yamaha integrated amplifier purchased from Best Buy proved the opposite. The Emotiva gear won out on all levels, providing a much more lifelike perspective of the music than the comparably priced mass-market box.
The UPA-1s always mustered a lot of grunt on the low end as well. The amplifiers admirably captured the weight and texture of the bass lines in "Dragonaut" from Sleep's Holy Mountain, as well as some of my favorite Snoop Dogg tracks, controlling the woofers in whatever speakers I employed. Such music really demands extra amplifier power, and the UPA-1s did not disappoint.
Musically Engaging
After putting the Emotiva USP-1 and UPA-1 through rigorous listening sessions, I have to admit that the set comprises some of the most musically engaging amplification I've heard for around a thousand dollars. And if you aren't as impressed with it as me, Emotiva offers a 30-day return policy. It's impossible to go wrong.
Okay, you'll either love or hate the blue glow, but beyond that, there's nothing to complain about. This gear offers up neutral tonality, great dynamic range, plenty of power, and an abundance of truly useful features. If I were starting again from the beginning, the USP-1 and UPA-1 would serve as my system's core. Add your favorite $500-$1,500 pair of speakers, a $500 turntable, a DAC, and you've got a system that rocks for a few thousand bucks. (I'm really looking forward to listening to Emotiva's flagship monoblocks; if the company can turn out a product of this caliber for $350, what they can do for $1,000?)
I can't stress it enough: This combination does not make a single misstep. Sound quality is excellent, and the pricing is amazing. Ten years ago, Chinese-made audio carried a stigma of poor build quality, shoddy finish, and subpar sound. About eight years ago, PrimaLuna came on the scene and set the gold standard for Chinese manufacturing with its line of vacuum-tube amplifiers. After listening to these components, it's safe to say that Emotiva is well on the way to doing the same with solid-state electronics.
No, $1,200 won't get you a $60,000 Burmester amplifier and preamplifier. But what you do get is solid build quality and great sound. Just as I was ready to award the USP-1/UPA-1 combo one of TONEAudio's Exceptional Value Awards for 2011, a glance at the company's Web site yielded yet another pleasant surprise in the form of a temporary price drop: The USP-1 currently sells for $399 and the UPA-1 monoblocks for $299. Factor free shipping into the equation, and there's not a better entry point into high-end audio.

Emotiva USP-1 Preamplifier and UPA-1 Amplifiers
MSRP:  USP-1, $499 (currently $399); UPA-1, $349 each (currently $299)
Manufacturer:  www.emotiva.com
Peripherals
Analog Source            Dual 1219 w/Grado Red cartridge, Rega P3-24 w/Denon DL-103 cartridge
Digital Source                        BelCanto CD2
Speakers            Klipsch Heresy III, Magnepan MMG, Magnepan 1.6, MartinLogan ElectroMotion, B&W 805D, GamuT S9
Cable            AudioQuest Columbia I/Cs, AudioQuest Rocket Speaker Cables, Shunyata Venom 3 power cords
Accessories                        Running Springs Elgar Power Line Conditioner