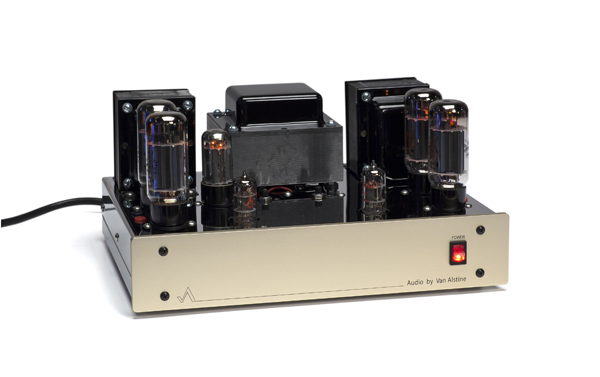 The finger snaps on Thomas Dolby's "The Ability to Swing" hang in midair between the speakers, as Dolby's highly processed yet ethereal vocal enters the mix.  "It isn't worth a bean, if you haven't got the ability to swing," he declares.
Indeed, the six-figure system assembled in room two is in full swing right now, but the amplifier powering the Sonus faber Guarneri Evolution speakers is the humble AVA Ultravalve, not the $65,000 Octave Jubilee monoblocks I've been using for some time.  This is truly an amazing amplifier.  If I powder-coated the chassis a certain shade of blue-green, slapped an Air Tight badge on the front panel and told you I paid five figures for this little jewel, you'd believe me—it's that good.
With so much excitement about the vinyl resurgence of the last few years, some of you have forgotten how popular vacuum tubes have also become lately.  Yet, in the midst of these newer products sprouting up, it's easy to forget some of the players that have been around for quite a while.  Audio by Van Alstine (AVA) is that "other" amplifier company in Minnesota—Audio Research is located nearby—and it is a perfect example of a manufacturer that has quietly gone about its business making great products without a ton of fanfare.  And you rarely see products from AVA for sale on the secondary market.  The company obviously has a legion of loyal customers,
No matter how much time I spend with mega-dollar power amplifiers, I always love a variation on the Dynaco Stereo 70 theme.  While I've never heard one that I didn't like, there are big differences between them.  Some have a softer, warmer presentation and definitely embellish more than others; the original ST 70 is the prime example of that voicing.  With these types of amps, your best recordings don't sound much better than your worst, but everything sounds somewhat liquid and dreamy—not a bad place to hang your hat if you have a modest system, or a lot of MP3s.
Tube Through and Through
Frank Van Alstine has been at this game for a long time.  He started out modding and repairing Dynaco electronics 30-plus years ago, and revamped the ST 70 circuit so much over the years that it is now truly his own design now.  The Ultravalve is still based on a pair of 6CA7 output tubes (EL34 or KT77 tubes can be used as well), but it does not have a switch for triode mode, fancy power output meters or anything that distracts from the amplifier's performance.  And its price is right: $1,999 puts one in your hot little hands.
Like the original ST 70, the Ultravalve uses a 5AR4 rectifier tube and a pair of more readily available 6GH8A small-signal tubes in place of the now long-obsolete 7199 tubes in the ST 70, which is fetching premium prices online.  The Ultravalve is one of the first power amplifiers I've listened to with which I just don't feel the need to roll tubes.  It sounds just fine as is, and a little bit of research shows that there aren't a lot of variations on the 6GH8A tube anyway.  Perusing Mr. Van Alstine's board on the AudioCircle forum shows him to be a practical man, so I just enjoyed the amp's stock tubes.
I do upgrade the power cord to a Cardas Clear cord for my review, only because that's what I use with everything else and we value consistency here.  The Ultravalve does benefit slightly from the upgraded power cord and from being plugged into a Running Springs Dmitri power conditioner.  But keep in mind that none of this is necessary to enjoy the Ultravalve.
Removing the bottom panel of the highly polished stainless steel chassis reveals tidy workmanship throughout, again showing that AVA sticks to the basic layout of a ST 70: driver circuitry on a well-thought-out PC board and the rest of the amplifier wired point to point.  There is a switch on the rear panel to float the ground, as well as three binding posts for 4-, 8- and 16-ohm speakers; this is my only gripe with the Ultravalve.  It really could use some beefier binding posts for those of us with bigger speaker cables.  My solution is just to re-terminate with bananas plugs.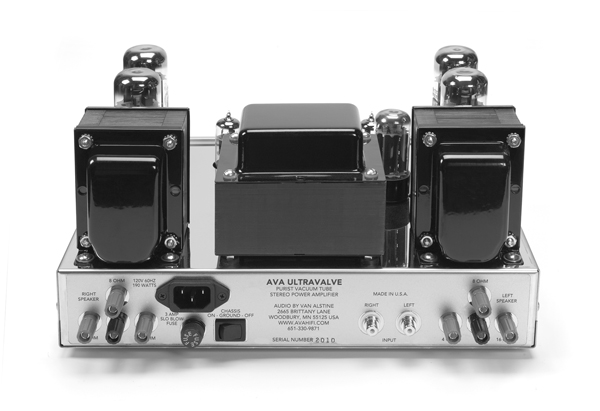 Ace of Bass and Dynamics
Bass control is a big part of the equation here.  The original ST 70 has a puny power supply and it shows up in the playback, with the bass response lacking dynamics and sounding wild and wooly.  An original Conrad-Johnson MV50 isn't much better.  An original Marantz 8B has a more liquid midrange but still falls short down under.
As brilliant as the Sonus faber Guareri Evolution speakers are, like any high-performance Italian product, they are a bit picky about what you feed them.  Just like my Fiat Abarth getting grumpy when filled with anything less than premium gas, the Evos need current and control to give a stellar performance and sound as big as they should.
And when delivering Nine Inch Nails' "Help Me I Am in Hell," the Ultravalve sounds big. I move the amp out into room one, with the KEF Blades (with their 90-dB-per-watt sensitivity), and it sounds damn big, with guitars floating around the soundstage and the heartbeat at the end of the track filling the listening room.  Upping the game with a much more densely recorded track, "Mr. Self Destruct" from NIN's album The Downward Spiral, I find that the Ultravalve not only keeps the groove of the driving synth bass well intact, but it also does not lose the focus.  The amp starts and stops on a dime as Trent Reznor brings the music to barely a whisper, only to audibly assault us again and again with a huge ball of sound and dynamics.
It's still hard to believe I'm listening to a $2,000 amplifier.  For those of you in the audience thinking that it's sheer insanity to put an amplifier like this in a system like this, I submit that it's the only way to see what its performance envelope truly is.  Daft Punk's Homework lights up the Blades and I can turn the volume up to the point where I feel like I'm back in New York at Fashion Week.  All that's missing is the catwalk.
The Ultravalve carefully follows Stanley Clarke as he rips up the fretboard on "Bass Folk Song No. 7," clearly demonstrating its ability to keep the Blade's 9-inch woofers in control.  The amp reveals Clarke's delicate touch on the fretless bass, and it never gets sloppy, slow or wooly.
It's also Got Top
The Ultravalve is ultra quick, even when playing a less-than-superb recording, like The Stooges self-titled album, on which the amp keeps its composure, provided you don't turn the volume past the point of soft clipping.  Rather than getting harsh, like many other low-powered tube amplifiers we've auditioned, the Ultravalve begins to suffer from a collapsed soundstage.  This degradation is slow at first, but the amp then quickly slides into the same flat, brick-walled sound that plagues many of today's digital recordings.  But if you keep the Ultravalve within its comfort zone, you'll be handsomely rewarded.
Miles Davis' "Diane," from Steamin' with The Miles Davis Quintet, proves open and spacious, with Philly Joe Jones' brushwork on the drums exquisitely rendered, as Davis floats through the soundstage.  This amplifier becomes more convincing the longer you listen; about an hour is required for it to open up completely, but it is still damn good two minutes after initial turn on.
Perhaps the only stretch for the Ultravalve while paired with less than highly efficient speakers comes when asking it to reproduce large-scale orchestral pieces or electronica at club levels.  Prokofiev's suite from The Love for Three Oranges taxes the Ultravalve as the large kettle drums reach full throttle, requiring listening at less than what might be considered a live level—but how often do you do that?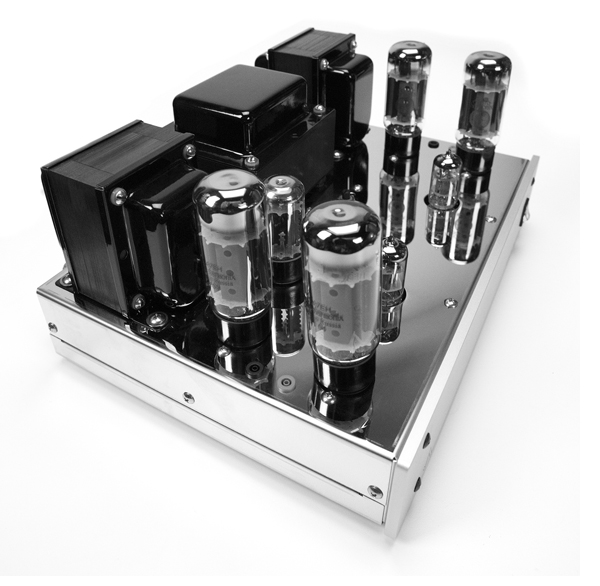 Back to Earth
Using the Ultravalve with similarly priced components is highly rewarding.  It is fully capable of anchoring a modestly priced but high-performance system.  Mating the amp to a Conrad-Johnson PV-12 preamplifier (with CJ's recent capacitor updates), an Oppo BDP-105 universal player and the Rega RP6 turntable, with a pair of KEF LS50 speakers, proves breathtaking—especially for a relatively inexpensive system like this one.  But you'll be surprised just how damn good the Ultravavle sounds as part of a no-holds-barred system.
While the 35 watts per channel of the Ultravalve may not be enough juice for everyone, if that much wattage will work for you, I cannot recommend this amp highly enough.  The level of resolution, tonality and bass control this amplifier offers for $1,999 is unmatched by anything I've ever experienced at this price point.  I am very proud to award the Ultravalve one of our Exceptional Value Awards for 2013.  I'm keeping this one!
AVA Ultravalve Vacuum Tube Amplifier
MSRP: $1,999
Audio by Van Alstine (AVA)
Peripherals
| | |
| --- | --- |
| Analog Source | SME 10 turntable    Sumiko Palo Santos cartridge    Aesthetix Rhea phonostage |
| Digital Source | dCS Vivaldi stack    Oppo BDP-105 |
| Preamplifier | Conrad-Johnson PV-12c1    Nagra Jazz    Robert Koda K-10 |
| Speakers | Dynaudio Confidence C1    KEF LS50    KEF Blade    GamuT S9    Sonus faber Guarneri Evolution |
| Cable | Cardas Clear |