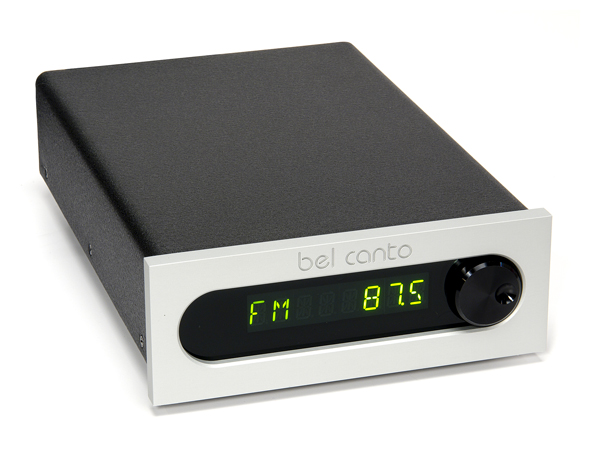 We live in an era of audio contrasts. Digital disc players and music servers coexist with vinyl playback systems like lions and lambs. Reel-to-reel and cassette tape decks appear headed for white elephant status. FM radio, the only other major analog holdout, remains under siege from satellite and Internet broadcasting. So why bother with a new analog FM tuner?
I posed the question to John Stronczer, CEO of Bel Canto Design. A self-confessed FM fancier, he sees the creation of the FM1 as a "challenge," a device that applies his company's advances in digital-signal processing to taming the occasionally wild analog FM signal. Stronczer wisely resisted the temptation to "throw in" HD Radio because of its inferior compressed sound.  He's convinced that there are enough audiophiles who will appreciate the fruits of Bel Canto's labor and prefer the superiority of honest analog FM sound. The performance of the FM1 should prove him correct.
The Wonderful World of FM Radio
My long love affair with FM radio started with a Dynaco tuner in the 1960s and was fueled by stations like Chicago's WFMT. Leaving the city's bitter cold for Augusta, Georgia's humid heat, I found that my FM options had also gone south. To fulfill the need for high quality cultural programming, I turned to two local public radio stations.  Unfortunately, they reside in the low rent district of the FM band. Their weaker signals led to the acquisition of quieter, more sensitive FM tuners—including those from Magnum Labs, Fanfare, Day Sequerra—and supporting them with excellent antennas.
Of course, listening habits change over time. After discovering digital music servers, I started spending more time with Internet radio and less with my beloved analog FM tuner. The good news about digital music servers is that they access thousands of radio stations that cover all genres. The bad news: highly compressed signals (usually 128 kbps or lower) that reduce frequency response and channel separation. While I didn't miss analog FM's snap, crackle, and pop, I missed its air and dynamics. Enter the FM1, Bel Canto's first serious foray into the world of analog FM tuners.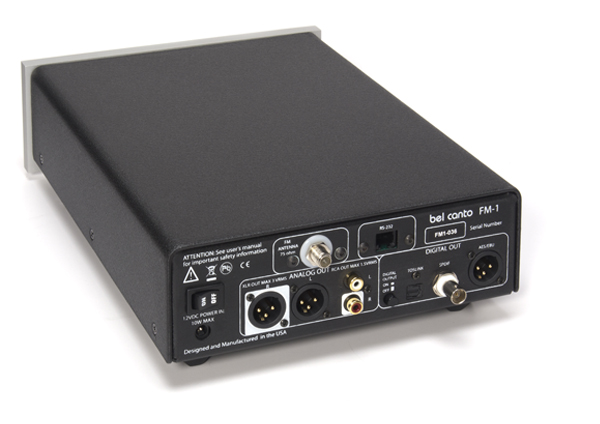 FM1 Crosses My Threshold: The Magic Box
Aesthetically, the FM1 shares the compact, understated façade of its e.One stable mates.  A multifunction knob selects broadcast mode, station frequency (call letters and program data when available), and signal strength. The supplied remote can store 10 preset channels and controls other compatible Bel Canto equipment. Pushing the "tuner" button enables forward and reverse channel selection, operation display, and forced mono for noisy stations.
On the back, the rear panel is cleanly laid out. From left to right, there is a power switch; an input for the basic outboard power supply or optional VBS1 (virtual battery) and LNS1 (line power supply); XLR or RCA analog ouputs; an antenna input; an RS-232 control port; and bank of digital outputs (SPDIF/BNC, Toslink, and AES/EBU). The "magic" in this little box comes from its sophisticated digital signal processor (DSP) that massages the raw FM signal. After digital processing, the signal can be routed to analog or digital outputs (as a 96kHz/24-bit data stream). This onboard technology is an offshoot of Bel Canto's extensive DSP research. I listened through both balanced and unbalanced analog outputs feeding my Pass preamp, and through the digital coaxial outputs into a PerfectWave DAC.
The most critical and time-consuming part of setting up the FM1 is described in the concise user's guide under the heading "Choosing Your Antenna." The supplied wire antenna is intended to ensure proper functioning of the FM1, but not for critical listening.  As my housing subdivision falls between rural and urban in terms of broadcast signal strength, I followed the company's recommendations to the letter. I also placed a Magnum Labs Signal Sleuth between the antenna lead-in and the FM1. The Sleuth greatly aids the cause of public radio stations found at the far left of the FM band.
The Listening Sessions: The Sounds of Silence
It took nearly two hours to set up my two antennas. A Fanfare FM-2G antenna took turns with a Winegard multi-element Yagi, the latter as ideal for single-family homes as the former component is for apartment dwellers. The FM1 is more sensitive to antenna selection, orientation, and placement than just about any tuner I've used. I regretted not being able to use an oscilloscope to assist in the tedious but essential process of antenna adjustment. Fortunately, the FM1's signal strength display readout on the front panel offers considerable help with antenna orientation.
Greater Augusta sports 18 analog FM stations that have Internet counterparts, enabling a direct comparison of both broadcast methods. The Fanfare whip antenna retrieved 12 stations suitable for listening; the Yagi got all 18 and was used for most of the critical sessions. While the FM1's signal strength indicator ranges from 0 to 100, a reading of at least 40 is needed to prevent the tuner defaulting to Blend (reduced channel separation) mode. With either antenna, only 8 stations hit the necessary target: My two public radio favorites and six popular music stations.
FM noise, the Achilles heel of analog stereo broadcasts, was minimal for the strongest stations. Bel Canto's latest design is the quietest tuner I've ever heard. Public radio stations sounded better than their pop counterparts that typically EQ their signal for "boom and sizzle" aimed at car and portable radios. The FM1 mercilessly exposed such differences in broadcast techniques, just as a good tuner should.
My "aha" moment came when comparing Internet broadcasts from a Logitech Squeezebox Touch connected to a PerfectWave DAC. The analog broadcasts had a slight hiss, but their air, imaging, and warmth easily bested that of the highest-quality digital stations. Voices sounded more natural on the FM1 and lacked the pervasive tubiness of many Internet sources.  After many A/B comparisons, I was hard pressed to detect a consistent difference between the FM1's digital and analog outputs—both sounded excellent. Best overall sound came from balanced operation.
To further experiment, I retrieved my old Fanfare FM-1A from storage. After hooking it up to the same antennas and playing it through balanced outputs, the tuner picked up all of the stations that the Bel Canto unit captured. The Fanfare did a creditable job with dynamics and imaging, yet its noise level, even on the best stations, registered noticeably higher than that of the Bel Canto and intruded on my enjoyment of the music.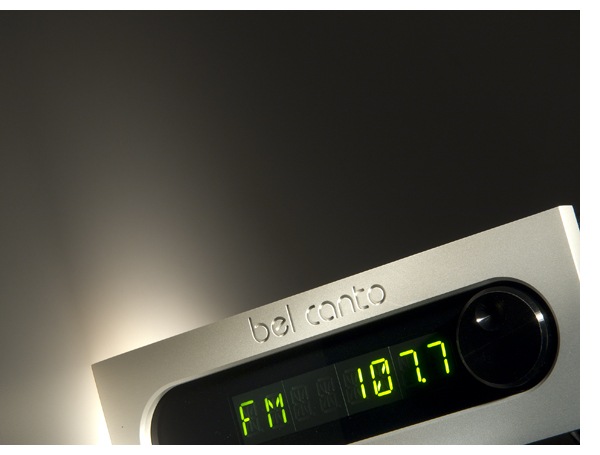 Signing Off
Like a first date, many of us fondly remember FM radio as a gateway to new life experiences. The top FM stations had the best sound and programming capacity that went far beyond that of our home music libraries. These stations also served up rare recordings and live concert broadcasts.
So, before you conclude that $1500 is too steep an admission price, consider that it's a one-time cash outlay compared to the ongoing and rising expense of annual digital subscriptions with high-speed Internet portals. And, in the end, remember, you're footing the bill for lower fidelity.
Bel Canto's FM1 is evolutionary in its handling of FM noise. It breathes new life into your stereo system, regardless of its vintage or price point. Analog FM remains a viable audio option, and will be around for the foreseeable future. If you live in a metro area blessed with strong, clear FM stations and highly varied programming, the FM1 presents one of the best modern arguments in support of the radio medium that I've ever heard.
Bel Canto e.One  FM1  FM Tuner
MSRP: $1,495
www.belcantodesign.com
Peripherals
| | |
| --- | --- |
| Digital Sources | Esoteric P-03    D-03    G-Orb    UX-Pi    Logitech Squeezebox Touch     Meridian Sooloos   PS Audio PerfectWave |
| Analog Sources | VPI HRX w/12.7 arm, Rim Drive    VPI Aries w/10.5i arm, flywheel, SDS Controllers |
| Phono Cartridges | Clearaudio Goldfinger v.2    Clearaudio Stradivari |
| Phono Preamplifiers | Pass XP-25, XP-15 |
| Preamplifiers | Pass XP-20    Lexicon 12HD-B |
| Power Amplifiers | Pass XA-100.5    Pass X-3 |
| Speakers | Martin Logan CLX, Stage, Script-I, Descent-I (2), Descent (2) |
| Interconnects | Nordost Odin and Valhalla |
| Speaker Cable | Nordost Odin |
| Power Cords/Conditioning | Nordost Odin and Valhalla    Running Springs Audio Dmitri and Maxim |
| Vibration Control | Black Diamond Racing |
| Room Treatment | Echo Buster, Corner Busters, Bass Busters, Double Busters |