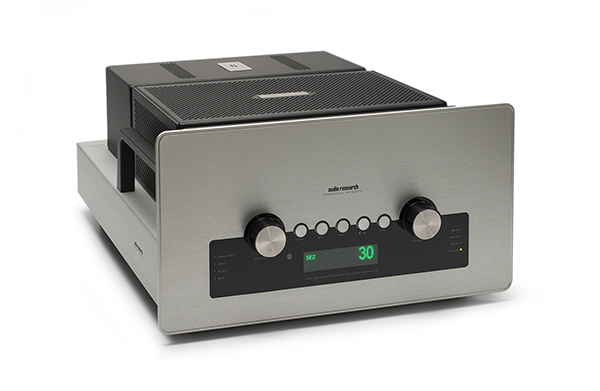 It's been a couple of years now since the Audio Research GS series have been introduced, and both the GS Pre and GS 150 have received multiple awards from magazines around the world (including us).
With its gorgeous, artisan style, the GSi75 shows off a welded chassis, thick front plate and the combination of new and old ARC cues. Some deeply embedded in the way Audio Research used to do things see the GSi75 as anomalous, but ARC's Dave Gordon sets me straight, "Don't think about the GSi75 as you do our other components. Yes this is a lifestyle piece, but it is one for someone who truly cares about sound quality." It only takes about 2 minutes of listening to see he's spot on.
Streaming Teenage Fanclub's "Don't Look Back," with it's layered, grungy sound and simple pop hooks gets to the heart of the matter immediately. This combination of DAC, phonostage, headphone amplifier, and 75 watt per channel power amplifier has a very spacious sound. Segueing to "The Journey" from Boston's Don't Look Back, the deep bass riff at the end of the track convincingly illustrates this amplifiers ability to move some air.
Having spent the better part of the year listening to the GS Pre and the GS 150, it's intriguing that the overall voice of the GSi75 feels closer to that of the last generation REF series than the slightly mellower voice of the GS Pre/GS 150 combo. With four KT150 power tubes and a pair of 6H30s, nothing deviates from the current ARC cookbook. The power supply has a capacity of 330 joules instead of the 500 supplying the REF 75, so don't expect quite the drive of the REF amplifier, even though both are specified to produce 75 watts per channel. At all but brain damage volume levels though, the GSi75 comes very, very close.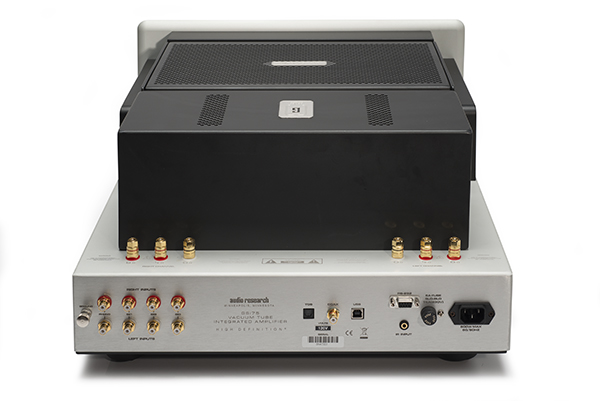 What, no XLR's?
In the effort to keep things tidy, the usual balanced inputs are absent. No doubt because the phonostage and DAC are already on board, it makes sense that the options can be kept easy for other components. Other than a tuner, what else would you connect, except maybe another phonostage or a tape deck? Yet in typical Audio Research fashion there are still three single ended RCA analog inputs, to go with the single phono input.
The phonostage in the GSi75 is a marvel of compactness and again, showcases ARC's ability to design world class products in either arena; tube or solid-state. Gordon laughs as he says, "We just didn't have the room inside the chassis for a tube phono."
Compact as it is, the on-board phono section still features low and high gain settings (45 and 62db) along with the ability to set phono loading at 100, 200, 500, 1000 or 47k ohms. And, it's adjustable from the remote control. Impressive.
A powerful soul
Dropping the needle down on a fresh copy of Crowded House's Woodface, the room is immediately filled with the big, broad, engaging soundfield that I'm used to listening to a full compliment of REF components in my larger listening room. The core competencies of ARC still come through brilliantly, with mix of dynamics, speed, transparency and an incredibly natural tonal balance.
Where all but the REF Phono 3 and REF Phono 10 phonostages ($14,000 and $30,000 respectively) offer high and low gain settings, the rest of ARC's phonostages all have settled on a fixed gain setting of 58db, which is more than adequate for most cartridges and situations, I found the two gain settings helpful, especially with my Dynavector 17D3 and Denon DL-103r cartridges.
The onboard phonostage, is quiet and dynamic. A perfect match for the rest of the amplifier, and putting it to work with a wide variety of phono cartridges from the $100 Shure M97 all the way to the $10,000 Koetsu Jade Platinum, I never found the onboard phono to be limiting, though with the big boy cartridges, there is a slight bit of resolution and ultimate dynamic drive that is better served by the REF Phono 3. However, I suspect that most building a system around the GSi75 are going to be bridging the gap between "really good" and "sky is the limit" systems. In the context of a nice $3,000 – $15,000 turntable/arm/cartridge combo, I doubt you'll be aching for more phono performance.
At all but maximum volume through inefficient speakers, you'll be hard pressed to tell the GSi75 from the GS Pre and GS 150 amplifiers. Driving the Focal Sopra no.3s, which have a sensitivity of 92db/1watt, I can't drive the amplifier into clipping, it plays plenty loud for my needs. It proves equally capable driving the Quad 2812s, which are notoriously tough, because of their heavy capacitive load. The loopy, spacy, electronic vibe of the first Neu! album is a sonic treat, with little sounds bouncing all around my listening room with the Quads, it's almost like being in a gigantic pair of headphones.
Again, Gordon tells me "the heart of this amplifier is a REF75 circuit – same tubes and transformers with a passive preamp section, that's why there is no preamp out. The DAC is all new and one of the best we've ever done. It's what formed the heart of the DAC 9."
DAC-o-rific
Catering heavily to the new music consumer, that DAC allows you to access whatever files you have on hand; 16-bit/44khz all the way up to 2x DSD, so you won't be left out in the cold. There are a bevy of digital inputs as well; RCA, Toslink and USB all help make the GSi75 the hub of your digital music world. Having the DAC 9 on hand for review, it was easy to compare between the two and the
GSi75 is indeed highly capable. Thanks to Roon, my digital library is a gaggle of files on a 13TB NAS drive, with no particular segregation from low to high resolution. The GSi75 sailed through playlist after playlist, consisting of every resolution possible, without so much as a pause.
Using a Mac Book Pro, dCS Paganini transport, a Meridian/Sooloos MC200 Core and an Aurender A10 allowed checking every input and all worked flawlessly. No matter what you have at your disposal, rest assured the GSi75 can handle it.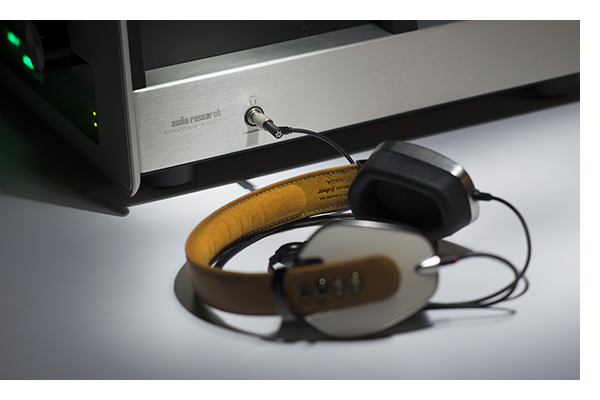 Personally
If all of this weren't enough, the GSi75 also has a headphone jack, and again, the solution was done from the ground up. Even this aspect of the GSi75s performance was by no means an afterthought. While this reviewer is not a huge headphone listener, the quality of the sound heard through Audeze LCD-2s and the current Oppo PM-1 phones is top notch.
All but the most maniacal headphone listener will not need an outboard headphone amplifier. The GSi75 has much more sheer drive than is necessary to achieve the volume level you require, and the level of refinement is exceptional. Going through all of my favorite prog and electronica tracks made for an aural playground with the GSi75. Cheech and Chong's Big Bambu was not only a great throwback, but fully illustrated the high level of imaging prowess that placed the people speaking everywhere in the room. Big fun.
The Audeze and Oppo phones are not terribly hard to drive, but the planar magnetic phones seem to deliver a more sophisticated presentation, the better your gear is. Again the GSi75 did not disappoint in any way. Bass was always solid and full of tonal richness, with the high frequencies tight, defined and (for me, anyway) a perfect mix of extension and resolution without ever sounding strident.
Complex yet simple
The $16,000 price tag may stun a few at first, but when you realize what the team at ARC has packed inside the GSi75, and the fact that you don't have to buy three sets of interconnects and power cords, it's an amazing bargain – for the right customer. Because everything is inside and there is no preamp out, this is either a piece you will live with forever, or the upgrade bug will sour you. A cursory survey of a few friends with mega ARC systems reveals more than one have bought a GSi75 as the core of their second system, or vacation home system and are thrilled.
Careful inspection of the chassis, and the parts quality inside, it becomes immediately obvious that the GSi75 was built to a standard – with no compromise rather than scaled up from a price point business model. The GSi75 is Audio Research through and through.
The "ears" of Audio Research, Warren Gehl is quick to add that an integrated was part of the product mix with the G Series all along. "We wanted to see how far we could take the G Series with this concept." It ends up being a fairly dense circuit board when you remove the bottom cover, but again, Gehl backs up their decision to use PCBs instead of point to point wiring, simply saying "We take a very logical perspective to circuit board layout and construction quality. We don't feel our designs take a back seat sonically to an amplifier that is wired point to point."
Quantifying the value in the GSi75 is an easy task for someone who's been living with ARC electronics for nearly as long as they've been making them. Perhaps a result of getting a bit older, I've experienced a number of friends when listening to a large rack of gear ask the question, "can't I just get this kind of performance in one box?" And this comment is usually followed with something like, "I want really great sound quality, I just don't play music as loud as I used to."
It's like the dining room of my favorite local hotel. They've started offering just a spoonful sized portion of their favorite deserts. This is the essence of the Audio Research GSi75 – it's a heaping tablespoon of a full REF stack. And for many people, that will be all you need.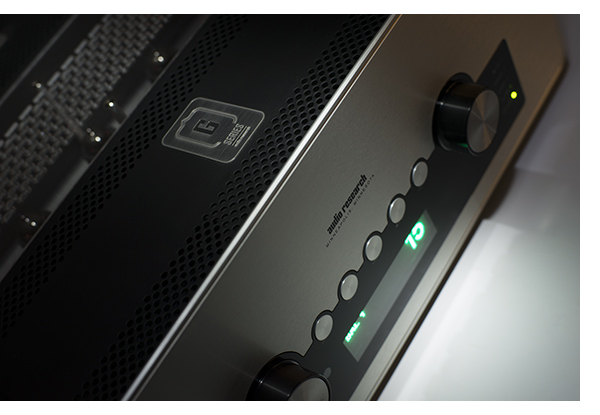 The Audio Research GSi75 Integrated Amplifier
MSRP:  $16,000
Peripherals
Analog Source               Brinkmann Bardo Turntable/Koetsu Onyx Platinum Cart
Speakers                         Focal Sopra no. 1, Quad 2812, GamuT RS5i
Cable                               Cardas Clear