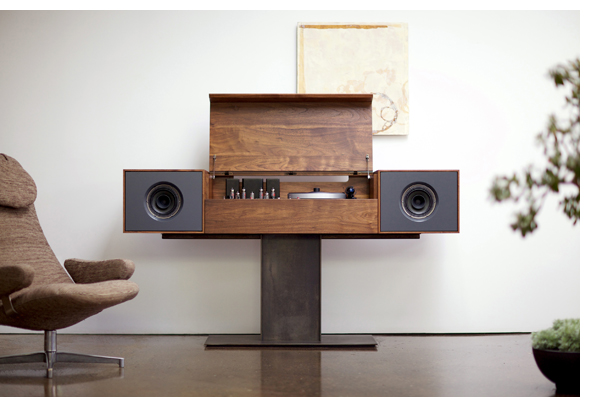 What happens when a group of music-loving, fine-furniture designers put their heads together?  They create the Modern Record Console.  With the Console, Symbol Audio pays homage to the classic designs of Herman Miller and Knoll from the '50s and '60s.  A true masterpiece, the Console combines a tube amplifier, built-in subwoofer and a turntable.
This isn't your dad's Magnavox, folks.  And for the hardcore audiophiles in the crowd who are ready to send us nastygrams explaining that they can buy a better rack full of separate components for half this price, this is not for you either.
Harkening back to the day of all-in-one consoles, Symbol's version is a prize for the music lover living in a design-conscious environment who does not want a rack full of gear and is willing to pay for bespoke quality.  We visited the Symbol factory, and must admit that this thing sounds pretty damn good.  And while we were there, fashion icon and music aficionado John Varvatos was in the Symbol studio giving the Console the thumbs up.
With EL84 tubes, big transformers and Omega single-driver speakers, the Console has some serious audiophile cred under the hood, which, as you can see from the photo, can be neatly tucked away.  Sales of the Console have been brisk so far, so if this tickles your fancy, you might want to pick one up sooner rather than later.
The Modern Record Console
$26,000