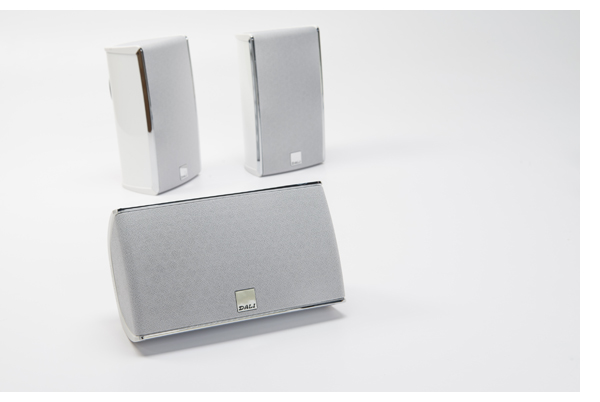 As the starship Enterprise explodes while I'm watching Star Trek: Inception, it's clear that these miniscule satellite speakers from Dali deliver big sound. Working in concert with the tiny Fazon Sub 1, which utilizes a 6.5-inch long-throw driver, the speakers provide an equally solid bass response, as illustrated by the cannon shots in AC/DC's "For Those About to Rock (We Salute You)."
Finding a balance between performance and aesthetics when integrating great sound into your living room is always a challenge. Danish manufacturer Dali does a better job than most at combining a modern, understated look with exceptional performance. In the case of the Mikro 2s, the company manages to deliver such performance in a small package that easily fits anywhere.
With an enclosure built of machined aluminum—like the Fazon F5 speaker we reviewed in issue 43—the Mikro 2s feature a slightly curved shape that looks equally at home on a stand mount, on your desktop, or mounted directly to the wall. I use them in a 5.1-channel system powered by the Anthem MRX 510 multichannel receiver that has become my reference workhorse, with 125 watts per channel. Dali also makes the Fazon Mikro Vokal, which is identical to the Mikro 2 but oriented for horizontal use as a center-channel speaker. The Mikro 2s have an MSRP of $650 per pair; the Vokal is $325; and the Sub 1 is $595—which makes for a very reasonably priced multichannel setup. All the units are available in gloss white (as pictured) or gloss black.
Easily Mounted
Thanks to the integral bracket and supplied wall mount, TONE staffer Rob Johnson and I were able to mount the five Mikros in my living room with ease. To angle the rear speakers, we improvised by making wall mounts from a 4-inch long piece of PVC that we painted white, cut in half, and glued to the wall with Liquid Nails. The end result is a very subtle install.
Those wanting stands for the Mikros can purchase accessory stands from Dali, which may better suit your needs if you don't have speaker cables running through your walls. The stands ($199 per pair) are also available in black or white.
Should you be in tighter quarters, the Mikros can also serve as a kick-ass desktop 2.1 or 5.1 system, enveloping you in sound in a way that headphones cannot. In my small (7-by-10-foot) home office, a pair of the Mikros and the sub underneath my desk delivers prodigious sound surrounding my 30-inch Apple Cinema Display.
Bottom line: These exquisitely crafted speakers work well anywhere, especially if you're limited on space but want big sound.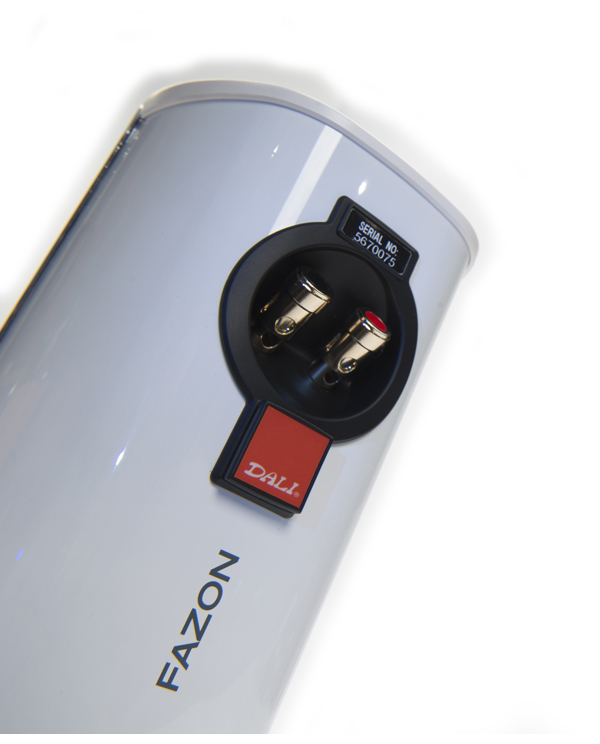 Natural Sound
Dali speakers all share a natural voice, and the Mikros continue this tradition. A two-way design with a 4-inch wood-pulp woofer and 1-inch soft dome tweeter, the Mikro 2s have a somewhat low sensitivity of 84 dB, but this does not prove problematic in any situation I am able to create. The 125 watts per channel of the MRX 510 is easily able to drive these speakers to their maximum output of 104 dB, which is louder than I need in all but extreme conditions.
While Dali states that the speakers' low-frequency response is 90 Hz, placing the Mikro 2s on the wall and fairly close to the room corners takes advantage of room gain, giving the impression of much more powerful bass response than the specs indicate. Using the same strategy with the Sub 1 and setting the crossover at about 80 Hz turns out to be perfect in my listening room. Those craving more LF output might want to consider adding a second Sub 1 in an adjacent corner, though I would resist the urge to get a lone larger subwoofer, as it may not integrate as seamlessly as the Sub 1 does.
Setting the Sub 1 up by ear takes very little time and even a rank beginner should be able to achieve excellent sub/sat integration. The ARC 1M room correction of the MRX 510 takes this to another level, and really helps the Dali speakers disappear completely in the room, both visually and sonically. The speakers are so unobtrusive that almost none of my recent guests even notice them—a major triumph in aesthetics.
Dynamic Range
Because of this natural voicing, the Mikro 2s are a perfect choice for anyone needing their home theater system to pull double duty as a family music system. Operating the receiver in simulated surround-sound mode and cranking the volume makes Cheap Trick's version of "Day Tripper" (from Found All the Parts) sound convincingly live, with the applause folded into the mix adding to the presentation's illusion of spaciousness.
Staying in a Beatles groove, tracking through the new copies of the Beatles' U.S. albums, recently remastered by Greg Calbi, proves equally compelling. The Mikro 2s' ability to disappear only heightens the ping-pong, ultra-stereo quality of these recordings.
Through these little speakers, Elvis Costello's vocals in "I'll Never Fall In Love Again," (from the Austin Powers: The Spy Who Shagged Me soundtrack) is positively dreamy, capturing the mid-1960s Burt Bacharach feel perfectly, with Costello's unique vocal styling fully intact. Tegan and Sara's "I Know, I Know, I Know" is equally enjoyable, with both vocalists able to happily coexist in the soundstage yet with each of their voices being easily discernable.
I run the gamut of rock and jazz favorites, and nothing throws the diminutive Danes a curve they can't navigate. The only place these speakers come up a bit short is when the program material switches to heavy electronica. You won't be able to play your favorite Skrillex or Chemical Brothers tracks at full throttle—one can only expect a 6.5-inch woofer (from any manufacturer) to go so far. But everywhere else, when keeping sound levels prudent, the Fazon Mikro 2s always satisfy.
The available bass from the Sub 1 goes down solidly to about 35 Hz and, while this is not the ultimate in extension, it is well defined. Personally, I'd rather have detail in a small subwoofer than just boom, and this is another area where Dali excels. It's easy to follow the bass groove in Thomas Dolby's "Hot Sauce," which exhibits plenty of weight. The acoustic bass line in Stanley Clarke's In the Jazz Garden is full of overtones, perfectly capturing the speed at which this legendary player moves up and down the neck of his acoustic instrument.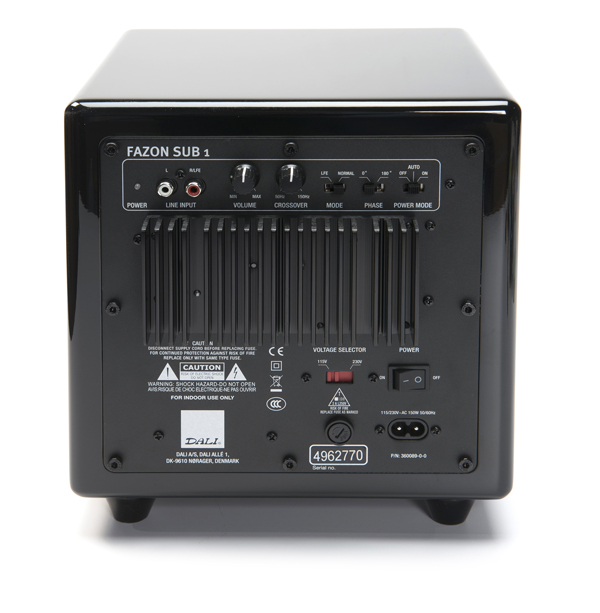 Beauty, Value and Performance
The Dali Mikro 2 system offers all three of these virtues in equal measure. There will always be the audiophile who wants a traditional floorstanding or stand-mounted speaker, but for those wanting their music system to less obtrusively integrate into their surroundings, I suggest the Dali Mikro 2 system. This small system's service to musical truth makes for a convincing home-theater experience. You will not be disappointed.
Fazon Mikro 2 speakers
$650 per pair
Fazon Mikro Vokal center-channel speaker
$325
Fazon Sub 1 subwoofer
$595
MANUFACTURER
Dali
CONTACT