TONE STYLE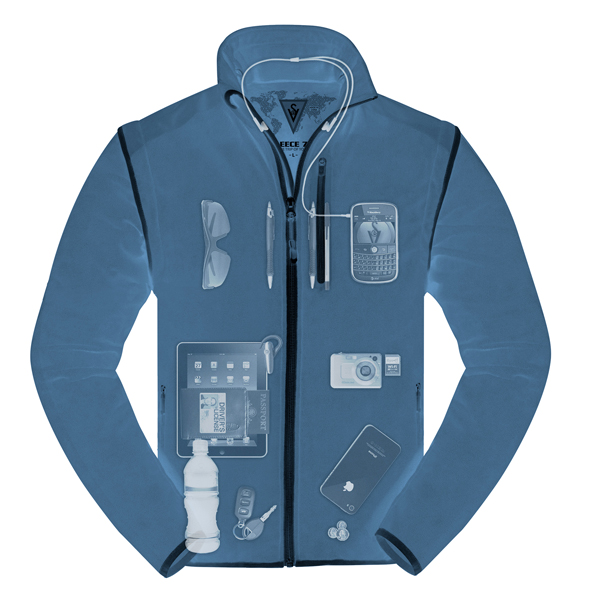 Scottevest (aka SeV) produces specialized, tech-enabled clothing laden with the company's signature pockets.  Its Fleece 7.0, for example, features a remarkable 23 pockets that vary in shape, size and purpose.  With seemingly endless storage, SeV jackets facilitate hands-free functionality for audiophiles and techies wishing to take their favorite portable devices and accessories on the go.
In the Fleece 7.0, a magnetically sealed pocket underneath the left hand-warmer pocket offers a clear, touch-sensitive fabric window inside the jacket to allow control of electronic devices, making it a breeze to navigate songs and playlists without removing the audio source.  While the pocket is sized to accommodate an iPhone, an iPod classic also fits nicely and is easily viewed in the window.
The Fleece 7.0 also includes SeV's Personal Area Network, which allows the wearer to thread audio and headphone cables within the lining of the coat.  With a little finagling, wires can connect electronic items through and between many of the pockets, ultimately enabling headphone wires to exit the collar for convenient access.  Each side of the collar contains a mini-pocket to store ear buds out of sight when not in use.
Among the Fleece 7.0's 23 pockets are a few specialized ones.  For instance, there is a soft-lined glasses pocket that includes a built-in, tethered cleaning cloth, which proves handy for cleaning touchscreens.  This pocket also features a map of the jacket to help the wearer navigate any audio accessories potentially lost in the maze of pockets.  There's even a built-in water-bottle holder to reduce risk of dehydration during long listening sessions while on the go.
Taking into account all this onboard gear, the Fleece 7.0 arranges pockets so that telltale bulges from carried objects are minimized, even eliminated in many cases.  Is that an iPad in your pocket?  Yes, ahem, we're happy to see this capability.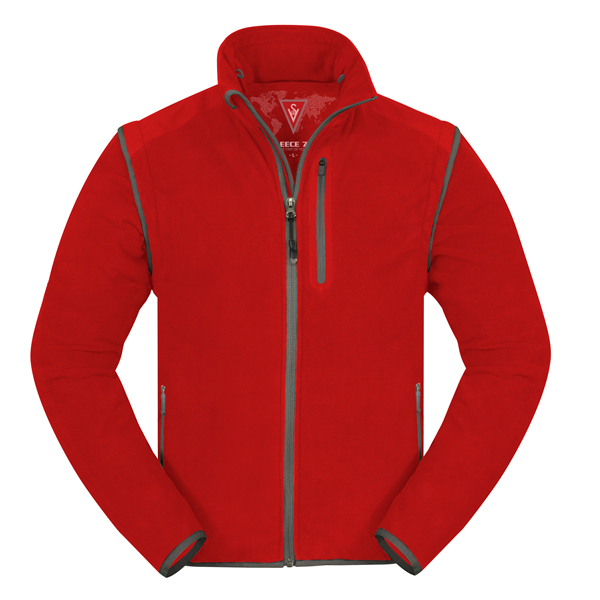 With devices galore, weight is also a consideration, which SeV addresses with the jacket's weight-management system.  This design element distributes the jacket's weight evenly across the wearer's shoulders so that no one side of the body bears the sole burden of carrying all that gear—a vast improvement compared to carrying a laptop bag or briefcase with a shoulder strap.  While encased in pockets of plastic-and-metal electronics, the wearer may feel bulletproofed, but with this clever design, at least he or she won't feel encumbered with armor.
If breaking a sweat from a vigorous walk to the pace of the crescendo of Queen's "Bohemian Rapsody," wearers will appreciate the fact that the sleeves are removable.  And, as you might have guessed, they can be placed in a back pocket, leaving wearers free to dance in the streets unbridled.
The Scottevest Fleece 7.0 comes in black or red. Load it up and get ready to rock!
Scottevest Fleece 7.0
MSRP: $160