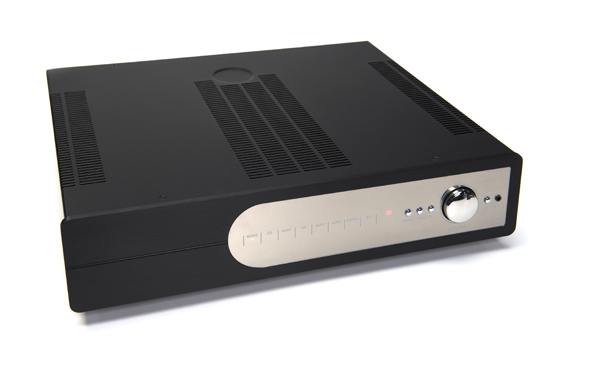 British hi-fi buffs know Roksan Audio as a company that offers extraordinary value and sonics that challenge far pricier competitors. The company, located just northwest of London, takes a complete-system approach, with analog and digital sources, amplification, speakers, cables, and power supplies among its product lineup—and it is currently making a push into the North American market.
Roksan has several lines that cater to different needs: The Oxygene line strips away everything to the basics, with modern design and functionality; the Kandy line offers higher performance; and the Caspian line is the top of the hill. All Roksan products have a simple but appealing aesthetic and are known for high reliability.
The subject of this review—and the first Roksan component that has been in my system—is the Kandy K2 BT integrated amplifier, which retails for $1,900. The K2 BT is one of the more feature-rich integrated amplifiers that we have reviewed, equipped with a phonostage, five line-level inputs, a tape loop, remote control, and Bluetooth connectivity—the latter of which is what the BT designation represents. (The standard, non-Bluetooth K2 retails for $1,700.) The unit's power output is 120 watts per channel into 8 ohms.
Roksan says it uses the highest-grade parts available and that the K2's output stage is based on that employed in the Caspian series. The company pays special attention to circuit layout and especially power supply, with the sonics coming first. The result is a product that makes for a sound investment, which has helped build Roksan's reputation since its founding in 1985.
The Basics
The casework on the K2 BT, while not extravagant, is solid, nicely put together, and commensurate with the price point. In terms of appearance, the unit is available with either a black case and silver faceplate or the reverse.
Installing the K2 is straightforward, with connections made and sound emanating from speakers within minutes of unpacking. The amp easily drives a pair of Gallo A'Diva Se satellite speakers with a Gallo TR-3D subwoofer, and it makes light work of the Harbeth Compact 7ES-3s sans sub. (See end of article for additional full list of peripherals.)
The review sample has decent mileage on it, so only a few days are needed to get it up to optimal performance—and it does not take long for the K2's personality to shine. It flows music to the speakers in a velvety smooth, seductive, and effortless manner, even with the relatively inefficient Harbeths. The amplifier never breaks a sweat, delivering gorgeous, dare I say, tube-like tone and imaging that is wide, deep, and always involving.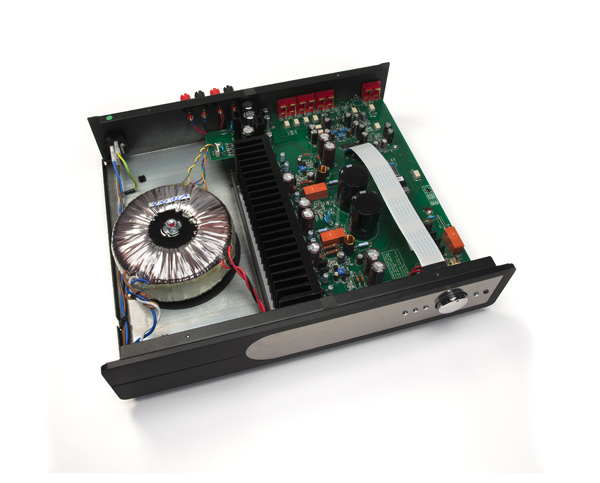 Down to Business
Nick Cave's 2013 recording Push the Sky Away is transportative through the K2. The open, spacious mix and Cave's superbly recorded voice are perfect for the amp to show off its way with nuance, instrumental timbres, and timing. Cave always imparts some sort of drama and tension in his songs, and on this collection he does so with more subtlety than usual. Here, the K2 lets the tension build and ebb so as to spotlight the performance, with all things "hi-fi" taking a back seat. This is truly a music lover's amplifier.
On a lighter note, streaming a variety of recordings by lounge-pop revivalists Pink Martini is great fun, with the K2 keeping pace with the free spirit of the band's whimsical, intoxicating sound. Such albums as Sympathique, Hang On Little Tomato, Splendor in the Grass, and Get Happy are a gas—and the Kandy is up to the task. Whether cycling through jazzy standards, French lullabies, tangos, Chinese folk songs, or Turkish pop, this amp keeps the party going, never missing a beat.
With higher-resolution digital files, the K2 pays big dividends. The 96-kHz download of Chicago's album II is excellent, and the Kandy brings back the summer of 1972, showcasing the quality of the legendary band's interplay and songwriting. It makes tracks like "Poem for the People" and "In the Country" sound vibrant and fresh.
The K2 not only unravels complex music but also lays out simple pleasures, like Chuck Berry's monumental 1950s Chess recordings, with ease. Trying to resist tracks like "Little Queenie" or "Back In The U.S.A" proves futile, as the Roksan takes these mono recordings and renders them with natural authority; and the pacing is sublime. I am continually reminded that this amplifier effortlessly gets out of the way, always drawing attention to the music and not to itself.
The K2 clearly has a wonderful way with digital sources, regardless of program material or sampling rate. I put it through its paces further with a little analog via some pre-recorded, commercially released 7.5-ips reel tapes played back on my vintage Sony deck. The results are stunning, with the Kandy providing a clean, quiet background and excellent detail retrieval. It ups the ante on the musical involvement that tape lovers find so intoxicating.
Final Score
Ergonomically, the K2 is a dream. It offers plenty of volume steps, even with the remote, which can be a sticking point on amplifiers in the $2,000 price range. The front panel is easy to navigate and the amp is dead quiet, running cool as a cucumber. All this adds up to maximum enjoyment and flexibility.
After spending an extended period of time with the K2, listening to it with a wide variety of music and gear, I become curious about a complete Roksan system. Perhaps we'll see a full-system review in the future.
The only area where I find that the K2 comes up short is its Bluetooth capability. The sound quality is excellent, but the connection in my system proves a bit unreliable with both an iPad Air and and iPhone 5. When the Bluetooth works, it is fun as heck, but it's annoying when the connection is marginal. (Our publisher doesn't experience issues with the Bluetooth. See Further Listening below.)
Roksan has rightly earned a reputation across the pond as a music-lover's manufacturer. The K2 BT is a special component. Paired with multiple sets of speakers, sources, and cables, it never disappoints sonically. Aside from the shaky Bluetooth connection I experienced, there is nothing to quibble about. You get the complete package here, including good looks. At just under $2,000, this is an easy recommendation for those who want a full-function integrated amp that works equally well with both analog and digital sources. The Roksan Kandy K2 BT is clearly a benchmark for its price point.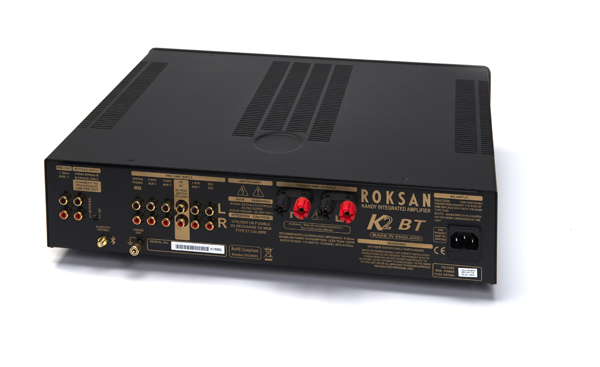 Further Listening
By Jeff Dorgay
Andre sums up the essence of the Kandy K2 BT perfectly—though, lacking a turntable, he wasn't able to comment on the phono section, which I find to be excellent, especially for a $1,900 integrated. As vinyl continues to enthrall new users, and with so many people dipping their toes in the water, a high-performance phonostage is a wonderful addition to an integrated amp, allowing maximum system flexibility.
Most people purchasing an amplifier and speakers at this level will probably be using a turntable in the $100-to-$1,000 range, and they will not be disappointed. The Kandy's phonostage is easily on par with any outboard phonostage we've auditioned costing $300 to $500, so for price matching most of my listening is with the $95 Shure M97 cartridge and the $295 Rega Elys 2—both MM designs. Just to push the envelope, I use the $700 Ortofon 2M Black and have good results. This is definitely an integrated amp that an analog owner can grow with.
Where most budget solid-state phonostages are flat, two-dimensional, and relatively sterile, the Kandy's phono section performs admirably, giving up more height and depth than is usually associated with a relatively inexpensive onboard unit. Playing the MoFi remaster of Los Lobos' Kiko, the Roksan renders this rock classic with an extra-large sonic image, especially with the Ortofon 2M Black. Brian Eno's Small Craft on a Milk Sea proves highly involving, with the subtle environmental textures not fading too far into black.
Interestingly, I had zero issues with the Bluetooth receiver in the Kandy, so those who may be using it in an area with a lot of wireless connectivity in the vicinity should consider a test drive to see if this part of the gear is right for you. I can see where this would be a deal-breaker if it doesn't work properly in your environment.
I can easily proclaim that the Kandy is an incredible bargain for under $2,000, but it's even a better deal when you take the phonostage into account. Anyone looking for a great system anchor should give this baby a test drive. We are happy to award the Roksan Kandy K2 BT one of our Exceptional Value Awards for 2014.
Kandy K2 BT Integrated Amplifier
MSRP: $1,900
www.roksan.co.uk (manufacturer)
www.rutherfordaudio.com (North American distributor)
PERIPHERALS
Speakers

Harbeth Compact 7ES-3    Anthony Gallo A'Diva SE satellites    Thiel CS.24 floorstanders

DAC

Bryston BDA-1    Denon DA-300USB

Sources

Simaudio MiND 180D Streamer    Sony TC-350 reel-to-reel tape deck

Cables

Transparent Wave speaker cables    Darwin    Kimber Kable    Stager    DH Labs interconnects