Looking at speakers at high-end audio shows often gives one the impression that audiophile speakers are designed to exclusively appeal to audiophiles. I'm a card-carrying audiophile, so sure, I think 73-inch tall, 600+-pound Wilson Alexandria X2 Series 2 speakers in "Fly Yellow" are drop-dead gorgeous. But the average dentist, business executive, or banker would probably think they're monstrosities. Meaning that, even if they could afford to buy a pair, they wouldn't consider living with them. Few "civilians" subscribe to high-end speakerdom's form-follows-function aesthetic.
Which is why I smiled when I spotted the Davone Ray speakers at last year's Rocky Mountain Audio Fest. On stands, the speakers didn't come up to my waist, and their curvy styling, inspired by the iconic Charles Eames chair, stopped me in my tracks. Since the Danish-made Ray stands out in the overcrowded world of rectangular box speakers, I'm guessing non-audiophiles might be intrigued.
Moreover, the sound did not disappoint. MA Recordings' Todd Garfinkel used a pair to demo his music, and I was totally smitten. The Rays projected a deep and wide soundstage, and the bass was more potent than I'd have expected from such a modestly sized speaker. I returned to listen again and again, so I was curious about how the sound would hold up at home.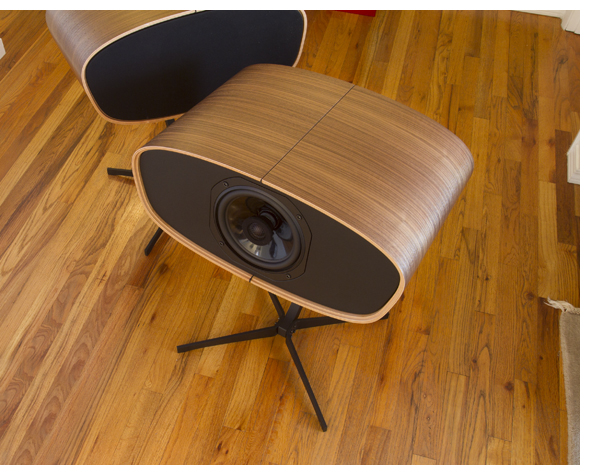 Unique Design
Coming in at just 28.5″ high mounted on its stand, the Ray is small in stature. Granted, its modern styling won't be a great fit with all decors, but its spouse-acceptance factor should be well above that of most full-range audiophile speakers.
The Ray sports a black cloth grille mounted on a plywood frame—something you won't find on many speakers. Remove the grille, and you'll see the front baffle is covered with nicely finished real black leather (the rear panel is leather-clad, too). I asked company founder and aeronautical engineer Paul Schenkel about why he opted for genuine leather. He said he prefers natural materials—not for sonic reasons, but for the quality they impart.
The Ray boasts just one (coaxial) driver, and it's unique to this design. The driver incorporates a 1″ Illuminator silk-dome tweeter that sits in the center of an 8″ Volt woofer. No wonder the Ray produces a more coherent soundstage than speakers with a row of drivers arrayed over their front baffles. I'm sure other high-end speakers utilize a single coaxial driver, but the only one that immediately comes to mind is the Thiel SCS4. I remember being knocked out by the SCS4's precise imaging, but the Ray is a more full-range design.
The powdercoat-black-finished solid-steel stands are also works of art. Their curves perfectly complement the speakers, and while I first thought the stands looked too spindly to securely support the Davone, there's almost no give when I nudge the speaker with my finger.
The Ray's curved, walnut-veneered, sixteen-ply beechwood cabinet is fitted with medium-density fiberboard front and rear baffles. Impedance is listed at 7.5 ohms, yet it gets down to 4.1 ohms at 20kHz. A Cardas speaker-wire clamp accepts spades, bare wire, and, in a pinch, banana plugs. The backside also sports a large bass port, so don't even think of placing the Ray near a wall. This speaker needs room to breathe.
The Joys of Cooking
The Ray's even-tempered balance is its prime virtue, but its big-as-life imaging is what kept me grabbing records. Older 1960s recordings, like the live Modern Jazz Quartet works with Jimmy Giuffre, sound wide-open. There's a lot of "leakage" between mics on these albums, so when you play speakers as time-coherent as the Rays, you feel like you're in a huge sound space. The solidity/presence of Guiffre's clarinet, as well as that of the drums, bass, and piano, is nothing less than thrilling. The Rays more completely conjure the recording venue—not so much in the look-at-me, high-resolution sense—but in a manner that relates to the soul of the music and how live instruments actually sound.
These characteristics account for why the Ray's midrange glories don't require agonizing analysis. "Homeless," from Paul Simon's Graceland CD, elicits goosebumps. The track is almost a capella, with Ladysmith Black Mambazo's vocals recorded at Abbey Road Studios. The voices sound strikingly human, an increasing rare quality on contemporary recordings. And on Simon's  "My Little Town," from Still Crazy After All These Years, I hear aspects of the mix I've never noticed before. Consider the opening solo piano, occupying an actual acoustic space. As acoustic guitar, horns, bass, and drums enter, the tune starts to sound like a standard 1970s multitrack pop recording. Listening over the Rays, you genuinely hear the mix evolve.
By contrast, Leonard Cohen's Live Songs is a sparsely populated, purely acoustic affair. And Cohen is right there, between the Rays, as live as can be. This illusion is what high-end audio is about. It's supposed to generate these epiphanies.
Satisfied the Rays can sound sweet, I pulled out the Black Keys' Attack & Release CD to indulge my blues-rock fantasies. No worries—the Rays can boogie when the urge strikes. But if you live on a steady diet of high-decibel tunes, the speaker will not provide the necessary impact—certainly not like the kind you get from a pair of heavyweight towers.
That said, the Ray easily conveys the Dirty Dozen Brass Band's meaty, big and bouncy rhythms. The swinging ensemble doesn't have a bass player; instead, the sousaphone's blatting bass lines provide the music's pulse. Lesser speakers gloss over such contributions, but the Ray never misses the beat. Indeed, the Dirty Dozen Brass Band's Mardi Gras in Montreux LP could have been called The Joy of Cooking, New Orleans Style. There's no Pro Tools messing with the sound, so the music speaks for itself.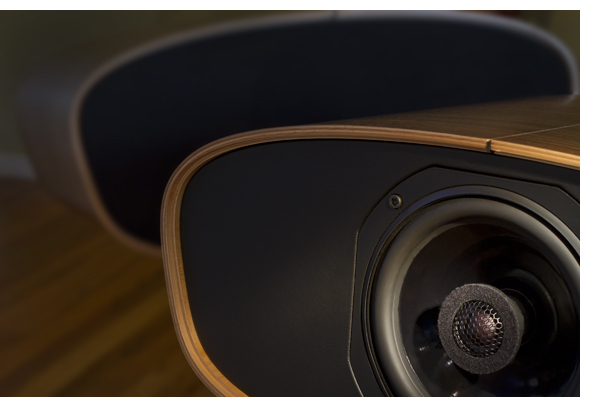 Truly Original
Listening over the long term, the Rays constantly surprise me, with every record sounding different from the last—always a good sign. All LPs and CDs are recorded under wildly different circumstances, and the Ray made these facts abundantly clear.
There's a lot to love about this speaker: Its small stature, unique styling, and the way its single driver presents an unusually transparent view of the music. I just wish more speaker companies were coming up with such truly original designs.
Manufacturer's Information
Davone Ray
MSRP: $7,500 per pair
www.davoneaudio.com
Peripherals
| | |
| --- | --- |
| Analog Source | VPI Classic turntable with van den Hul Frog cartridge |
| Digital Sources | PS Audio PerfectWave Transpost & DAC     Oppo BDP-95 Special Edition |
| Electronics | Pass XP-20 preamp    Simaudio 310 LP phono preamp    Bel Canto REF500s amp    Pass Labs XA100.5 amp    First Watt J2 amp |
| Speakers | Dynaudio C-1    Mangepan 3.7 |
| Cable | XLO Signature 3 interconnects     Analysis Plus Silver Oval interconnects and speaker cables     Audioquest Sky interconnects |